Maxim Knysh
Cruise expert - Maxim. Max was born in the mid-90s in the vicinity of Kiev. At school he tried to study diligently, but sitting in the classroom was not his topic, so he was enrolled in absolutely all circles that were offered by the school: from sports and tourism, to drama and playing in a brass band. Anything - just not to sit in boring lessons and not memorize the information that has long been outdated that was taught at school. Despite this, having by nature good intelligence, kind disposition and "tongue without bones" - Max graduated from school with a solid "good".
Graduating from school and most of all loving active forms of leisure, Max dreamed of either becoming a physical education teacher and developing a healthy mind in people, or penetrating into the sphere of tourism and getting to know the whole world. On the recommendation of a friend, I entered the Institute of Tourism, which I never regretted. During the years of his student life, he plunged headlong into tourism, found true friends and the love of his life. Having developed in himself even more ingenuity, kind disposition and (the same) "tongue without bones" - he graduated from the university with honors without any problems.
Finding a job was a real challenge, so for a long time it was impossible to work in a profession. After graduation, Max managed to work both with his brain and with his hands: during the day he worked at a construction site, at night as a freelancer - he was engaged in copywriting, rewriting and translated a little. Realizing that he would not be able to withstand this for a long time, he decided to seriously find something for his soul, therefore, when a friend from the institute offered to go to her on tourism, he did not hesitate for a long time. Thus, Maxim found another love of his life - cruises.
For more than 3 years he has been doing what he loves in a family of like-minded people, which allows him to be happy to help colleagues from travel companies send their tourists on the best cruises at the best prices.
In his spare time he reads a lot, loves music and plays poker. Favorite expression: "Sometimes one day spent in other places gives more than ten years of living at home" - Anatole France.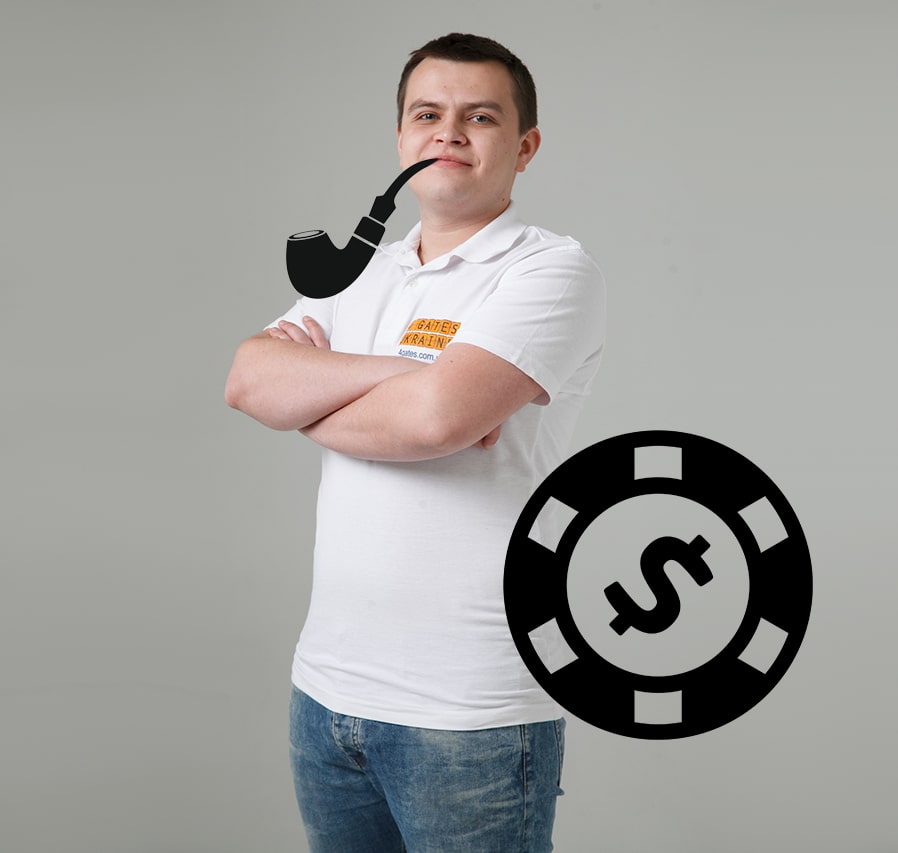 To get a consultation:
+38 044 337 82 01
+38 093 653 05 53
+38 066 653 05 53
+38 097 653 05 53
Email: info@4gates.com.ua
Алла Баранік
02.11.2021 20:02
Хочу знову подякувати Максиму за прекрасно організований круїзний відпочинок) Ви прекрасний менеджер, цікавий співрозмовник , в наступну подорож - лише з Вами!
Татьяна Шатохина
27.10.2021 19:00










Как легко организовывается путешествие, так офигенно оно и проводится. Максим, вы профессионал своего дела, спасибо за прекрасный отдых!
Алексей Сухоруков
27.10.2021 15:39










Сложно писать отзыв когда вообще нет претензий, получается, что прям всё идеально, но как я ни старался, не смог придумать хоть один минус в работе Максима. Я получил ответы на все вопросы, даже если это был 1856 вопрос за день, были учтены все мои пожелания. Максим сразу говорит, что можно сделать, что в принципе не получится, советует как лучше, а не как дороже. Мы отказывались от круиза, бронировали другой, оформляли возвраты, уточняли находясь в круизе вопросы по следующему круизу. Всегда всё на высшем уровне. Мы благодарны Максиму за его работу, здесь больше нечего добавить.
Юлия Кирпиченко
26.10.2021 14:10










Воспользовались услугами менеджера Максима, по подбору круиза, остались очень довольны!) И самим отдыхом и его организацией, в любое время Максим был на связи и помогал с решением наших проблем! Большое спасибо)) всем рекомендуем))
Вадим Берецкий
21.10.2021 14:08










Менеджер був постійно на зв'язку, дав відповіді на усі питання, все проконтролював від А до Я, все було так як Максим розповідав, без неприємних сюрпризів.
Тому рекомендую співпрацю з Максимом.