Period: 09/04/2020 - 06/30/2021
MSC Cruises is launching a dedicated program for healthcare professionals around the world to thank them for their continued contributions and dedication to fighting the global pandemic and enjoy a well-deserved vacation on MSC cruises.
Reduced cruise fares up to 50% off are available to all healthcare professionals * and their families. The promotion applies to all individual new cruise bookings of MSC Cruises made from 09/04/20 to 04/30/2021 with departures until December 31, 2021, with the exception of cruises from St. Petersburg and some special offers.
The amount of discounts may vary depending on the load of the cruises, but you can focus on the following data:
until 31.03.2021 - 50% discount from the cabin rate
04/01/2021 - 05/31/2021 - 30% discount from the cabin rate
06/01/2021 - 12/31/2021 - 10% discount from the cabin rate
*medical workers:
- Doctors / nurses / administrative staff of medical institutions (hospitals, clinics, special centers for the treatment of patients with Covid-19).
- Family doctors.
- Pharmacists working during a pandemic.
- Private doctors and medical professionals who do not work in hospitals (only if their specialization is directly related to Covid-19 diseases, for example, pulmonologists, virologists).
- Ambulance workers who provided support during the pandemic.
- Employees of research laboratories, only if these institutions conducted research on the Covid-19 virus.
The promotion does not apply to the following healthcare professionals:
- Private doctors / medical personnel not working in hospitals and not directly related to Covid-19 (e.g. dentists, orthopedists, dermatologists, etc.).
- Employees of laboratories where general medical research is carried out.
Terms of action:
- When booking a cruise, you must provide a scanned copy of your employment record (first and last page) or a scan of your employment contract. After that, the cost of the order will be recalculated taking into account the discount.
- When landing, these documents must also be with you, as well as a work certificate (if any).
- Standard booking conditions apply.
- To make a reservation, a prepayment of 50 € is sufficient (this prepayment condition should not contradict the standard conditions for booking and cancellation of MSC Cruises cruises).
- This fare is compatible with MSC Voyagers Club discounts and cannot be combined with other cruise line offers.
- The cruise company reserves the right to suspend the promotion at any time.
- The promotion is valid only for new bookings.
All MSC Cruises:
You can find out more detailed information about the promotion and booking conditions from our managers:
☎️ +38 044 337 84 01
☎️ +38 093 653 05 53
☎️ +38 066 653 05 53
☎️ +38 097 653 05 53
Email: info@4gates.com.ua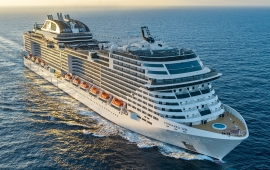 8 дней / 7 ночей
Route:
Date: 30 / 11 / 2021
Внутренняяот 12 473 UAH
С окномот 15 599 UAH
С балкономот 17 788 UAH
Date: 07 / 12 / 2021
Внутренняяот 12 473 UAH
С окномот 15 599 UAH
С балкономот 17 788 UAH
Показать остальные даты >>
Date: 30 / 11 / 2021
Внутренняяот 12 473 UAH
С окномот 15 599 UAH
С балкономот 17 788 UAH
Date: 07 / 12 / 2021
Внутренняяот 12 473 UAH
С окномот 15 599 UAH
С балкономот 17 788 UAH
Показать остальные даты >>
Скрыть остальные даты >>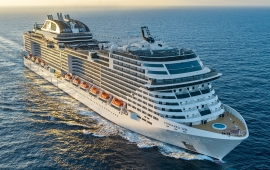 8 дней / 7 ночей
Route:
Date: 06 / 12 / 2021
Внутренняяот 12 473 UAH
С окномот 15 599 UAH
С балкономот 17 788 UAH
Date: 13 / 12 / 2021
Внутренняяот 12 473 UAH
С окномот 15 599 UAH
С балкономот 17 788 UAH
Показать остальные даты >>
Date: 06 / 12 / 2021
Внутренняяот 12 473 UAH
С окномот 15 599 UAH
С балкономот 17 788 UAH
Date: 13 / 12 / 2021
Внутренняяот 12 473 UAH
С окномот 15 599 UAH
С балкономот 17 788 UAH
Показать остальные даты >>
Скрыть остальные даты >>