Explora Journeys
Explora Journeys is not just a new luxury cruise company, but a completely new phenomenon in the world of cruises!
The world famous cruise company MSC Cruises belongs to the Standard class. But ... On most of its cruise ships, it provides a luxury service! The highest level of comfort can be used by guests of the exclusive zone - Yacht Club!
Despite everything, the demand for Yacht Club cabins is always growing. Analyzing this trend, the MSC Group management decided to create a completely new cruise company for the most demanding guests!
On June 10, 2021 in Geneva, MSC Group announced the entry into the cruise market of a new luxury company - Explora Journeys.
What makes Explora Journeys stand out from other companies !?
Large spaces, panoramic views and many exclusive areas.
- 14 specially designed decks;
- More than 2500 m² of outdoor areas with the best views;
- On all ships, swimming pools with a retractable roof;
- On the liners there will be only Lux cabins (Suite);
- The area will be from 35 m²
All liners are designed in collaboration with leading experts, which combined a luxurious interior and high quality environmentally friendly materials.
The interiors of each ship combine modern high standards and the latest trends in the world of luxury and design.
Infrastructure and service.
All ships will feature classic places and entertainment, as well as more sophisticated services. Each infrastructure facility will be equipped with the most modern equipment.
An individual approach and the highest service in every detail are waiting for you. Believe it or not, with a guest-to-staff ratio of 1.25: 1.
In restaurants you will find only dishes from the world's leading chefs, prepared with organic products * from local partners of the company. Well-tuned logistics and partnerships with suppliers in every country and city along the cruise route will ensure the maximum freshness and quality of all products.
In total, it is planned to build four LUX class liners.
The first Explora I liner will be built in 2023. Other liners will be launched in 2024, 2025 and 2026.
The luxury liners are designed with hybrid power generation batteries and the latest Selective Catalytic Reduction (SCR) technology. This will reduce nitrogen oxide (NOx) emissions by 90 percent!
All four vessels built with battery charging capability at the liner's ports of call. Due to the many innovations aimed at sustainability, the liners will be certified by RINA DOLPHIN for underwater noise reduction.
The cruise line has completely abandoned all types of plastic tableware.
Tour operator Four Gates invites you to an unforgettable journey into the world of luxury and the most vivid impressions on ships - Explora Journeys.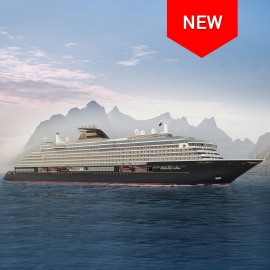 Main characteristics: Year of construction - 2023 Length - Width - Number of cabins - 461 Suites Capacity - Displacement - Number of decks - 14 Speed -
Показать все
Скрыть Wait a few seconds...