Celestyal Cruises
Celestyal Cruises is another company with headquarters in Greece and an interesting concept of "home comfort". The basis of the company's philosophy is the complete immersion of guests in the route they have chosen - the authenticity of the environment, penetration into the culture, history, genuine sensations. Also, corporate ethics and compliance with all modern industry standards are very important for the company.
Celestyal Cruises offers its guests a personalized approach so that they can see, smell and taste, let through all the best that only exists in this or that region. The company's ships - ambassadors of hospitality and comfort - can easily take you even to the most remote corners of the eastern Mediterranean or to Cuba, preparing for you many unexpected discoveries both on land and directly on board.
A steward and an assistant steward are assigned to each cabin. Their duties include not only keeping the cabin clean and tidy, but also fulfilling your requests or orders, answering questions that interest you within their competence.
In 2017, the largest electronic travel community Cruise Critic named Celestyal Cruises the best cruise company in the nominations "Boarding a Ship", "Entertainment", "Shore Excursions", "Values" among medium-sized cruise companies. Celestyal Cruises has also received numerous Greek Tourism Awards in various nominations.
The company has at its disposal 3 ships, ideal for short voyages in a cozy environment. Each of the
ships
has its own character and its own unique atmosphere. On board, you can both calmly gaze at the stars, and become part of various events and mass celebrations - feel the pulse of life.

Celestyal Experience is the largest liner in the fleet of the cruise company Celestyal Cruises, which in 2020 underwent a complete renovation. Not so long ago it belonged to the popular Italian cruise company Costa Cruises, and was called Costa neoRomantica. In 2020, Celestyal Cruises purchased the liner, renovated it, and renamed the ship Celestyal Experience. In 2021, the liner first began its cruises under the banner of Celestyal Cruises. Many of our tourists who were on cruises on the Costa neoRomantica noted the well-thought-out infrastructure, coziness and comfortable number of passengers on board. Sometimes, comparing the liner even with the Premium class.
Celestyal Olympia is one of the most popular liners of the cruise company Celestyal Cruises. There is everything: restaurants, bars, panoramic lounge bars from Thalassa and Horizons fully equipped gym, playgrounds and a number of shops with traditional Greek products, as well as tax-free goods.
Celestyal Crystal is a comfortable liner, which in its structure resembles some luxury liners. It was renovated in 2015, and in 2017, according to the results of the voting of tourists, became the tenth in the ranking of the site CruiseCritic in the nomination "Best Cruises". But that's not all! Celestyal Crystal in the same year won first place in the nominations "Best Entertainment" and "Best Value for Money". This is all a sign not only of the level of the liner, but also a high level of service at a very reasonable price!
Official website of the company: www.celestyalcruises.com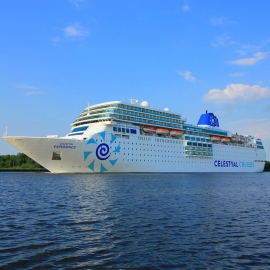 Specifications Year of construction - 1993, renovation in 2020 Tonnage - 57,100 tons. Length - 221 m. Width - 31 m. Total cabin - 789 Total passengers - 1800 people.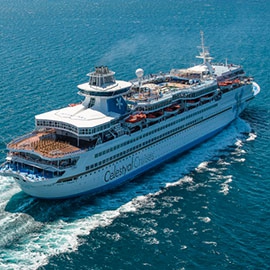 Specifications Year of construction - 1982, renovation - 2016 Length - 215 m. Width - 28 m. Displacement - 37,584 tons. Capacity - 1611-1664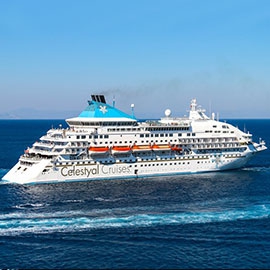 Specifications Year of construction - 1980, renovation in 2015 Tonnage - 25,611 tons. Length - 162 m. Width - 30.5 m. Total cabin - 480 Total passengers - 1200 people.
Показать все
Скрыть Wait a few seconds...
Celestyal Cruises Covid SECURITY PROTOCOLS
At Celestyal Cruises, our top priorities are regulatory compliance, protecting the environment, and the health, safety and well-being of our guests, crew and the communities we visit. We know that traveling during and after Covid-19 will require changes to standard procedures. Therefore, after constant consultation with national and international government agencies, health authorities, epidemiologists, as well as CLIA. We also continue to implement new measures to make cruises as safe as possible.
Celestyal Cruises would like to highlight just a few of the newest and most important measures that we will be implementing, in addition to any further protocols that may be recommended from now to the cruise departure date:
GENERAL INFORMATION
Who is eligible to book a cruise with Celestyal Cruises?
Citizens of all countries and nationalities.
Are there additional documents for cruises due to COVID-19?
Cruise requirements are changing rapidly and vary by port and country of departure. Be sure to check with your cruise manager before booking your cruise.
Currently, boarding requires:
- A negative PCR result no later than 72 hours before boarding the liner. Children under 6 are released).
- Completed Celestyal Cruises health questionnaire (no earlier than 24 hours before boarding).
* also pay attention to the requirements and changing requirements of each country on the cruise.
Under what circumstances related to COVID-19 will a guest be denied boarding?
Boarding may be denied in the following cases:
1. With a positive result of the PCR test for COVID-19;
2. Failure to comply with the cruise company's safety policies and COVID-19 protocols prior to boarding or at any time during the flight;
3. Failure to provide the documents listed in paragraph 2 (above).
4. Failure to provide truthful answers to our health questionnaire.
5. Symptoms consistent with COVID-19.
Do I need the COVID-19 vaccine for a cruise? What documents are considered proof of vaccination? How early do I need to get the vaccine?
-Vaccination is not a requirement to participate in the cruise.
Whether you are vaccinated or not, you will be required to provide a negative PCR test 72 hours before boarding. However, if you were vaccinated (at least 14 days before the departure date), you will need to provide information about the vaccine in the questionnaire.
Are there any health or pre-existing health restrictions due to COVID-19 for cruise guests?
Guests suffering from severe or chronic medical conditions should consult their physician before embarking on a cruise.
What happens to my paid cruise if I am diagnosed with COVID-19 before the cruise?
Guests traveling together in the same cabin will be offered a full refund, subject to a positive COVID test. Other guests in the same travel group will be offered 100% future cruise credit if they choose not to continue the trip.
Will a COVID-19 waiver or other legal agreement be required before boarding a ship?
In addition to our booking conditions or the cruise ticket contract that all guests must accept, you will be required to confirm that you are familiar with the risks associated with COVID and agree to the security protocols. Disagreement will result in denied boarding.
What costs are covered if I test positive for COVID-19 while cruising?
Fees related to COVID-19 testing and treatment on board for COVID will be provided free of charge.
Any other expenses will be borne by the guest, including ashore and it is for this reason that we strongly recommend travel insurance for each guest that covers COVID, as well as health insurance, cancellation and vacation shortening for the entire duration of your trip, not just the cruise ...
Choose the best offers from insurance companies in Ukraine.
If you have a coronavirus detected during a cruise, then you and everyone who lived with you in the cabin will need to leave the ship to undergo quarantine in the city of the ship's anchorage. Quarantine assistance is provided by the cruise company and the Greek state in accordance with their current policies.
If guests are spending several days in Greece before the cruise and their PCR test has expired, does Celestyal have an agreement with the local medical center to carry out a new PCR test? Who bears the costs?
Yes, Celestyal has entered into an agreement with a local medical center to carry out internationally accredited PCR testing at a cost of € 45.00 per guest - this cost will be at the personal expense of the guest and paid directly to the clinic.
What PCR tests are accepted?
Only full-fledged PCR tests with international accreditation are used. The 72-hour test period starts from the moment it passes, and not from the moment the result was received.
If at the end of the cruise I need to take a PCR test, how can I do it?
PCR testing will be available at major ports of disembarkation for those guests who require a PCR test to travel onward or return to their home country. The cost will be 45.00 euros per person.
PCR testing will also be available on board at a cost of EUR 100.00 per person. A dedicated testing center has been set up and tests will be conducted by our trained and expanded medical team.
Where can I find the updated Guest Health, Safety and Conduct Policy and the Denied Carriage Policy?
https://celestyal.com/conditions-of-carriage/
https://celestyal.com/covid-19-health-protocols/
PROTOCOLS IN THE CRUISE TERMINAL.
Can I board a ship at the next port of call if I am denied boarding?
If boarding was denied for the reasons stated in the section "Under what circumstances related to COVID-19, the guest will be denied boarding."
Will there be a separate check-in area and lounge for suite guests?
Guests of the suites will continue to have a separate check-in procedure at the terminals. The port terminal lounge is not available.
How long will it take to board the ship, given the new processes and protocols?
Given the current passenger restrictions and extended check-in times, we do not expect the boarding process to take longer than usual.
Are there any new guidelines or baggage restrictions?
Baggage will continue to be removed and collected at the port terminal as usual. All luggage will be disinfected before being loaded on board. This procedure does not affect the guests in any way. Make sure your luggage is clearly marked and has the luggage tags provided by the company.
What if a guest feels unwell on the days leading up to the cruise?
If you feel unwell before departure, it is recommended with your manager for Fort Gates Ukraine.
Can I disembark the ship on my own if I am vaccinated or have a negative PCR result?
To ensure the safety of passengers, port visits will be limited. To exit at the port, you can use an excursion from the cruise company or a walk accompanied by a member of the cruise line.
Shore excursions are conducted as part of the program, fully adhering to Celestyal and local health protocols, including frequent bus sanitation, ensuring that both drivers and guides are tested for COVID. As an alternative, Celestyal has developed guided walks.
Guided walks will not be official shore excursions, but will provide an opportunity to enjoy the city / port while respecting local protocols. They can be booked on board at a nominal value of € 10.00 per person.
* we strongly recommend booking all excursions and servants by phone (do not go to the registration desk in order to reduce contacts).
Will the crew be vaccinated?
All crew members will have a negative PCR test before being sent to the ship. A second PCR test will be performed prior to boarding them. Once planted, they will remain in isolation for 7 days, and at the end of 7 days of isolation, a third PCR test will be performed. In addition, efforts are being made to vaccinate all crew members.
What is the procedure for disembarking at ports along the cruise route? Particularly on Santorini (tenders, cable car capacity)
Specific protocols will be established and all information will be available as soon as they are completed. However, Santorini follows health protocols as required by the national public health authority.
What must I do to comply with Celestyal Cruises' COVID-19 safety protocols?
- Wearing masks in all public areas, with the exception of cabins, seating for meals or drinks in bars and on open decks.
- Be sure to maintain a physical distance of up to 1.5 meters from other guests in port terminals, on board, and during shore excursions or guided walks.
- Follow our team's instructions and restrictions on the number of guests in elevators, shops and other gathering points.
- Wash your hands often with warm water and soap for at least 20 seconds. This is especially important when returning to the ship from either a shore excursion or an escorted walk.
INSURANCE
Do I need to have travel insurance to go on a cruise?
COVID-19 medical insurance, cancellation and travel insurance is highly recommended for both your cruise and the entire trip, from the time you leave home until the time you return, purchased from Celestyal Cruises or another insurance company.
Choose and take out insurance.
Do I need to carry a copy of my insurance policy with me while cruising?
Yes, it is always recommended to have a digital or boomain format of your travel insurance in case you need to apply.
ON BOARD LINER
Celestyal Cruises vessel ventilation systems. Is the air on board safe?
Celestyal vessels are equipped with modernized technologies (in accordance with the requirements of the EU Protocols) to eliminate cross-contamination.
Ventilation system using 100% outdoor fresh air, no recirculated air.
HEPA filtration systems used for ventilation in key areas such as medical centers and special isolation rooms.
Disinfection of ATMOS in ventilation systems of all public places.
Choose the best offers from insurance companies in Ukraine.
What are Celestyal Cruises' enhanced medical measures?
A dedicated COVID team has been added to the onboard qualified doctors and nurses with experience in treating a wide range of medical conditions.
An upgraded ship's medical center with intensive care capabilities and modified to include advanced infection control techniques.
Ongoing training and education of maritime medical personnel in the latest clinical care techniques to combat COVID-19.
Built-in COVID-19 PCR testing capabilities for an efficient and fast response.
How have Celestyal Cruises sanitation measures been improved?
Frequent disinfection using approved disinfectants effective against coronavirus and other microbes.
All areas are disinfected several times a day using cleaning and disinfection protocols developed in collaboration with the European and Greek CDC.
Extensive sanitization of transport and sightseeing buses, as well as port terminals.
COVID-19 signage will remind guests to wear masks in all public areas and corridors, with the exception of food or drink, and to maintain social distancing.
"COVID-19 Signs" will remind guests of proper hand washing and frequent hand disinfection.
Disinfectant dispensers will be available in key areas of ships such as stairs and elevators, outside public restrooms, shops, bars, theaters, check-in counters, restaurants and a children's area.
Mandatory daily thermal inspection of guests and crew.
Common areas and seating capacity have been changed and reduced to provide social distance between guests by 1.5 meters.
Marked and marked path to ensure one-way ENTRY / EXIT so that guests do not cross and can distance themselves.
Will the buffet be open?
All self-service buffets will be accessible from one side only and will be prepared and served in advance. The buffet will be temporarily converted into waiter restaurants.
Can I sit down at a table with another fellow traveler?
To maintain social distancing, Celestyal Cruises reduced the restaurant and buffet capacity by rearranging seating. We may be able to accommodate certain requests, but our efforts will be focused on accommodating guests belonging to the same traveling group.
Will room service be available?
For your convenience, room service will continue to be available with contactless delivery.
Will any establishments or activities be closed during the cruise?
Most of the seats on board will be reopened with adjustments in line with social distancing protocols and other COVID-19-related protocols. Follow the appropriate signs and instructions from the ship's crew.
Spas and pools will they be used?
Whirlpool spas can be either single or shared by people in the same travel group. For the pools there will be one person per 15 sq. water surface. At the spa and beauty salon, guests and staff must always wear a mask. No masking treatments are offered. Due to the proximity of guests, saunas and steam baths will operate strictly according to the reservation system. Sharing these areas with other guests not in the same group is not allowed.
Will the children's area work?
The children's area will operate with a reduced number of guests at any given time, providing a physical distance of 1.5 meters. Celestyal Cruises will only operate children's outdoor play areas where appropriate.
Is it mandatory to wear masks on board while cruising?
On board: The use of masks is compulsory in all interior areas of the vessel, with the exception of the cabin, the dining room when eating and in the bars when seating for drinks. This is not necessary in open areas of the ship, unless it is impossible to maintain social distancing.
Off Ship: Masks are compulsory at tenders, on shore excursions and on guided walks to ensure that local protocols are respected.
How many people are there on the shore on the sightseeing bus? As usedAre there any excursions?
The capacity of the shore excursion buses is regulated by the country of visit. Celestyal will currently limit the capacity of each trainer to 60%. This is subject to change according to current health authorities' guidelines during your cruise.
All of Celestyal's excursion partners are committed to conducting business ethically and responsibly by adhering to the strictest health and sanitation protocols.
Disembarkation and all excursions will be staggered in groups, avoiding congestion and crowds.
Information about the shore excursion will be displayed on monitors throughout the ship.
Social distancing will be strictly enforced during our shore excursion briefings.
Responsible physical distancing at port terminals, on board ship and during shore excursions will be managed through reduced capacity, shifting activity times and tightly controlled group sizes.
Currently, only authorized shore excursions and / or guided walks are permitted that fully comply with both Celestyal and local medical protocols. If conditions permit during the cruise, this protocol can be changed taking into account additional options.
MEDICAL CARE ON BOARD

What should I do if I feel unwell with symptoms similar to COVID while cruising?
If you are not feeling well, you should immediately call the Guest Information Desk so that the medical staff can examine it while visiting the cabin. COVID-19 tests can be performed on board if required, allowing quick and accurate results on site, along with many other assessment tests / measures. This is one of the many expanded capabilities of our healthcare facility, where more doctors and nurses have been added, equipment upgraded, and a dedicated supervised care center has been allocated to help contain infectious guests or crew members while providing care, away from common medical areas.
What is the plan for responding to a positive COVID-19 test on board?
The response plan includes isolation of the victim, quarantine for loved ones, informing the health authorities at the port of destination, extensive testing of victims for COVID, evacuation to the shore facility, and cooperation with local health authorities.
If a guest is isolated, what services and amenities will be available?
The medical follow-up and care needed for those isolated from COVID-19 infections will be offered, and services will be provided by dedicated, trained and appropriately equipped staff.
How is the medical center equipped to handle a possible case of COVID-19?
Our medical centers have been expanded with additional medical personnel and emergency equipment (such as ventilators or intensive care beds).
What is the cost of medical care on board and testing for suspected COVID-19?
On board, COVID-19 assessment and testing, which is recommended by the onboard medical team, is free of charge, and COVID-19 treatment is provided on board.
GROUPS & ONBOARD ACTIVITIES
Can team leaders or other team members request early boarding?
Early boarding is currently unavailable to allow sufficient time for vessel sanitization between voyages.
Can groups bring materials and equipment on board to use during the cruise?
Yes. Any materials must be disinfected in the same way as all baggage before being loaded on board. The company should be informed in advance to plan if necessary.
Can accommodations be placed in the port terminal to support the registration process for the entire group?
Due to social distancing and COVID protocols, all guests will have to follow a specific boarding procedure. The whole group cannot do otherwise. Phased arrival at the port terminal will be announced in advance and all team leaders will be required to ensure that the specified time is strictly observed.
Are reception / reception desks still allowed?
Reception / check-in counters are not permitted on board. Should such a request arise on board, the group leader will need to speak to our cruise director, who will endeavor to provide assistance based on requests and will always strive to follow COVID-19 measures.
Will groups be allowed to bring gifts or goods for delivery to the cabin?
Yes. Outdoor gifts / items delivered on board must be properly sealed in a plastic bag that can be disinfected before delivery. No extraneous food is accepted.
Can dining tables be arrangedki for group guests?
A request should be made to the Celestyal Group check-in desk prior to the cruise. Mater D. will do his best to accommodate the request in a separate area of ​​the restaurant and confirmation will be given upon boarding.
Are onboard conference centers available for group meetings and events?
Yes, all such requests should be directed in advance to the Celestyal Group Office. Group appointments will be confirmed subject to availability. Additional sanitation measures will be introduced, including appropriate social distancing in these locations.
What are the protocols for cleaning borrowed equipment such as presentation response devices, pointers, microphones, etc.?
AV equipment will be disinfected between meetings. Sanitary napkins will be provided in cases where item (s) are passed from one speaker to another. Renting ship equipment requires prior authorization and technical fees may apply.
Celestyal Crystal 2022 Health and Safety Protocols

• All guests aged 12 and over (inclusive) need vaccines recognized by the Greek government!

Valid vaccines are: Pfizer BioNtech, Moderna, Astra Zeneca / Oxford, Novavax, Johnson + Johnson / Janssen, Sinovac Biotech, Gamaleya (Sputnik), Cansino Biologics, Sinopharm.
Information subject to change: Learn more about approved vaccines and conditions for visiting Greece
BEFORE CRUISE

You have booked a cruise with a representative of Celestyal Cruises in Ukraine and are preparing for your unforgettable trip!

What is important to know before a cruise on one of the Celestyal Cruises ships and what to do before a cruise:

Vaccinations – all guests from 12 years of age (inclusive) need vaccines, recognized by the Greek government!

All guests aged 12 and over must present Greek government-approved COVID-19 vaccinations;

- You must have two doses of the same vaccine when you arrive in Greece. After the second dose, a minimum of 14 days must pass (up to 7 months at the end of the tour);
- If more than 7 months have passed since the second dose of the vaccine, then you need to get a booster dose of the same vaccine as you did before.

Also for cruises on Celestyal Cruises is a certificate of recovery from COVID-19. Certificates issued no more than 3 months before the end of the tour are allowed. *Individually sent to the cruise company before booking the cruise, for confirmation.
- Children from 6 to 11 years old (inclusive) must provide an antigen test, which is done no later than 48 hours before boarding.
- In addition, guests over 60 years of age (inclusive) and guests with underlying medical conditions are strongly advised to visit a doctor for a preliminary medical consultation to determine if they are ready to travel
PLF (Passenger Search Form) of Greece

- Must be completed before arriving in Greece!
- PLF form at any time, but no later than 23:59 the day before departure. Example: departing on 02.02.2022. The PLF form must be completed by 02/01/2022 (until 23:59). Of course, we do not recommend delaying it this way, as there may be technical failures in the operation of the site or there may be other reasons that may affect the filling out of the form.
Instructions for filling out PLF (Passenger Search Form) Greece

BOARDING

Documents for check-in (boarding) on board

- Cruise ticket. Issued to you by your cruise expert 7 days before the start of the cruise;
- The passport;
- The Public Health Questionnaire, which can be downloaded here;
- Certificate of vaccine against COVID-19 (wrote above).

Rapid antigen test

During the boarding process, you will need to pass a rapid antigen test:

- The test is required for landing;
- It is free (the cruise company does it at its own expense);
- Cruises of 7 nights or more will require another rapid antigen test prior to disembarkation (end of cruise).

Baggage

Your baggage will be tagged at check-in and will be sanitized before being loaded onto the ship and delivered to your cabin.
ON BOARD (IN CRUISE)

Passenger search form for a cruise ship

You will need to download and fill out a cruise ship passenger search form. This form is also provided on board.

Onboard protocols

- Local legislation protocols require daily temperature checks for all guests and crew members. For this, thermal imagers are installed on the liner. Thermal scanners are located by the elevators on your deck. Please remember to use these scanners every day no later than 12:00 or before you go ashore, whichever comes first.

- On board, you must wear a mask in all areas, except when eating or drinking. Masks are not required in outdoor areas such as pools or outdoor terraces (unless they are overcrowded and social distancing cannot be maintained).
Failure to comply with medical protocols and use PPE on board will result in denied boarding.

- Disinfection on board the liner is carried out several times a day. Each passenger must use the wash basins and

Services on board. If possible, use the booking forms or call from your cabin to book any services. Meals will be provided in a la carte restaurants and in the format ..

Training alert on the first day of the cruise.

You are required by maritime law to participate in drills/drills.

Due to social distancing restrictions, the programs have been changed:

- Gatherings are no longer held on decks. During the alarm, you need to be in the cabin and turn on the TV. It will host a full demonstration and provide all the information according to the drill.

- After watching the video, check if the wardrobe has the necessary life jackets. If you do not find life jackets, then be sure to call the reception (registration desk).

- The last step to complete the safety briefing is to proceed to the assigned assembly point. This is written on the back of your boarding pass and also on the back of your cabin/suite door. You must proceed to the muster point within two hours of boarding and scan your boarding pass at the muster point scanner. This is mandatory and checks will be made to ensure compliance.