Celestyal Cruises
Celestyal Cruises is another company with headquarters in Greece and an interesting concept of "home comfort". The basis of the company's philosophy is the complete immersion of guests in the route they have chosen - the authenticity of the environment, penetration into the culture, history, genuine sensations. Also, corporate ethics and compliance with all modern industry standards are very important for the company.
Celestyal Cruises offers its guests a personalized approach so that they can see, smell and taste, let through all the best that only exists in this or that region. The company's ships - ambassadors of hospitality and comfort - can easily take you even to the most remote corners of the eastern Mediterranean or to Cuba, preparing for you many unexpected discoveries both on land and directly on board.
A steward and an assistant steward are assigned to each cabin. Their duties include not only keeping the cabin clean and tidy, but also fulfilling your requests or orders, answering questions that interest you within their competence.
In 2017, the largest electronic travel community Cruise Critic named Celestyal Cruises the best cruise company in the nominations "Boarding a Ship", "Entertainment", "Shore Excursions", "Values" among medium-sized cruise companies. Celestyal Cruises has also received numerous Greek Tourism Awards in various nominations.
The company has at its disposal 5 medium-sized yachts, ideal for short voyages in a cozy environment. Each of the yachts has its own character and its own unique atmosphere. On board, you can both calmly gaze at the stars, and become part of various events and mass celebrations - feel the pulse of life.
Official website of the company: www.celestyalcruises.com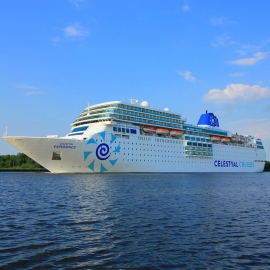 Specifications Year of construction - 1993, renovation in 2020 Tonnage - 57,100 tons. Length - 221 m. Width - 31 m. Total cabin - 789 Total passengers - 1800 people.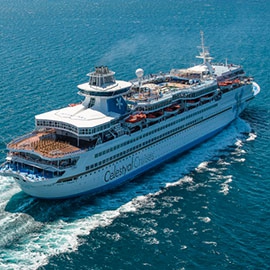 Specifications Year of construction - 1982, renovation in 2012 Tonnage - 37574 tons. Length - 214.8 m. Width - 28.4 m. Total cabin - 725 Total passengers - 1450 people.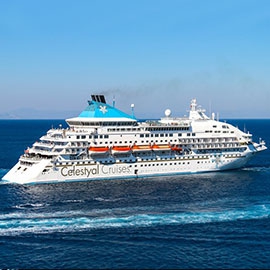 Specifications Year of construction - 1980, renovation in 2015 Tonnage - 25,611 tons. Length - 162 m. Width - 30.5 m. Total cabin - 480 Total passengers - 1200 people.
Показать все
Скрыть
Anti-crisis conditions for booking cruises
FCC - Future Cruise Credit. A certificate for a cruise, according to which you can pay for a cruise in the future with this cruise company.
Stock
Deposit amount
For how many days extra payment Penalties
Conditions apply
Celestyal Cruises from € 199.00 per cabin 35 days before the cruise
30 days before the cruise - no penalty
29 days or less before the cruise - standard penalties.
* Payment is refunded by the FCC.
For all cruises departing before 31.12.2021
Promotional conditions for all cruise lines: