Scubaspa
Do you think it is possible to combine unique spa treatments and excellent diving in one place? And we will answer: you can! And we even know such a place - this is the Maldives. Scubaspa Floating Resort is a unique new concept that harmoniously combines exceptional spa services and unforgettable diving. It is to embody this concept that Scubaspa yachts were created - for divers traveling with diving friends and guests who love spa treatments with all their hearts. These beautiful ships are perfect for admiring the fabulous islands and reefs in the crystal clear waters of the Indian Ocean.
Explore the world's richest underwater world, or be tempted to indulge in a relaxing spa experience. But why not try both? It's up to you!
The luxurious 50-meter Ying and Yang are specially designed as the largest long-stay yachts in the Maldives, each yacht accommodating 40 guests in 19 comfortable cabins.
The four spacious decks of each of these ships have room for a gym and Jacuzzi. In addition, there is an entire deck set aside for enjoying evening cocktails, live concerts and outdoor movie screenings. Each yacht has a crew of 30, and such a high crew-to-guest ratio has an extremely positive impact on the quality of service: four spa therapists, a yoga master, four chefs and a photographer will definitely make your stay on board a pleasant and stress-free experience.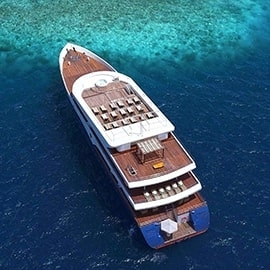 Specifications Material: PAS (glass fiber reinforced polyester) Tonnage - 327 tons Length - 50 m. Width - 11.2 m. Draft - 2.5 m.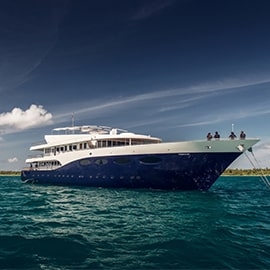 Specifications Material: PAS (glass fiber reinforced polyester) Tonnage - 327 tons Length - 50 m. Width - 11.2 m. Draft - 2.5 m.
Показать все
Скрыть
Spa
The Asian-inspired Scubaspa yacht spa is the largest of its kind in the Maldives with a total area of ​​300 m2. The spa is spread over two decks and houses six treatment rooms, including one for couples, a separate outdoor area for Thai massage or meditation, and an indoor spa lounge for relaxation and yoga.
The spa treatments use products exclusively made for Scubasp, which are formulated with organic ingredients, herbal extracts and essential oils. Adhering to the principles of a holistic philosophy, we offer more than 20 treatments on board our yachts, including Balinese and Thai massages, as well as the traditional Filipino chilot massages; therapy with stones, warm bamboo and lava shells; Ayurvedic massage and beauty treatments using Asian and Western practices. During the week of their stay on the yacht, guests can choose a set of eight treatments to their liking.
List of spa treatments:
- Thai massage
- Balinese massage
- Swedish massage
- Back and shoulder massage
- Foot reflexology
- Ayurvedic massage abhyanga
- Shampisage (Indian massage of shoulders, neck and head)
- Traditional Filipino chilot massage
- Sports massage Scubaspa
- Scubaspa face care
- Scubaspa body scrub
- Scubaspa face mask
- Skin regeneration with aloe vera after sunburn
- Manicure
- Pedicure
Diving
Since Scubaspa yachts are the only yachts in the Maldives with a PADI 5 * rating, they are happy to welcome divers of any skill level and any physical ability. Each yacht is equipped with all the necessary modern equipment, in addition to this, divers are provided with a 20-meter doni dive boat with a Bauer Nitrox compressor of the latest model.
A restaurant
Internationally qualified chefs cater to your taste and dietary needs, offering a wide variety of gourmet dishes. Three meals a day buffet are served daily, as well as an a la carte menu featuring live cooking stations in the spacious open-air restaurant at the rear of the main deck.
Roasted rack of lamb, grilled Atlantic salmon, Suzette pancakes, hot snacks and an authentic sushi bar - the flavors of a tropical island paradise are artfully combined with traditional European and Mediterranean dishes. You can pamper yourself with fresh seafood, succulent cuts and a variety of tropical fruits and vegetables. Freshly cooked to order lobster is available for a small surcharge. Enjoy breakfast while watching the sun rise, dine under the stars and relax in the sun over a leisurely lunch. Everything is complemented by a carefully selected selection of wines and champagnes.
Bar
The cozy bar is located next to the restaurant, facing the stern and opening onto a shaded lounge terrace with access to the swimming area. A large assortment of wines, champagne and exotic cocktails created by experienced bartenders is presented to you. Also available with a wide range of specialty beers, liqueurs and spirits, the daily Happy Hour heralds the perfect end to a wonderful day.
BBQ
Dreams come true with a moonlight barbecue on a sandy beach and Scubaspa is no exception. On all cruises, guests can barbecue a day's catch on a grill on a desert island, on a perfect sandy beach with azure blue water gently caressing the coastline
Honeymoon
A special offer for a wedding or honeymoon can be combined with a standard package of services at US $ 200 / person. Special offer for newlyweds includes:
- Sparkling wine with fruit slices
- Rejuvenating and revitalizing sea salt scrub
- Wrap to moisturize the skin and improve physical condition
- Bath with flower petals and candles
- Revitalizing and invigorating massage for two
Wedding
The best and most beautiful things in the world cannot be seen or even touched - they must be felt with the heart. Have you dreamed of a real Maldivian wedding with your loved one on a desert island or even underwater?
Our team specializes in creating breathtaking bespoke events.
Imagine the perfect event and we will make it happen.
Diving package
Available for certified divers only. During their stay on board the yacht, guests who choose the Spa package can additionally order an introductory dive as part of the Discover Scuba Diving course or take an Open Water Diving course and receive the corresponding certificate. Guests who have booked the Diving Package can also book spa treatments, if available. Couples choosing one Diving Package and one Spa Package can exchange dives for spa treatments.
The Diving package includes:
- Transfer from / to the airport (only on the days stipulated by the schedule of arrival and departure)
- Accommodation with three meals a day
- Welcome drink
- Drinking water
- Complimentary canned juices and an assortment of specialty teas and coffees during breakfast
- 15-17 dives per week (tanks and weights)
- Yoga classes every morning
- Snorkeling (equipment included)
- Barbecue on a deserted island
- Evening cocktail and alcoholic drinks on the last night of stay
- Excursions
- Free 2 GB Wi-FI per cabin
Spa package
Spa package includes:
- Transfer from / to the airport (only on the days stipulated by the schedule of arrival and departure)
- Accommodation with three meals a day
- Welcome drink
- Drinking water
- Complimentary canned juices and an assortment of specialty teas and coffees during breakfast
- 8 spa treatments (from a list of 14 treatments)
- Yoga classes every morning
- Snorkeling (equipment included)
- Barbecue on a deserted island
- Evening cocktail and alcoholic drinks on the last night of stay
- Excursions
- Free 2 GB Wi-FI per cabin
Diving & Spa package
The Diving & Spa package includes:
- Transfer from / to the airport (only on the days stipulated by the schedule of arrival and departure)
- Accommodation with three meals a day
- Welcome drink
- Drinking water
- Complimentary canned juices and an assortment of specialty teas and coffees during breakfast
- 6 dives per week (tanks and weights)
- 4 spa treatments (from a list of 14 treatments)
- Yoga classes every morning
- Snorkeling (equipment included)
- Barbecue on a deserted island
- Evening cocktail and alcoholic drinks on the last night of stay
- Excursions
- Free 2 GB Wi-FI per cabin