Date: 24 / 07 / 2022
With window
from
35 608 UAH
With a balcony
from
41 296 UAH
The price is indicated per person for a double occupancy
| | | | |
| --- | --- | --- | --- |
| Day | Port | Dep. | Arr. |
| 1 | Kiel (Lubeck) | - | 18:00 |
| 2 | In the sea | - | - |
| 3 | Maloy | 11:00 | 20:00 |
| 4 | Bergen, Norway | 08:00 | 19:00 |
| 5 | In the sea | - | - |
| 6 | Stavanger (Lysefijord) | 07:00 | 18:00 |
| 7 | In the sea | - | - |
| 8 | Kiel (Lubeck) | 07:00 | - |
Security protocols
The cruise price includes:
accommodation in a cabin of the selected category;
port dues and taxes;
meals on board;
entertainment programs on board;
programs for children and a kids club;
musical performances - shows, live music, discos, theater;
use of swimming pools, gym, jacuzzi.
Additionally paid:
tips on board;
air travel;
route visas;
excursions in ports of call;
accommodation before - and after - the cruise;
medical insurance.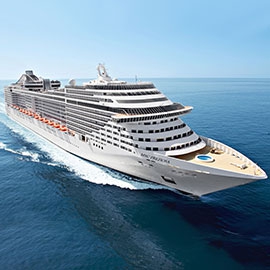 Specifications Year of construction - 2013 (Renovation - 2018) Tonnage - 139400 tons. Length - 333 m. Width - 38 m. Total cabin - 1650 Total passengers - 4345 people.
Leave your comment
Comment