Date: 08 / 01 / 2022
Sea Star Suite
from
86 471 UAH
Cowrie Suite
from
96 233 UAH
Dolphin Suite
from
106 275 UAH
Manta Suite
from
114 643 UAH
Date: 15 / 01 / 2022
Sea Star Suite
from
86 471 UAH
Cowrie Suite
from
96 233 UAH
Dolphin Suite
from
106 275 UAH
Manta Suite
from
114 643 UAH
Date: 22 / 01 / 2022
Sea Star Suite
from
86 471 UAH
Cowrie Suite
from
96 233 UAH
Dolphin Suite
from
106 275 UAH
Manta Suite
from
114 643 UAH
The price is indicated per person for a double occupancy
| | | | |
| --- | --- | --- | --- |
| Day | Port | Arr. | Dep. |
| 1 | Male, Maldives | - | 17:00 |
| 2 | Lankan Point, Maldives | 06:00 | 08:00 |
| | Fish Tank, Maldives | 10:30 | 12:15 |
| | Rasdhoo Madivaru, Maldives | 15:30 | 17:45 |
| | Cocktail on the beach | 18:00 | 19:30 |
| 3 | Kurmati Kandu, Maldives | 05:45 | 08:00 |
| | Desert Island Picnic | 10:00 | 13:00 |
| | Maya Thila, Maldives | 18:00 | 19:30 |
| 4 | Fish Head, Maldives | 06:30 | 08:00 |
| | Mufushi Point, Maldives | 10:30 | 13:00 |
| | Panettone, Maldives | 14:30 | 18:30 |
| 5 | Rangali Madivaru, Maldives | 06:00 | 08:00 |
| | Finding the Whale Shark | 09:15 | 17:45 |
| 6 | Diving to the sunken ship of Kudim | 06:00 | 08:00 |
| | Miyaru Kandu, Maldives | 14:00 | 18:00 |
| | Alimata House Reef, Maldives | 18:00 | 19:30 |
| 7 | Guraidhoo Corner, Maldives | 06:30 | 08:00 |
| | Diving to the sunken ship Kuda Giri | 10:30 | 13:00 |
| | Maafushi Island, Maldives | 14:00 | 15:00 |
| | Cocktail on the beach | 18:00 | 19:00 |
| 8 | Male, Maldives | 06:30 | - |
Security protocols
Included in cost:
Accommodation in a cabin of the selected category;
Full board on board;
Three packages of your choice: SPA package (8 treatments of your choice), SPA + diving package (6 dives + 4 spa treatments) and diving package (minimum 15 dives);
Transfer from the airport on the day of the cruise start;
Transfer to the airport on the day of the end of the cruise;
Welcome drink;
Drinking water around the clock;
Tea / coffee and juice for breakfast;
Yoga;
Snorkeling;
BBQ on the island;
1 GB internet per person.
It is additionally paid:
International air travel;
Service fee - 10%;
Taxes - 12%;
Green Tax - USD 6 per person per day;
Insurance;
Accommodation before / after.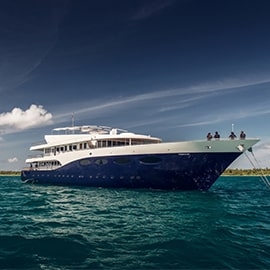 Specifications Material: PAS (glass fiber reinforced polyester) Tonnage - 327 tons Length - 50 m. Width - 11.2 m. Draft - 2.5 m.
Leave your comment
Comment