Promotion "96 hours" - MSC Bellissima!
21.06.2022 09:00
Period of carrying out: from 21.06.2022 to 28.06.2022
All dates of departure on the liner take part in the action >>> MSC Bellissima from July to October - Cruises to the Western Mediterranean!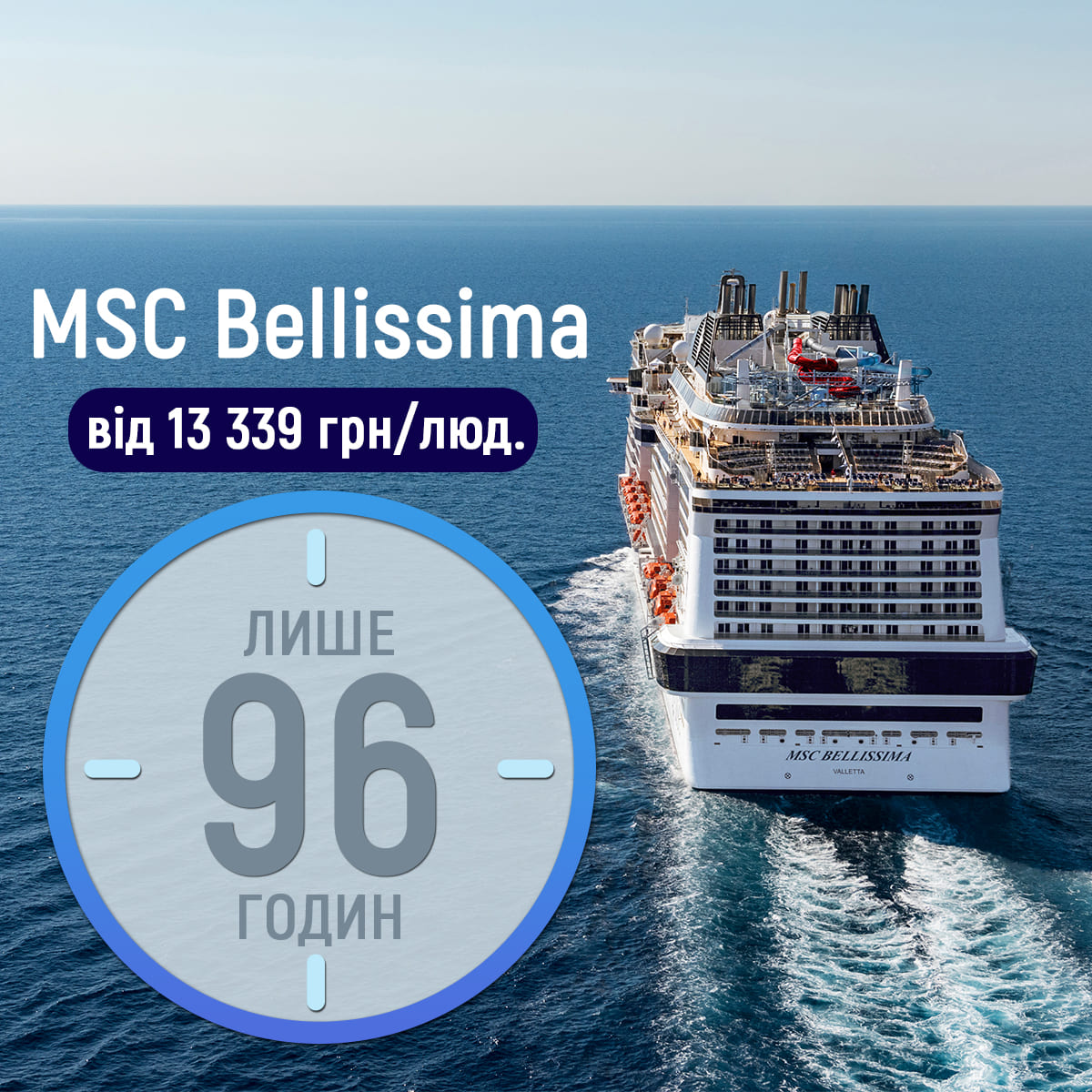 - The promotion applies only to new bookings in the period from 06/21/2022 to 06/28/2022
- Terms of payment - 100% payment
- Cancellation policy - 100%
- Changing the name or surname of passengers is not allowed
- This fare is compatible with discounts for MSC Voyagers Club passengers, but is not combined with other cruise company offers
- An MSC voucher is allowed when booking at this rate
- The cabin option is valid until the end of the day and cannot be extended
- Choice of cabin and deck number is not provided (Guarantee cabins), the cruise company will issue cabin numbers approximately 4 days before departure.
- Cruise booking, boarding are regulated by a special protocol for health and safety MSC Cruises
- The cruise company reserves the right to terminate the action early.
Cruises participating in the promotion:
Date Port of embarkation / disembarkation Number of nights Price from / per 1 person, EURO Port fees No window Window Balcony
09.07.2022 Valencia - Valencia (Spain) 7 399 140 259 309 409
10.07.2022 Barcelona - Tarragona (Spain) 7 349 140 209 259 359
12.07.2022 Genoa - Genoa (Italy) 7 349 140 209 259 359
13.07.2022 Livorno - Livorno (Italy) 7 349 140 209 259 359
16.07.2022 Valencia - Valencia (Spain) 7 449 140 309 359 459
17.07.2022 Tarragona - Barcelona (Spain) 7 349 140 209 259 359
19.07.2022 Genoa - Genoa (Italy) 7 399 140 259 309 409
20.07.2022 Livorno - Livorno (Italy) 7 399 140 259 309 409
23.07.2022 Valencia - Valencia (Spain) 7 449 140 309 359 459
24.07.2022 Barcelona - Tarragona (Spain) 7 399 140 259 309 409
26.07.2022 Genoa - Genoa (Italy) 7 499 140 359 409 509
27.07.2022 Livorno - Livorno (Italy) 7 499 140 359 409 509
30.07.2022 Valencia - Valencia (Spain) 7 549 140 409 459 559
31.07.2022 Tarragona - Barcelona (Spain) 7 499 140 359 409 509
02.08.2022 Genoa - Genoa (Italy) 7 549 140 409 459 559
03.08.2022 Livorno - Livorno (Italy) 7 549 140 409 459 559
06.08.2022 Valencia - Valencia (Spain) 7 649 140 509 559 659
09.08.2022 Genoa - Genoa (Italy) 7 599 140 459 509 609
10.08.2022 Livorno - Livorno (Italy) 7 599 140 459 509 609
13.08.2022 Valencia - Valencia (Spain) 7 699 140 559 609 709
16.08.2022 Genoa - Genoa (Italy) 7 549 140 409 459 559
17.08.2022 Livorno - Livorno (Italy) 7 549 140 409 459 559
20.08.2022 Valencia - Valencia (Spain) 7 599 140 459 509 609
21.08.2022 Tarragona - Barcelona (Spain) 7 549 140 409 459 559
23.08.2022 Genoa - Genoa (Italy) 7 499 140 359 409 509
24.08.2022 Livorno - Livorno (Italy) 7 499 140 359 409 509
27.08.2022 Valencia - Valencia (Spain) 7 599 140 459 509 609
28.08.2022 Barcelona - Tarragona (Spain) 7 549 140 409 459 559
30.08.2022 Genoa - Genoa (Italy) 7 499 140 359 409 509
31.08.2022 Livorno - Livorno (Italy) 7 499 140 359 409 509
01.09.2022 Naples - Naples (Italy) 7 549 140 409 459 559
03.09.2022 Valencia - Valencia (Spain) 7 549 140 409 459 559
04.09.2022 Tarragona - Barcelona (Spain) 7 499 140 359 409 509
06.09.2022 Genoa - Genoa (Italy) 7 499 140 359 409 509
07.09.2022 Livorno - Livorno (Italy) 7 499 140 359 409 509
08.09.2022 Naples - Naples (Italy) 7 549 140 409 459 559
10.09.2022 Valencia - Valencia (Spain) 7 549 140 409 459 559
13.09.2022 Genoa - Genoa (Italy) 7 499 140 359 409 509
14.09.2022 Livorno - Livorno (Italy) 7 449 140 309 359 459
15.09.2022 Naples - Naples (Italy) 7 499 140 359 409 509
17.09.2022 Valencia - Valencia (Spain) 7 499 140 359 409 509
18.09.2022 Barcelona - Tarragona (Spain) 7 449 140 309 359 459
20.09.2022 Genoa - Genoa (Italy) 7 499 140 359 409 509
21.09.2022 Livorno - Livorno (Italy) 7 449 140 309 359 459
22.09.2022 Naples - Naples (Italy) 7 499 140 359 409 509
24.09.2022 Valencia - Valencia (Spain) 7 469 140 329 379 479
25.09.2022 Tarragona - Barcelona (Spain) 7 419 140 279 329 429
27.09.2022 Genoa - Genoa (Italy) 7 499 140 359 409 509
28.09.2022 Livorno - Livorno (Italy) 7 449 140 309 359 459
29.09.2022 Naples - Naples (Italy) 7 449 140 309 359 459
01.10.2022 Valencia - Valencia (Spain) 7 469 140 329 379 479
02.10.2022 Barcelona - Tarragona (Spain) 7 419 140 279 329 429
04.10.2022 Genoa - Genoa (Italy) 7 449 140 309 359 459
05.10.2022 Livorno - Livorno (Italy) 7 399 140 259 309 409
06.10.2022 Naples - Naples (Italy) 7 399 140 259 309 409
08.10.2022 Valencia - Valencia (Spain) 7 399 140 259 309 409
10/09/2022 Tarragona - Tarragona (Spain) 7 349 140 209 259 359
11.10.2022 Genoa - Genoa (Italy) 7 399 140 259 309 409
12.10.2022 Livorno - Livorno (Italy) 7 399 140 259 309 409
13.10.2022 Naples - Naples (Italy) 7 399 140 259 309 409
10/15/2022 Valencia - Valencia (Spain) 7 399 140 259 309 409
16.10.2022 Tarragona - Tarragona (Spain) 7 349 140 209 259 359
18.10.2022 Genoa - Genoa (Italy) 7 399 140 259 309 409
19.10.2022 Livorno - Livorno (Italy) 7 399 140 259 309 409
10/20/2022 Naples - Naples(Italy) 7 399 140 259 309 409
22.10.2022 Valencia - Valencia (Spain) 7 399 140 259 309 409
23.10.2022 Tarragona - Barcelona (Spain) 7 349 140 209 259 359
10/25/2022 Genoa - Genoa (Italy) 7 449 140 309 359 459
26.10.2022 Livorno - Livorno (Italy) 7 399 140 259 309 409
27.10.2022 Naples - Naples (Italy) 7 399 140 259 309 409
To get advice and answers to all questions:
You can also book a cruise on our website:
Or get all the detailed information about the promotion from our managers:
Email: info@4gates.com.ua