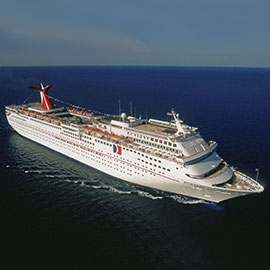 The Carnival Ecstasy is one of those ships that were particularly popular in the 90s and were considered the leading ships of the company. The vessel is designed specifically for outdoor activities and mass entertainment and serves as a floating resort. A special feature of the liner can be called a special atmosphere filled with bright lights, colorful interior and large space - just like in real Las Vegas.
Specifications
Year of construction - 1991 (Renovation - 2017)
Tonnage - 70526 tons.
Length - 260 m.
Width - 32 m.
Total cabin - 1026
Total passengers - 2056 people.
Crew - 920 people.
Number of decks - 10
Speed ​​- 21 knots
Liner Carnival Ecstasy specializes in short cruises, less than a week. The last renovation was carried out in 2017, and another one is planned in 2019. So hurry up to book your trip to appreciate the fresh renovation and all the new items on the ship.
Blue Sapphire Theater is a two-story theater with 1,300 seats.
Crystal Palace Casino - casinona 450 seats.
Deck 10 houses the ship's only pool.
Deck 7 houses the Passenger Services Center and Shore Excursion Bureau. It also has an Art Gallery and Pixels Photo Gallery, which displays all of the shots taken by photographers throughout the cruise.
Shops on Decks 8 and 9 offer shirts, hats, coffee mugs, jewelry and spirits. A Cherry on Top sweet shop is also located on this deck.
The Explorer's Club Library (Deck 8) is a great place for passengers to play cards, board games, or borrow a book from the collection.
Laundries are located on two decks: 6 (opposite cabin U154) and 7 (opposite cabin E6).
Decorated in soothing neutral tones, the SpaCarnival on deck 12 offers a variety of facials, massages, acupuncture, body wraps and more.
The beauty salon is designed for the needs of passengers of both sexes. Services include haircuts, styling and coloring, as well as manicures and teeth whitening.
For people who want to continue their workouts while cruising, the fitness center offers cardio and strength training equipment, as well as paid classes such as aerobics, Pilates, yoga and more. It is open from 6 am to 10 pm.
REMINDER "CARNIVAL CRUISE LINE"

You must know this before boarding:
Passport and visas:
Documents are presented upon boarding and will be returned to you upon disembarkation. All guests over 16 years of age must have an ID (passport) with them, and you must also have all the visas required for the cruise.
IMPORTANT: Guests' names on cruise and air tickets must match the names on their passports.
What clothes to take with you?
Casual: You can wear casual clothes both ashore and during the day on board.
Shorts, trousers, blouses are suitable for women. Men should bring comfortable rubber-soled shoes (for walking on the deck) and a pair of good shoes. Do not forget to bring a sweater, warm jacket or jacket for evening walks or in case of cold weather and rain.
Formal wear: a cocktail dress or evening dress for women, a black suit or tuxedo for men, perfect for the Captain's Cocktail and Gala nights.
For the rest of the evenings, the dress code is less strict. Shorts and T-shirts are prohibited.
What About Money?
The currency on the ship is USD. The following cards are accepted for payment on board: Visa, Mastercard, American Express.
Onboard Card: This card is a pass to the ship.
Luggage:
Your luggage must be well closed. Each luggage should have a tag on which your name, ship name and cabin number are written. When you check in to the ship, you first check in your baggage in the hold and then check in lightly. Porters will deliver your luggage to your cabin during the day.
Life on board:
Steward: There is a steward in every cabin. He will keep order in your room. If you have any questions, please contact RoomService.
Key: your onboard map is also the key to your cabin.
What is included in the cruise price?
Food:
night buffet
holiday "Welcome aboard"
eight meals a day on board
sushi bar
Seaview Bistro
24-hour pizzeria and ice cream
captain's gala evening
Captain's cocktail
Entertainment:
Kids club, for children from 2 to 14
Club 02, for teens from 15 to 17
various show programs
entertainment in various clubs and bars
Activities on board:
gym
swimming pools
Service:
room service
orchestras and bands
cinemas
towels
bath accessories.
What is not included in the cruise price?
postage stamps, souvenirs
drinks in bars
beauty salon, massage, hairdresser
golf lessons
nanny for children
photographs, portraits, video cassette about the cruise
medical services
shore excursions
casino
Internet cafe
Food:
Meals on board take place in 4 shifts: 17:45, 18:15, 20:00 and 20:30. When booking your cruise, you can request a meal change and table size (number of people at the table) for dinner. We do not guarantee that your requests will be fulfilled, but we will try to accommodate them. Smoking is not allowed in the restaurants on board the ship.
For your convenience, you can enjoy a continental breakfast in your cabin every morning until 10:00. Breakfast is also served on the Lido deck. Tea and coffee can be ordered around the clock.
Special Diets: If you are following any special diet please advise your agent when booking your cruise.
SeaviewBistro: open from 18:00 to 21:00. Here you can dine in a more casual setting. You are offered pasta, steaks, ribs, grilled chicken, salads and desserts.
Wines: If you would like to enjoy wine during dinner, ask the waiter for a wine list.
You are not allowed to bring your own alcoholic drinks on board. Alcoholic drinks are not available to persons under the age of 21.
Pizzeria: There is a pizzeria on board the ship and is open 24 hours a day. You can order pizza at any time. The pizzeria has both standard pizzas (pepperoni, mushroom, with pepper and onions) and gourmet pizzas (with sausage and goat cheese). The pizzeria also offers Caesar salad.
Café: Coffee, cappuccino, espresso and French pastries can all be tasted at the on-board cafe.
What to do on board?
Daily program: The daily program is delivered to your cabin every evening. It includes the program for the next day.
Duty-free shops on board: shops are closed while the boat is in port
Beauty salon and hairdresser: we have a wide range of services to help you unwind. You can also use the sauna or jacuzzi. Children under 12 years old are not allowed to use these services. Persons from 13 to 16 can use these services accompanied by an adult.
Onboard training: you can use the gym and fitness equipment. If you need someone's advice, you can use the services of a trainer (for a fee).
Pools: there are several pools on board. You can swim or just sunbathe next to them. If you have small children with you, they can also swim in the children's pool.
What about towels?
You will find beach towels in your cabin. You can use them by the pool and at the ports of call. You can also get them in the store - fine souvenir.
Children's club: various children's entertainment programs for children from 2 to 14. Groups: from 2 to 5, from 6 to 8, from 9 to 11, from 12 to 14.
Club 02: Exclusive program for teens from 15 to 17 years old. Dance, music, video games, movies and more. Fun parties, games and sports activities.
Casino: If you want to learn how to play, our staff will help you with this.
Persons under the age of 18 cannot play in the casino.
Deck Games: On deck you can play a variety of games including table tennis and shuffleboard.
Medical services
Medical Services: You can seek help 24 hours a day. If you require certain treatment, surgery or hospitalization, you will be dropped off the ship and taken to the hospital.
Seasickness: Seasickness is a very rare occurrence on our ships, as all ships have roll stabilizers. If you do feel unwell, contact your steward or escort.
Babysitting for children: Babysitting for children under 11 years old is open from 22:00 to 3:00. Babysitting services will cost $ 6 per hour for one child and $ 4 per hour for each additional one. In addition to evening babysitting, we also offer morning babysitting services for children under 2 years old on the days of port calls.
Important information:
Minors on board: Guests over 21 years of age may travel alone. Guests under 21 years old can travel with adults (over 25 years old), while they must live with them either in the same cabin, or in different, but connected by the same door.
Found and Lost Items: If you have lost something on board the ship, contact the information desk. If you find anything, take it to the information desk.
Electrical Appliances: The ship has 110 and 220 volt sockets. You can bring electric razors, hair dryers or tongs with you, but you cannot bring heating devices such as irons, heating pads on board, as they can cause a fire.
Valuables: of course, you will take valuable things with you on board such as a camera, video camera, jewelry, etc. We are not responsible for things left in your cabin, in your luggage or in public areas. For your convenience, we suggest you leave your belongings in the safe in your cabin or in the safe at the InformationDeck
Gifts and services:
Gifts: Pleasantly surprise someone with a bouquet of fresh flowers, a bottle of wine and dinner. Many other gifts are also available. We offer you tuxedos and evening dresses for rent.
Parties: If you would like to have a party during the cruise, we will help you with that. We can even decorate your cabin. Contact the InformationDeck
Photos: don't forget to smile, our photographers are always there. During formal evenings, you will also be photographed. You can purchase these photos from the photo gallery.
Connection with the World:
Can I make and receive calls?
You can easily call family members or your friends from your cabin. Per-minute payment is applied (according to the tariffs of satellite communications Satellite).
Internet cafe: you can use your personal email address or open a new one on board. Internet charges will be added to your onboard account.
Safety on board:
The fire is especially dangerous at sea !!! That is why we ask you to follow the basic rules of conduct on board. Safety rules on board:
do not smoke in bed;
not throw cigarettes, matches or cigars overboard;
smoke only in specially designated areas;
be careful on stairs;
the floor in the cabin must be clean. While you sleep, let the light be on in the cabin, at least in the bathroom, so that when you wake up, you can clearly see the cabin;
you cannot use irons, heating pads and candles in the cabin;
do not run around the ship; make sure that children do not run or play on the stairs.
A drill: a drill is sent to all passengers immediately after boarding the ship. After you hear the characteristic signal, you will need to take your life jacket (it is in the cabin) and go to your lifeboat, where a drill will be held for you. All guests MUST be present at the exercises !!!
WE WISH YOU A PLEASANT REST!
Camp Ocean is a kids club for children aged 2-11 and is divided into three groups: Penguins (2-5), Stingrays (6-8) and Sharks (9-11).
Circle C on Deck 8 is a club for teenagers from 12 to 14 years old.
Teens aged 15 to 17 have access to Club O2, where they can play sports, video games, watch movies, listen to music and sing karaoke.
Wind Star Restaurant - main restaurant with 658 seats with original Seuss At Sea breakfasts for an additional $ 5 fee.
Panorama Lido Buffet Restaurant - 722-seat buffet restaurant. In the evenings it works like a bistro.
Additionally, there are the following themed bars on board:
Sushi Bar - sushi bar.
Guy's Burger Joint - barubassein.
BlueIguana Cantina is a Mexican pool bar.
Neon Piano Bar (deck 8) - piano bar.
Chinatown Lounge (Deck 9) - An Asian-style bar.
Metropolis Bar (deck 9) - casino bar.
Stripes Night club (Deck 9) - a bar with a dance floor.
BlueIguana Tequila Bar (Deck 10) - Mexican bar.
Leave your comment
Comment