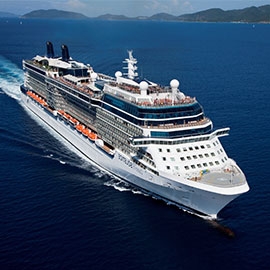 Celebrity Solstice is a beautiful high-end cruise ship where you can comfortably relax and enjoy the views of the sea. Plenty of entertainment, most of the external cabins and a cozy atmosphere in any chosen establishment - all this awaits those who have a rest on this ship. The interior is filled with large fireplaces, huge hallways, artwork and even grand pianos, creating a rich ambience.
Length - 315 m
Width - 37 m
Number of decks - 15
Number of cabins - 1425
Speed ​​-24 knots (44 km / h)
Passenger capacity - 2 852 -3420 h
Crew - 1 250 h
Displacement - 121878 t
On the liner in summer you can go on weekly cruises on the Seattle - Alaska route. In the cold season, the ship moves from Hawaii to Australia.
The vessel will delight its guests with a combination of bright sunny colors with warm brown, gold and red carpets, furniture and wood trim. Each cabin is equipped with a safe, a minibar and bathrobes, an interactive TV, through which you can order room service, check your on-board account, book a table in a restaurant.
Bathrooms are large by cruise ship standards and have glass shower doors instead of a shower curtain, and bath amenities, which include shampoo, conditioner and lotion, which are changed daily.
All cabins are divided into several categories:
The inner cabin is a compact 16 sq. m. area. They have two beds that can be converted into a queen-size bed, as well as a sofa bed, a desk with chair and wardrobe.
Outside Cabin - These types of cabins have the same furnishings as the interior cabins, plus a large window. They are slightly larger than the inner -16sq. m.
Cabin with balcony - these cabins are identical in size to the internal ones, but have a private balcony of 5 sq. m. It has one table and two chairs.
Concierge class cabin with balcony - 277 cabins, identical in size and layout to regular cabins with balconies, but include a number of privileges that are not available in ordinary rooms with balconies. These include fresh fruit, flowers, sparkling wine (upon check in), evening snacks and priority boarding / disembarking. Other perks include an exclusive welcome lunch at the main restaurant, pre-disembarking lounge access with free coffee and juices, and extra in-room amenities such as Egyptian cotton towels and Frette robes.
AquaClass Balcony - The 130 cabins are essentially standard balcony cabins with the best location on the boat (above and aft) and additional spa-themed privileges including access to the Blu - spa cuisine restaurant. The cabin has an aroma diffuser that subtly distributes the scent throughout the room. Passengers will also benefit from daily tea, a personal concierge to arrange spa treatments, and free access to the Persian Garden and Relaxation Room.
"Sky" suite - 44 suites are 28sq. m. with balconies of 7 sq. m., accessed through glass doors from floor to ceiling. The bedroom has two single beds that fold into one large queen-size bed, while the bathroom has a combined shower / tub and sink. The living room has a sofa bed, table and 40-inch LCD TV.
"Celebrity" suites - have an area of ​​37 sq. m. with a balcony of 10 sq. Each Celebrity suite has a dressing room, separate living and sleeping areas with a flat-screen TV in each area.
Suite class "Royal" - the area of ​​such rooms is 55 sq. m., plus a balcony of 15 sq. The Royal suites have separate living and sleeping areas, and the bathrooms have a separate bath and shower. Each Royal cabin has a Jacuzzi on the balcony.
Penthouse suite - there are two such suites on board with an area of ​​120 sq. M. With a balcony of 36 sq. M. These cabins feature floor-to-ceiling sliding glass doors, separate living / dining area, small grand piano, full bar, sofa bed, two 52-inch LCD TVs (one in the living room, one in the bedroom) and a Jacuzzi. There is a second hot tub (jacuzzi) on the veranda.
Royal and Penthouse Suites passengers receive unlimited meals in all specialty restaurants and free unlimited Internet access.
All suites benefit from a personal butler service, afternoon tea, daily evening snacks, espresso and cappuccino, and a range of other privileges, including a visit to the exclusive Luminae premium restaurant. Passengers in the Celebrity Suites have access to the exclusive Michael'sClub piano bar.
Couples can take advantage of 121 combined cabins and four cabins with a balcony. These cabins are 53 sq. m. and have two bedrooms and a living room with a sofa.
The Celebrity Solstice has 30 modern cabins designed for people with disabilities
Traditionally for large ships, Celebrity Solstice passengers have the opportunity to visit many entertainment venues, including:
Solstice Theater is a theater for large-scale performances, on the stage of which various concerts, seminars, films, etc.
The Entertainment Court - a venue with live artist shows and dance parties
Quasar - night club
Celebrity Center is a large seating area for 200 guests, which is used for screenings of films, musical performances, comedy shows, and more.
Solstice Fortunes Casino - casino with slot tables and slots
Celebrityi Lounge - 24/7 internet cafe
Cellar Masters - 24-hour wine bar where wine tasting takes place, sommelier consultations are held in the evenings
Sunset Bar - cigar bar
Cultural rest for the passengers of the ship is represented by a photo gallery, an art gallery, an art studio for practicing various crafts, etc. Guests can also visit the fitness center, swimming pools, jacuzzi and relaxation areas on different decks at any time.
USEFUL INFORMATION FOR CRUISE PASSENGERS
A FEW TIPS THAT WILL HELP YOU ALWAYS FEEL COMFORTABLE ON BOARD THE LINER.
BEFORE YOUR TRAVEL
Going on an international sea cruise, we advise you to make sure you have not forgotten:
a foreign passport, in which the necessary visas must be affixed;
cruise documents; medical insurance policy;
related documents.
WHILE BOARDING THE LINER
We recommend that you arrive at the seaport 4 hours before the departure of the liner.
ATTENTION! THE LINER DOES NOT WAIT FOR LATEURS! The rest of the tourists bear full material and moral responsibility for the consequences arising from their delay to the departure of the vessel.
Please note that baggage is checked in at the port and delivered to the cabin (the recommended tip for baggage delivery is approximately $ 2 per item, payable upon drop-off).
During customs and border formalities, you hand over your passport to the emigration service of the liner (for the duration of the cruise), go on board the liner, are accommodated in the cabin, the number and category of the cabin are indicated in the cruise documents.
Each cabin contains information about the location of services, a plan-map of the liner, a telephone directory of various ship services. Each cabin is equipped with air conditioning, telephone, TV, safe, 110 volt and 220 volt sockets. Some cabins have a hairdryer. Each cabin has a bathroom with a shower, while the suites have a bath.
If you are hungry, there is a buffet cafe on the upper deck, the opening hours are indicated in the ship's newspaper CruiseCompass.
There is always a "drill" before the liner departs, you must take a life jacket and take part in the exercise.
ABOUT THE TIME OF THE CRUISE
The CruiseCompass day program is delivered daily to the cabin with a detailed indication of the place, time and content of the activities on board, the start time of the excursion program, air temperature, as well as general information about the port of call, recommendations for choosing clothes, etc.
We urge you to keep your luggage safe. It is recommended to keep valuables and money in safes.
On board our ships there are: swimming pools, which are located on the upper deck, you can also use a jacuzzi, a solarium, a beauty salon and massage room, a hairdresser, a library, a slot machine room, a casino, several bars, a disco, duty free shops, cinema, children's entertainment center and much, much more.
YOUR WARDROBE
Ladies are advised to take evening, cocktail dresses, men - a suit and tie. During the cruise, solemn receptions will be arranged on the liner, one of which is arranged by the liner captain.
ADDITIONAL EXPENSES ON BOARD OF THE SHIP, THEIR PAYMENT
The cruise price includes all types of meals on board (with the exception of dinners in alternative restaurants), accommodation in a cabin of the selected category, use of the gym, swimming pools, as well as an entertainment program, port taxes and duties.
Additional payments: bar products, reservations in alternative restaurants, laundry services, beauty salon, SPA, casino, shore excursions, sports activities in groups, ordering food and drinks to the cabin from 00:00 to 05:30 in the morning.
CASHLESS PAYMENT OF EXPENSES ON BOARD
For the convenience of calculations, all passengers receive a so-called Sea Pass credit card upon check-in, to which all additional expenses on board during the cruise are credited. You will need cash and credit cards for payments at the ports of the ship's parking.
What is a SeaPass card?
Credit card on the liner (with this card you can shop in shops on board the ship, purchase tickets for shore excursions, take part in a lottery, order alcoholic drinks and cocktails in bars, pay for visits to a beauty salon, massage parlor, photos, laundry services, etc. dry cleaners, etc. Casino chips and tokens are purchased with cash or credit cards.
Pass to the liner (the map shows the name of the cruise company, the name of the ship, the name of the restaurant, the number of the table).
Your ID for the cruise (last name, first name on the map).
Key to the cabin.
The SeaPass card must be activated on the day the cruise starts. You can present your credit card at check-in, after which, all expenses will be automatically read or inform that you wish to pay in cash, in this case, contact Pursers Desk / GuestRelations and make a deposit of $ 250 per person, the amount may vary depending on the duration of the cruise. After that, an account will be opened in your name and all you need to do to pay expenses on board is to show your card and sign checks. The day before the end of the cruise, you will be presented with a general invoice detailing the expenses on board, which must be paid the day before by 23:00 or from 06:00 to 07:00 on the day the cruise ends.
The tourist is always obliged to use the Sea Pass have with you.
TIP
All over the world this is the norm, since 90% of the salaries of service personnel are tips.
Optionally, you can pay the tip when booking your cruise at an authorized office either on board in cash or by depositing to your in-flight account
The amount of tips is approximate and may vary depending on the cruise company and the category of the cabin (per person per day):
When accommodated in a cabin without a window, with a window, with a balcony (Standard Room): $ 14.50 / person per day;
When accommodated in a Concierge & Aqua Class: $ 15.00 / person per day;
When accommodated in a Suite Class: $ 18.00 / person per day.
SHORE EXCURSIONS
In your cabin you will find an order form for shore excursions, if you want to take part in excursions, it must be filled out and returned to the "Shore Excursions" counter, where you can get information about excursions in ports of call and purchase tickets. The cost of excursions is not included in the price of the tour. Before entering the port, the Cruise Director and Lecturer have talks about local attractions and excursions on board, as well as shops and bargains.
Tourists who do not want to participate in excursions can independently manage their time in the port.
MEDICAL SERVICES
All ships of Royal Caribbean International, CelebrityCruises and AzamaraClubCruises have trained doctors and nurses who are available around the clock in case of emergency. Medical services provided on board are paid additionally, tariffs correspond to European ones. We recommend that you take the necessary medications with you. If you are sensitive to the slightest hesitation of the liner, we advise you to use special tablets, which can be obtained free of charge from your doctor or at the GuestRelations counter.
LAUNDRY AND DRY CLEANING SERVICES
Our liners are equipped with excellent laundry and dry cleaning services. The price list for this type of service is in your cabin. With a standard order, things will be delivered the next day. If you need to receive things during the day, you must return the completed form and things in a special package to the steward by 09:00, the surcharge will be 50% of the total cost of the order.
DUTY-FREE SHOPS
There are duty-free shops on board the ships, where a wide variety of goods are widely presented: souvenirs with the symbols of Royal Caribbean, CelebrityCruises, and AzamaraClubCruises, tobacco products, alcoholic beverages, clothing, perfumery and cosmetics, jewelry, and basic necessities. Stores are closed during port stops. When buying alcohol, it will be delivered to your cabin only on the penultimate day of the cruise, so that you could take it with you.
COMMUNICATION SERVICES
By phone from your cabin, you can make international calls, the cost of 1 minute of conversation is on average $ 15.
Our ships are equipped with WiFi, which ensures virtually uninterrupted cellular communication on board.
All ships have Internet cafes, communication services are paid.
SAUNA, SPA, BEAUTY SALON
There is a sauna, SPA and beauty salon on board. Services are provided for an additional fee. If you wish to use these services, we recommend that you schedule your session / procedure in advance.
IN YOUR CABIN
In the cabin, for your convenience, there are soft drinks, which are paid additionally.
You can contact HouseKeeping at any time of the day or night and order an extra pillow, blanket, snacks in your cabin and much, much more. Drinks (juice, tea) and snacks indicated in the Room Service menu are served in the cabin free of charge, with the exception of the night time from 00:00 to 05:30 at (a tip must be paid - $ 2-5).
RADIO AND TELEVISION
All cabins on Royal Caribbean, CelebrityCruises, and AzamaraClub have radio and TV. Television broadcasts a satellite news channel from various countries, films, music programs and an internal TV channel reporting on the program on board, ports of call, etc.
RESTAURANTS & KITCHEN
For those who prefer a dietary meal, our chefs will prepare meals that are low in fat and sugar. We also offer vegetarian and children's menus. No matter what time of day you get hungry, you will always find something tasty.
TABLE ORDER IN THE RESTAURANT HALL
When you make a cruise booking, you can choose the table size in the restaurant that will be assigned to you for the entire cruise, as well as inform your agent of your preferred dinner time (first or second shift): Change - 18: 15-20: 00, II shift - 20: 30-22: 00. We are also pleased to offer you the opportunity to dine at any time convenient for you by choosing the MyTimeDining (RCI) / CelebrityCelect (CCL) meal change. Also, guests traveling with children under 13 years old can book the MyFamilytimedining option (with a confirmed meal change), in which case their children will be fed in about 40 minutes, after which a de
tskogo club for quiet games or watching cartoons and parents will have the opportunity to devote more time to each other. The child must be registered with the AdventureOcean Kids Club on the first day of the cruise.
SMOKING ON BOARD LINERS
Smoking is prohibited in cabins and most public areas. Also, there is a ban on smoking at the gaming tables in the casino, however, smoking is allowed near slot machines. In addition, each ship has designated smoking areas, both indoors and on the open decks on the starboard side of the ship. Smoking areas are marked with an inscription and are equipped with ashtrays. Passengers staying in cabins with a balcony can smoke on the balconies. Please note that smoking is strictly prohibited on RCI liners balconies overlooking Central Park / CentralPart and Boardwalk. The fine for violation of the rules of smoking is $ 250. On board CCL liners, smoking is prohibited both in the cabins and on the balconies.
ALCOHOL
Alcoholic drinks brought on board will be seized by security and returned to the owner the day before the cruise ends.
Persons under the age of 21 are strictly prohibited from drinking alcoholic beverages, this regulation is strictly observed by the service personnel, at the request of the bartender / waiter, the passenger is obliged to present the SeaPass, which contains information about the age of the passenger. Violation of the rules for drinking alcohol, as well as antisocial behavior can lead to arrest, forced disembarkation from the liner at the next port of call and transfer to law enforcement agencies.
PREGNANCY
Pregnant women are allowed to travel if the pregnancy at the end of the cruise does not reach 24 weeks. We strongly recommend that pregnant women have a certificate from a gynecologist, confirming that the pregnancy is proceeding without complications, and there are no contraindications for traveling.
CHILDREN
The minimum age for children accepted for carriage is 6 months, however on some cruises the minimum age is 1 year. Please check with your agency. All RCI and CCL ships have children's clubs, which are divided into 5 age groups and accept children from 3 to 17 years old inclusive.
MINORS
Passengers under the age of 21 are considered minors and must live in a cabin with a parent / proxy during the cruise, and the proxy must carry a parental power of attorney when boarding. The power of attorney must be translated into English and certified by an apostille.
END OF CRUISE, DEPARTURE
On one of the days of the cruise, special forms will be delivered to your cabin - DisembarkationForm. Fill in them, indicating the time of departure from the ship. In accordance with the specified time, luggage tags of a certain color will be delivered to your cabin, which will need to be filled in and attached to the luggage on the penultimate day of the cruise. Also, the day before the end of the cruise, customs declarations will be delivered to your cabin, which must be filled out and carried with you to go through passport and customs control.
Filled luggage tags are attached to suitcases, bags. Luggage is put on the corridor until 24.00 on the penultimate day of the cruise. On the day of arrival at the port, you must pay with your SeaPass card (by 7.00 am) and receive your passport! (Pursersdesk / GuestRelations). You will receive your luggage at the port based on the color of the luggage tag.
As entertainment for children, you can use the play area and the room with slot machines, as well as special clubs by age:
Fun Factory is a play club for children aged 3-11 years, within which there are three zones with an even greater division: Shipmates (3-5 years old), Cadets (6-8 years old), Ensigns (9-11 years old). Here children can do arts and crafts, take part in themed parties, play games, watch movies and much more.
X-Club is a teenage club, within which the younger generation will be able to visit their own nightclub, chill-out room and a specialized bar.
For a comfortable stay in private, parents can use the babysitting services for an additional fee.
The main restaurant on the ship is an establishment called Grand Epernay, which is located on two decks at the stern of the ship to accommodate as many visitors as possible.
Alternative establishments are also available for visiting, including:
Murano - French traditional restaurant with 78 seats, reservation required
Tuscan Grille - 130-seater restaurant that serves grilled seafood and steaks; you also need to reserve a place in advance
Mast Bar - BBQ bar by the pool, where passengers can dine for free
Bistroon Five - fast food restaurant with 68 seats
Aqua Spa Cafe - 28-seat spa bar serving healthy cuisine for breakfast, lunch and dinner
Silk Harvest - 88-seat Asian restaurant / sushi bar, available by prior reservation
Michael's Club - piano bar
Leave your comment
Comment