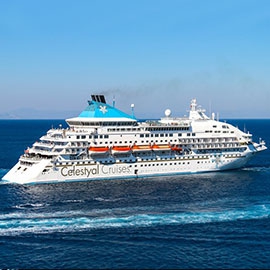 The Celestyal Crystal is a luxurious passenger liner with a unique yacht design and contemporary design. Stylish lounges, inviting dining rooms and open promenades make your trip unforgettable.
Specifications:
Year of construction - 1980, renovation - 2016
Construction cost - $ 140 million
Length - 162 m.
Width - 26 m.
Displacement - 25,611 tons.
Capacity - 952-1452
Number of cabins - 476
Speed ​​- 18 knots
Number of decks - 10
Once you step aboard the Celestyal Crystal, you will find that you will feel very comfortable, almost like at home. Enjoy comfortable cabins and suites, elegant restaurants, bars and lounges, spas and fitness rooms, and promenade decks where you can see the splendor of the starry ocean sky. Wait a few seconds...
Passengers can enjoy a myriad of onboard amenities and activities, all with the help of a modern liner.
Muses Lounge is a 2-deck ship theater and main showroom with tiered seating and dance floor. The excellent entertainment program offers live music and dance shows, as well as magician and acrobat performances.
The casino, serviced by the Eros Bar, offers gaming tables and several slot machines. There is also a video arcade and a small library.
The Symposium conference hall hosts lectures, seminars, corporate meetings and conferences at sea.
Eros Lounge & Bar is the place on the ship where you can listen to live music from bands and watch oversized TVs for live sporting events.
Other lounges include Horizons Bar, Thalassa and Helios Pool.
Celestyal Crystal also has a wellness center, Sana beauty salon, sauna, gym, two swimming pools, jacuzzi, medical center, internet zone, duty-free travel and travel shop (Agora) on board.
There is an entertainment room for children next to the library. It includes either arts and crafts, Lego-style building for toddlers, or Wii games.
There are no special programs or clubs for teenagers. Instead, they can take advantage of regular daily programs, including arts and crafts, dance lessons, and educational sessions.
The Olympus Restaurant is the main restaurant aboard the Celestyal Crystal. It offers Greek cuisine as well as an à la carte dinner.
MDR Restaurant is open for breakfast, lunch and dinner.
Thalassa Bar has an outdoor seating area and traditional Greek coffee.
L-shaped Restaurant Amalthia is a buffet restaurant open for breakfast and lunch, with waiters at dinner. Breakfast includes hot dishes, yoghurt, cereals and juices. There is a 4 course menu with appetizers, soup / salad, main courses, desserts.
Other restaurants are Olympus, Leda & Aura.
Leave your comment
Comment