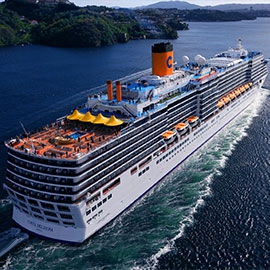 The high-class liner Costa Delizosa was launched in 2010. He has earned the attention of many tourists who know how to appreciate the service "5 stars". The vessel has a solemn interior with luxurious design and stately columns. It is also equipped with modern technology. It is worth noting that many of the details are made of precious metals such as gold, as well as marble.
Among the main characteristics of the vessel are:
Year of construction - 2010
Length - 294 m.
Width - 32 m.
Displacement - 92,700 tons.
Capacity - 2 828 people.
Number of cabins - 1 130
Speed ​​- 23.6 knots (43.7 km / h)
Number of decks - 16, of which 12 are passenger
In 2020, Costa Delizosa will embark on a 112-night trip around the world for the first time. Wait a few seconds...
Each cabin on the ship is equipped with a telephone, hairdryer, safe, minibar, air conditioning, TV, wardrobe and bedside tables for personal belongings. You can watch the ship's bill on TV. Beach towels are in the rooms, not by the pool.
Bathrooms are spacious and presented with a shower stall along with a curtain. The bathroom also has a clothesline. Toiletries include soap, shower gel and hair shampoo.
Cabins are divided into the following categories:
Internal - the area is 14-15 sq. m. with a maximum accommodation of up to 4 people. On the 1st deck, cabins of this type are square in shape.
External - an area of ​​14-16 sq. m. One cabin can accommodate up to 4 people. Alternatively, there is a coffee table and an armchair.
Cabins with balconies - 21-22 sq. m. They can accommodate up to 4 people. The balcony has a table and chairs. The ship has cabins of this type with enlarged balconies (numbers 4378 and 4425).
Mini suites - 26 sq. m.
Suites - 38 sq. m., grand suites - 52 sq. m. Suites with a panoramic balcony have the largest area on the ship - 62 sq. m. m.
Passengers of all kinds of suites can find a Jacuzzi on the balcony. They also have a number of privileges over other guests: priority boarding and disembarkation, a bottle of champagne upon check-in, choice of orthopedic pillows, choice of changing meals in restaurants, daily fresh juice, free room service, etc.
Passengers of Costa Delizosa in their free time can go shopping in a large shopping area with shops and boutiques, visit a photo gallery or library ..
The main places to visit include:
Teatro Duse is a theater with entertainment programs in the evenings.
Discoteca Sharazad is a two-level nightclub.
Bar Delle Delizie is an atrium with seating areas.
Grand Bar Mirabilis - a lounge with a dance floor, stage and bar.
Casino Gaius is a casino with slot machines and tables for card games.
Cinema Etoiles - 4D cinema with live seating.
Centro Benessere Samsara is a spa center that includes a beauty salon, gym, solarium, sauna, etc.
Lido Azzurro Blu is the main pool.
Lido Acqua Regina - pool with bar.
Scuderia Costa is a Formula 1 simulator.
Campoda Gioco is a sports ground.
TO MAKE A TRIP TOURIST NEEDS
have a passport valid for the period of the trip and for a certain period after the end of the trip in accordance with the requirements for the duration of its validity by the consular services of the countries along the route,
obtain a valid visa (s) of the host countries along the route for the entire period of the trip.
purchase a travel package, which includes an air ticket (s), a package of documents for a cruise, medical insurance,
additional services at will
for children inscribed in the passport of the parent (s), it is necessary to have a photo in the passport when they reach the age of 6 years.
original power of attorney from both parents (for children leaving without parents) or original power of attorney from the second parent (for children traveling with one of the parents).
We recommend purchasing travel cancellation insurance.
WHAT IS NOT INCLUDED IN THE COST OF THE CRUISE
Your personal expenses in shops, drinks in bars and restaurants on the ship, use of minibars, ship communications (telephone, fax, TTY, internet), laundry and dry cleaning services. Also not included in the cruise price are the purchase of casino and slot tokens, video games, hairdressing, beauty treatments, shore excursions, nursing staff, tips to stewards and restaurant staff.
Attention: information about the services included in the cost of your cruise, specify when buying it.
SOME RECOMMENDATIONS AND PRECAUTIONS
AIRPORT, SEA PORT, STATION
Be especially vigilant in these places. Never lose sight of your luggage. Things should always be as close to you as possible and within your field of vision.
Do not change large sums of money, as you will not need them on the way to the hotel or on the ship. It is not customary abroad to demonstrate to strangers that you have money.
ON THE SHIP
Do not allow anyone who is not a member of the ship's cruise team to take care of your luggage. KEEP DOCUMENTS, MONEY, VALUES, AIR TICKETS in the cabin SAFE.
ON EXCURSIONS
All cruise lines offer excursions in English, which are booked on board at the tour desk.
Do not take more cash with you than you need for one day.
Do not be late for boarding the bus at the beginning and during the tour.
During the tour, during stops, arrive on time to the place designated by the guide.
Do not leave money or valuables on the tour bus. The driver is not responsible for them. At the end of the tour, remember to take your belongings from the bus.
OUTDOORS
You should not carry personal documents with you - they will be completely replaced by a cruise card and a copy of your passport, certified by the ship's stamp.
Do not give unauthorized persons the number of your cabin on the ship or your room in the hotel.
If your traveller's checks or credit cards are stolen or lost, void them immediately. To do this, you need to call your bank.
On the street, try to avoid street demonstrations and other large gatherings of people. The crowd is a favorite spot for pickpockets who, unfortunately, are everywhere. Prepare travel money in advance when traveling by public transport.
Don't let unauthorized persons remember the place where you keep your money and valuables.
Do not take large sums of money with you unless absolutely necessary. Try not to carry money in carry-on bags. If you are used to a bag with a shoulder strap, be sure to hold it firmly while walking.
Do not wear jewelry while walking outside.
If you are going on an excursion in a group, ask the driver not to leave the bus in the parking lots.
Wear camcorders and cameras only on a strap and over your shoulder.
Refuse all suggestions of flowers and other items, as such actions are intended to distract your attention and make the thief's job easier. Avoid street card and dice players.
When you go on a family or group outing, arrange in advance where you meet in case any of you get lost.
Do not buy jewelry and household appliances on the street.
On the terraces of bars and restaurants, do not hang bags on the back of the seat or place them on the floor.
IF YOU HAVE GOT BINDED
When threatened with physical force, do not offer resistance. Try to remember the attacker's appearance (height, build, hair, eyes, nose, ears, special features, clothes, shoes, etc.), as well as the circumstances of the attack (time, place, direction in which the attacker disappeared; registration number and make his vehicle). Be sure to report the incident to the nearest police station.
MEDICAL SERVICES ON BOARD
Each boat has a therapist and a nurse, who are available around the clock during the voyage. Medical office opening hours are published in the cruise's daily newsletter. The office is equipped with modern medical equipment, but provides a limited range of services. Professional medical services and the provision of pharmacy services are paid. Medical services Guides for the elimination of symptoms of any disease are available in the clinical office.
If you have a special medical condition, please describe it to your agent when booking.
CURRENCY EXCHANGE
There are currency exchange offices at the Information desks of cruise ships. The exchange accepts convertible currencies (US dollars, Euros, pounds sterling, etc.), as well as travelers checks denominated in these currencies. A commission is charged on exchange transactions.
DINING IN CRUISE SHIP RESTAURANTS
On cruise ships, meals usually take place in 2 shifts. Meal times are determined on board upon boarding.
Meal times can be changed depending on the cruise program. See the daily newspaper "Today" for your lunch and dinner times.
If during booking you indicated which shift is preferable to you, your wish will be taken into account. However, please bear in mind that the cruise administration has the right to independently determine the meal times on board for any passenger.
TELEPHONE
It is advisable to use telephone booths in the ports of parking, as well as phones in bars or restaurants, since it is much cheaper than calling directly from the ship (a call will cost at least 9 euros per minute of conversation).
TIP
The tip will be included in your final bill and payable on the last day of the cruise at a rate of approximately € 10 per day (depending on the duration of the cruise).
CLOTHING STYLE ON BOARD
There is no specific "dress code" on the ships, but for your convenience we advise you to dress in a free and comfortable "casual" style during the day, sportswear is also possible, provide bathing suits for swimming, be sure to take comfortable shoes with you. Beachwear is not permitted in the main restaurants and lounges. For breakfast and dinner, we suggest you wear long shorts or skirts. For dinner you can wear something graceful and elegant (women - dresses or suits, men - a suit or shirt and trousers). We advise you not to go without shoes.
We advise you to wear comfortable clothes and shoes during the excursions. We remind you that a more modest and restrained style is needed to inspect and visit religious sites, monuments and temples.
BEFORE LEAVING THE AIRPORT
We kindly ask you to check the availability of the following documents:
foreign passports for everyone who goes on a trip;
air tickets;
travel vouchers (vouchers);
insurance policies;
driver's license if you plan to rent a car;
powers of attorney from both parents (for children traveling without parents), or a power of attorney from the other parent (for children traveling with one of the parents).
Practice shows that your lack of sufficient cash (at least 50 Euro per person per day) may be grounds for deportation.
DEPARTURE AND ARRIVAL
Your tour starts at the airport 3 hours before the departure time indicated on your ticket.
Attention:
the company strongly recommends you not to be late for the airport at the appointed time, guided by the principle: "It is better to spend an extra hour in DUTYFREE duty-free shops than to be left without a paid vacation."
The tickets you received cannot be rewritten and cannot be returned to the ticket office.
To board a flight:
You need to go through customs.
If you do not have items and / or valuables subject to mandatory customs control, then you can skip filling out the customs declaration and go through the Green Corridor for registration.
Otherwise, you need to fill out a customs declaration, the forms of which are located in front of the customs line on tables or special counters.
Remember that cash in the amount of 3,000 to 10,000 US dollars (or the equivalent in other currencies, including hryvnia) is subject to MANDATORY customs declaration.
Customs control is carried out in the same wing where check-in for the flight is carried out. KEEP CUSTOMS DECLARATION UNTIL YOU RETURN TO ARRIVAL IN UKRAINE.
Customs regulations
The import of items for personal use is unlimited. If necessary, the customs office can obtain documents certifying the fact that the item was imported legally.
Duty-free import of the following goods (per person) is limited to the EU countries:
strong drinks (over 22%) - 1 liter; liqueurs and liqueurs (22% and below) - 2 liters; light wines (9-11%) - 3 liters; cigarettes - 200 pieces; cigars - 50 pieces; tobacco - 250 gr.; coffee - 500 gr.; tea - 100 gr.; perfume and cologne - 50 gr., or 1/4 liter. It should be noted that the duty-free import of alcohol and tobacco is allowed only to persons at least 17 years old, and coffee - to persons at least 15 years old.
Attention: we ask you to check with your agency the information in this section before traveling.
You need to check in for your flight at the check-in counter and receive your boarding pass.
The check-in counter number is indicated on the central board - opposite your flight number. All questions about your seat number are resolved only during check-in. If you are traveling with a child or want to have a specific
If you have a seat on the plane, you should arrive at check-in early in order to get a seat that is comfortable for you.
Next, you should go through border control.
Boarding the flight is carried out after passing the above procedures through the EXIT, the number of which is indicated in the boarding pass you received during check-in.
Upon arrival:
You must go through passport control and customs area yourself. You must present your passport with visa at passport control. After passing through passport control you will find yourself in the so-called. The "customs zone" where selective inspection can be carried out.
While you are at the airport, you should very carefully monitor your personal belongings and do not change large sums of money unnecessarily, as cases of theft of money from tourists have become more frequent lately.
After everyone has gathered and checked into the list with their escort, the whole group, accompanied by an employee of the host side, goes to the appropriate bus. During the transfer from the airport, the attendant will provide the necessary information.
In the event of any problem related to your stay on the ship, PLEASE CONTACT YOUR agency IMMEDIATELY.
REGISTRATION AND BOARDING
Upon arrival at the port, YOU WILL RECEIVE LUGGAGE TAGS, which must be attached to your luggage.
Do not forget to write your surname (in Latin), the name of the ship (in Latin) and the cabin number on each tag!
Usually the movers write it themselves! You need to check all the data! Your baggage will be delivered to your cabin door (usually no later than an hour after sailing). Leave with you only carry-on luggage with valuables and essentials. In case your luggage is delayed, go to the information desk in the central lobby of the vessel - your tags may have come off or were illegible.
Check-in usually starts 4 hours before departure and all passengers must be on board no later than one hour before departure. DO NOT CONFUSE REGISTRATION AND LANDING. Registration is a confirmation that you have arrived and are ready to cruise. The purpose of this act is to check your documents and issue the final passenger documents. Here it is appropriate to draw a parallel with the flight, there you also first check in, and only then you are invited to board the plane.
Upon entering the port terminal, follow the signs with the cruise line logo and your ship's name to the check-in area. In the registration area go to the information desk ("Information" or "GuestRelations") with your vouchers and passports.
Here you should receive your cruise tickets and an application form.
Then follow to the check-in counters. Desks REGISTER BY CABIN NUMBERS (for example, counter number 1 - cabin numbers 1101 - 1300, etc.). Therefore, you must go exactly to the check-in desk to which your cabin number belongs. There are also counters for VIP passengers. Usually these are passengers of grand suites, suites, mini-suites. AT THE REGISTRATION COUNTER you present your ZARANPASSPORT, CRUISE TICKETS, FILLED IN APPLICATION (the form is issued together with the ticket). When registering, you will be asked how you will pay your bills - in cash or by credit card. If in cash, then simply make the appropriate mark in the system and on your ticket. If by credit card (only cards of the following payment systems are accepted: Visa, American Express, MasterCard), then your card details will be entered into the system. Subsequently, all your payments on board will be debited from this card.
ATTENTION! THE CARD MUST BE ENOUGH CASH! Otherwise, the process of closing the account at the end of the cruise can be very difficult.
Go to boarding in accordance with the boarding queue number, which will be assigned to you at the end of check-in.
ATTENTION! Waiting in line for boarding can take from 1 to 2 hours! You can spend this time visiting duty free shops. To board, follow the signs.
When boarding the ship
You have to pass the ship's security post: present your documents and the Costa card to the ship's security officer (you will be given it upon registration). Then go to the front desk and hand over your passport and ask for a copy.
ATTENTION!!! Be sure to put the ship's stamp on the copy of your documents.
Immediately after boarding, you can eat at the buffet restaurant (lunch is usually served until 16-00).
RULES FOR DEPARTURE AND RETURN TO BOARD
When leaving the ship, you MUST present your cruise card to the security representative. ONLY AFTER THAT YOU CAN GO TO THE SHORE.
When returning to the ship, you must go through the metal detector by presenting your cruise card (CostaCard). In some cases, the security officer may ask you to show a copy of your passport.
RECEPTION OF GUESTS ON BOARD
When boarding, your guests must present their documents and you must sign in a special form. All expenses for receiving guests are borne by you. The guest cannot pay with his credit card, as it is not registered trated by the billing center of the ship and will not be accepted in bars.
Guests must be on the liner ONE HOUR before the ship leaves.
LATE ON BOARD
A tourist who does not show up at the cruise registration is considered a latecomer.
The tour of a late tourist is subject to cancellation, and the ENTIRE AMOUNT paid for the cruise is NOT REFUNDABLE !!!
If you are still late, then ALWAYS warn the accompanying person personally (by phone / fax, etc.) or through your agency that you will catch up with the ship at the next berthing port. Otherwise, the cruise administration reserves the right to sell an unoccupied cabin!
A tourist who does not appear on the ship in any port of the berth is considered to be lagging behind.
Each port of departure and anchorage of the cruise line has its representative office or authorized agency (phone numbers are listed in the on-board newspaper).
ATTENTION! The service of assistance in case of being late and falling behind is paid!
ON-BOARD PAYMENT SYSTEM
On European cruises, all prices are in EURO. CASH WILL NOT BE ACCEPTED on board! An analogue of a credit card is used for calculations, the so-called CostaCard cruise card. It is also a pass to the ship, and together with a copy of the passport certified by the seal of the ship - an identity card (for the duration of the cruise). All passenger expenses on the ship, excluding casino expenses, are recorded on this card. The card is issued upon registration for the cruise.
If you pay your boat expenses with a credit card, ONLY ONE CARD MAY BE USED. When paying bills from different (two or more) cards, ALL expenses incurred by you during the cruise will be debited FROM ALL cards. The refund process will take at least 6 months.
We recommend you RECEIVE and STORE ALL ACCOUNTS UNTIL THE END OF THE CRUISE. This will allow you to control your expenses and eliminate possible errors in calculations on the part of the cruise administration.
Euro cash is accepted on site. Currency exchange is available at the reception. There are ATMs on board for cash withdrawals.
At the end of the cruise, you can pay your shipping costs as follows: CASH, TRAVEL CHECKS, CREDIT CARDs of the following payment systems: Visa, MasterCard, American Express. Other means of payment WILL NOT BE ACCEPTED.
END OF THE CRUISE
CALCULATION FOR SERVICES PROVIDED ON BOARD DURING THE CRUISE
On the last evening, we recommend that you carefully calculate the costs and prepare the required amount in advance.
Attention!
When making the FINAL CALCULATION, it is recommended that you HAVE ALL BILLS issued to you during the cruise.
In the morning, as early as possible, you should go to the reception, where the final payment should be made.
CASH PAYMENT. After making sure that there are no errors in the final invoice, pay the required amount. In case of your disagreement or doubts about the amount of the invoice, you should consult with the accounting manager, who is next to the administrator and has all the information on your invoices.
PAYMENT BY CREDIT CARD. Make sure there are no errors in the final invoice and then sign the invoice. Don't forget to bring your copy of the invoice! The money will be automatically debited from the card.
After all bills have been paid, the administrator must close the Costa Card. You can now go ashore.
OTHERWISE, YOU WILL NOT BE RELEASED ON THE SHORE!
Attention! Don't forget to collect your passports at the end of your cruise!
LUGGAGE
On the last evening, luggage tags will be brought to your cabin, similar to those you had when boarding the ship. These tags must be stuck on your luggage and placed in the corridor by the door to your cabin no later than 1 am. Do not check in any valuables, including high value items
photographic equipment and electronics. Never leave any documents in your luggage - passport, return flight tickets, vouchers for accommodation after a cruise, etc. You will receive your luggage in the baggage claim area of ​​the port at the end of the cruise.
REMINDER TO THE ABROAD (this information applies to all countries of the world and may be useful to you on further travels abroad)
You are going on a trip abroad. In this case, you need to know that in a number of foreign countries there is a real possibility of infection with especially dangerous infectious and parasitic diseases that affect the vital organs of the human body, and can lead to the death of the patient.
Among such diseases, the most dangerous are cholera, plague, yellow fever, HIV infection (AIDS), malaria (a large number of deaths), hydrophobia (rabies).
Recently, in connection with the development of international tourism, cases of infection of citizens with the above infectious diseases have become more frequent, which is associated with their FAILURE TO COMPLETE OBLIGATORY PREVENTIVE MEASURES. Therefore, we recommend that you, while on a tourist trip abroad, observe the following simple rules for the prevention of the above infectious diseases:
use guaranteed safe water and drinks (boiled water, drinking water and drinks only in their original packaging);
wash fruits and vegetables thoroughly with safe water;
avoid food from trays and non-certified state-owned cafes and restaurants;
when swimming in ponds and pools, try to prevent water from entering the mouth;
follow basic rules of personal hygiene (wash your hands thoroughly with soap and water before eating and preparing food, after using the toilet);
do not make contact with stray animals. If you inflict even a minor wound on your animals, see a doctor immediately. Untimely access to a doctor in contact with a rabid animal is fatal in 100% of cases;
beware of bites by mosquitoes, mosquitoes and other insects, using protective creams, aerosols, etc. For the prevention of malaria, you can purchase the drug DELAGIL at the pharmacy. It is necessary to consult a doctor about the method of its use;
beware of casual sex, use condoms and other protective equipment;
do not purchase items of clothing from random people (it is possible to get infected with diseases transmitted by contact);
it is not recommended to walk barefoot and in open shoes.
Some features and symptoms of the most dangerous infectious diseases
CHOLERA
Recently, there has been an increase in the number of countries in the world where the incidence and outbreaks of cholera are recorded. The most unfavorable countries for cholera on the European and Asian continents are: India, Laos, Indonesia, Iran, Iraq, Turkey, Afghanistan. Cholera pathogens (vibrios) enter the human body through the mouth with water or food. The most dangerous foods are those that are not cooked - raw fruits and vegetables, liquid foods such as milk, etc. Infection is also possible through contaminated objects (dishes, bed linen, etc.). The incubation period for cholera is 5 days. The characteristic signs of cholera are diarrhea and vomiting, which result in dehydration. Cholera is fatal in case of delay in seeking medical help.
PLAGUE
The carrier of the causative agent of the plague is fleas that parasitize on rodents. There are two types of plague:
Bubonic plague - infection occurs through contact (bite) with infected animals. Symptoms are swollen lymph nodes.
The pneumonic form of plague is transmitted by airborne droplets. Symptoms are a sudden rise in temperature, chills, severe headache, shortness of breath, and coughing up blood.
The incubation period for plague is from several hours to 6 days. Only with timely access to a doctor is the treatment of plague possible.
YELLOW FEVER
Acute viral disease. This virus is carried by mosquitoes. Accordingly, infection can occur both in nature and in the city. Symptoms are headache, high fever, rash. The incubation period is 3 - 6 days. The specified disease is common in 47 countries of the South American and African continents. When traveling to these countries, vaccination is required, which is the only and mandatory measure to prevent this disease. Vaccinations are carried out at least 10 days before departure. The vaccine lasts 10 years.
HIV INFECTION
Distributed in almost all countries of the world, including the USA and Europe. In case of infection with the immunodeficiency virus, a person becomes a carrier of HIV infection and, while remaining outwardly completely healthy for a long time, can infect sexual partners. HIV infection leads to the development of acquired immunodeficiency syndrome (AIDS). Today's medicine does not know effective remedies against AIDS. The characteristic signs of this disease are: sudden weight loss, chronic diarrhea, swollen lymph nodes, fungal diseases. The most reliable way of prevention is to avoid questionable sex. A fairly reliable means of prevention is the use of condoms, especially in combination with spermicidal ointments.
If you develop symptoms that may indicate your possible illness, you should immediately consult a doctor. Self-medication can aggravate your condition and lead to the most tragic consequences. If you feel unwell on your return to Moscow on the plane, be sure to contact the flight attendant. REMEMBER that COVERING an illness entails ADMINISTRATIVE and CRIMINAL LIABILITY.
The liner has a rich entertainment program for young passengers.
Children will be able to visit clubs by age every day:
Squok Club is a kids' club for two types of age groups: the first is for children from 3 to 6 years old, and the second is for children 7-11 years old.
Teen's Zone is a play area for teenagers.
Also on the ship there is a large playground with a pool called Lido Squok.
Costa Cruises practices babysitting services on their ships for an additional fee, so couples do not have to worry about the opportunity to spend the evening alone with each other.
Guests of the ship have the opportunity to eat free of charge at the main restaurants. Among them are the following establishments:
Albatros is a restaurant that works in all three receptions with free seating for guests for breakfast and lunch. During dinner, a table is assigned to passengers. The restaurant is open to passengers at lunchtime, but only when the ship is at sea. The rest of the time, lunch is only available to Costa Club Diamond Pearl members.
Muscadins is an establishment that operates on a buffet basis. Open for breakfast, lunch and dinner.
The pizzeria is only open from 19:00 to 00:30. Italian pizza costs only 4 euros here. At the same time, the price includes not only the pizza itself, but also unlimited access to the salad bar and one dessert.
Club Deliziosa is a restaurant that accepts à la carte orders. Before visiting, it is required to reserve a table in advance. This service is chargeable, and if canceled later than 24 hours, the customer will be charged 10 euros.
There are also bars on board. Some of the most popular places on the ship during a cruise are Piano Bar Excite - pianobar, Grand Bar Mirabilis - an institution that constantly hosts musical evenings and various quizzes, Bar Vаnilla, a chocolate bar and bars near each pool.
Leave your comment
Comment