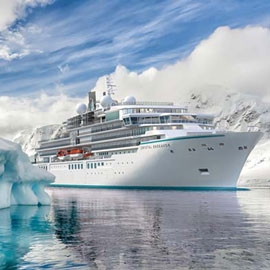 In 2020, a significant event for lovers of sea travel will take place - the launch of the largest cruise yacht in the world called Crystal Endeavor. This is a completely new vessel, specially designed for crossing ice latitudes. Cruises on such a mega-yacht will allow tourists to plunge into the atmosphere of glaciers and snowy peaks, which until then were seen only by scientists.
In March, Crystal was notified that MV WERFTEN, the shipbuilding company that is building the Crystal Endeavor, would temporarily suspend operations at its sites in Rostock, Stralsund and Wismar to protect employees during the global COVID-19 pandemic. Since there is uncertainty as to when work can be fully resumed on the ship, it is with deep regret that Crystal made the decision to postpone the launch of the liner and cancel all routes until October 31, 2020.
The ship's first cruise will be a 14-day cruise in Tasmania and the New Zealand fjords, starting on November 14, 2020.
The ship has the following technical characteristics:
Year of construction - 2020
Length - 183 m
Displacement - 19800 t
Number of decks - 10
Number of cabins - 100
Passenger capacity - 200 people.
Crew - 200 people.
At Crystal Endeavor, avid tourists will have the opportunity to make real expeditions to Arctic, Antarctic and even tropical waters. Wait a few seconds...
When Crystal Cruises announced plans to build a Crystal Endeavor, it said the cabins would be among the "largest, most spacious." Forget about the relatively small numbers on board the old expedition ships Crystal Serenity and Crystal Symphony.
All 100 suites on the ship will include king-size beds, flat-screen TVs and dressing areas. Each cabin will have an iPad and interactive TV. The minibar will offer free soft drinks and bottled water, as well as beer, wine and spirits.
90 deluxe suites with an area of ​​28 sq. m. and 8 Penthouse suites with an area of ​​42 sq. m. will have a partition between the sleeping and living areas.
Entertainment at Crystal Endeavor includes helicopter tours, there are only two of them on a ship (one helicopter can accommodate up to 8 people), submarine excursions and shore excursions.
The Crystal Life Spa will feature three treatment rooms, saunas, a relaxation room, and a beauty and fitness center. Guests will also have access to the pool.
Passengers will be able to spend their free time in tea or cigar rooms or special lounges. As night entertainment, you can consider casinos and get-togethers in bars.
The Marina - A modern open platform for sunbathing and / or viewing all kinds of wildlife - from volcanic islands to glacial kingdoms.
World At Sea Casino - The only expedition yacht casino with a private gaming room offering blackjack, roulette and the latest slot machines.
• Connoisseurs club - for true connoisseurs. Tourists will be able to visit the cozy lounge for tasting cognac, cigars and offering everything from Montecristos and Davidoffs to Marker and Courvoisier.
• At the service of visitors - jewelry and latest fashion stores - From designer solutions and exquisite jewelry to resort wear, crystal clothing and all kinds of fashion boutiques.
Travel offers fascinating, extraordinary and intriguing cultural treasures. Let your inner explorer guide you in choosing your type of expedition.
Expedition Excellence - For nearly 30 years, Crystal has been a leader in innovative luxury travel and is today considered the most prestigious cruise line in the world. With experience cruising to some of the most remote corners of the world, Crystal Endeavor allows us to bring our passion for adventure into new realms of discovery.
• EXPERT LED EXPEDITIONS - Take part in small group research and unique meetings led by experts in the field.
• VESSELS OF DISCOVERY - Embark on thrilling discoveries aboard Zodiacs, kayaks, submarines and helicopters, and explore rare vantage points that regular cruise ships cannot reach.
VOYAGE TYPE: REMOTE EXPEDITION - Travel to the most distant polar regions of the Earth and to distant destinations, these are real expeditionary journeys led by experts, combining wild adventure with rare discoveries, extraordinary landscapes, and which few have seen.
VOYAGE TYPE: DESTINATION EXPLORATION - Deep exploration and landing dives in rarely visited places - on remote islands and coastal landscapes, home to exceptional biodiversity, eco-treasures and wilderness - combine with world-class cities with an expeditionary bias.
VOYAGE TYPE: CULTURAL DISCOVERY - From legendary lands and exotic islands to modern cities and destinations renowned for their history, art and nature, these journeys delve into the cultural heart and iconic wonders of each unique region with adventurous views and discernment.
On the ship, passengers will be offered three main restaurants to choose from:
Waterside - 200 seats
Silk Kitchen & Bar - 108 seats
The Bistro - 61st
Additionally, for a fee, guests can visit the following establishments:
Prego - # 20 Italian restaurant
Vintage Room - a separate area of the Prego restaurant for 20 seats with exclusive dishes and an expanded wine list
Umi Uma is a 39-seat Japanese restaurant with renowned chef headed by Nobu Matsuhisa
Bars:
Crystal cove
Captain's Lounge
Expedition Lounge
Helicopter Lounge
ConnoisseurClub - cigar bar
Leave your comment
Comment