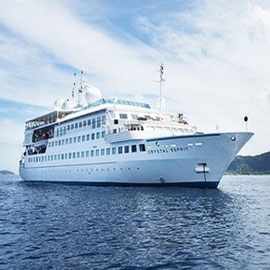 The Crystal Esprit is a large yacht designed specifically for cruising exotic destinations and launched back in 1991. It should be said right away that it has undergone several renovations, the last of which was in 2015, so the vessel is equipped with the latest technology.
Specifications
Year of construction - 1991, renovation - 2015
Tonnage 3370 tons
Length 85 m.
Width 14 m.
Total passengers: - 152 people.
Crew - 90 people.
Number of decks - 5
Luxurious, modern and stylish mega-yacht Crystal Esprit, offers all the most luxurious, enchants with her delights of individuality, opening up to her visitors beautiful yachting destinations from the Dalmatian coast and the Greek islands to the Arabian Peninsula and the Seychelles. Wait a few seconds...
The Crystal Espirit offers guests exclusively suites. The cabins are not equipped with balconies, but have a huge window. All suites are neutral in color with a brown tint. Passengers in all cabins receive a personal butler service as a privilege. Their main tasks are room service and minibar replenishment. No wonder the number of service personnel exceeds the number of passengers!
Standard suites come with a king size bed, cotton sheets and duvet. Rooms also have a dressing table / work desk with mirror and a full-size sofa bed in the living room that can accommodate a third passenger. Two types of robes are provided in the cabins: the first is cotton and the second is terry cloth. The wardrobes have umbrellas, a safe and slippers. Mini fridges include a bottle of wine, water and drinks. Each cabin has a Krups coffee maker.
Each room has a telephone and a flat-screen TV that offers movies and TV shows, as well as live news channels such as Sky and CNN. Among the hilarious technology toys is the Soundbar, an excellent sound system for playing passengers' own music collections. All cabins come with their own iPads. There are two types of sockets in the room: the first one is American for 110 V and the second is European for 220 V
The marble bathrooms are superbly decorated and beautifully furnished. Each has a spacious shower with excellent water pressure, as well as a sink, TV and ETRO exotic toiletries (shower gel, shampoo, lotion and conditioner). Mosquito repellent and sunscreen are also provided.
All rooms are divided into four categories:
category 1-3: all cabins in these categories are 26 sq. m.
category 4: suites of 21 sq. m. They are equipped with armchairs instead of a full-size sofa. There are only 2 cabins of the 4th category on board.
Owner's Suite: There is only one Owner's Suite on the ship and it is an area of ​​two standard suites with a gray and white color scheme. The living area includes an armchair with a sofa. The bathroom is accessible from both the living room and the bedroom.
• Complimentary Adventures - At virtually every port of call, you can choose from two free discoveries to assign - one "Active Adventure" and the other "Cultural Exploration". Also, you can take a bike in some ports and explore the Adriatic coast on your own, or use a free bike tour on a different route, depending on the area and availability.
Rejuvenating and relaxing complexes:
• Marina Platform - Yacht platform (dedicated seat) Crystal Esprit is the perfect start to discover the crystal clear seas for free. This includes: Water toys - From jet skiing to kayaking, take full advantage of every activity: snorkel, kayak and more with free high-end equipment with a professional instructor. Our Own Submarine: A two-person deep-sea submersible, housed by a certified pilot, dives to depths of up to thousands of feet exploring underwater worlds.
• Sunset deck & Splash pool - A refreshing heated pool featuring sun loungers and Balinese couches ... the perfect place to relax, read and refresh.
• Crystal life fitness - Find your zen (yoga, breathing exercises with high-tech fitness equipment), as well as a zone of cardio equipment. Also, this area has state-of-the-art Technogym equipment and a rejuvenating sauna.
• Crystal life spa - Professionally trained staff provide comprehensive treatment and therapeutic procedures. An experienced therapist provides rejuvenating treatments at the yacht's private spa.
A passenger under the age of 18 must be accompanied by an adult over the age of 21.
As of today, there are no programs for children or babysitting services on board. The Crystal Esprit cruise yacht does not accept children under 6 months of age, as the medical facilities on board are not designed to provide services to infants.
• Patio café - Restaurant Located aft with stunning views of idyllic harbors and iconic ports, the Patio Indoor / Outdoor Café is ideal for a light breakfast or delicious lunch. The creative menu changes daily, featuring creative salads, gourmet meats, cheeses and more. Location - 4th deck; You do not need to book a table in advance.
• Sunset Grill - The restaurant on the upper deck offers tempting burgers and healthy snacks - as well as drinks for an optimal mood throughout the day. Location - 5th deck; You do not need to book a table in advance.
• The Cove is a welcoming place to relax with a cocktail and share the adventures of the day with new friends. Location - 4th deck; You do not need to book a table in advance.
• Sunset Bar - Visitors' favorite spot for spirits and cocktails, especially when the yacht is at anchor for stunning views and golden sunsets.
Leave your comment
Comment