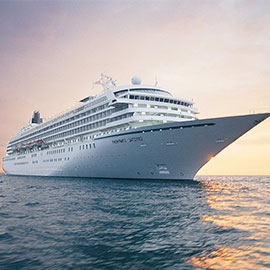 Crystal Cruises is renowned for its luxury ships that have no other. Crystal Symphony is considered one of such memorable liners since 1995. It can easily be classified as a chamber vessel, where all passengers are provided with comfortable rest and accommodation. Like all other ships of this company, CrystalCruises is famous for its high level of service and high-tech equipment.
Specifications
Year of construction - 1995, renovation - 2017
Tonnage 51,000 tons
Length 238.0 m.
Width 30.0 m.
Total cabins: - 480 cabins
Total passengers: - 960 people.
Crew - 545 people.
Number of decks - 12
Speed ​​- 20 knots
The ship was overhauled in 2009, when all the cabins and decks were completely renewed. The last renovation in 2017 was superficial and refreshed the interior design of the liner.
Standard cabins are equipped with a lounge chair that can accommodate two people, a height-adjustable coffee table, a writing table, a dressing table with a chair, and two single beds that can be folded into one queen-size. The large flat-screen TV opposite the bed is equipped with interactive features that include checking the passenger's on-board account, viewing the restaurant menu, and other information about the ship. The mini fridge contains free soft drinks and bottled water. The cabin has a safe and hairdryer. The rooms have plenty of storage space for personal belongings.
Bathrooms include a combination bathtub / shower, marble floors and Etro toiletries (shampoo, conditioner, shower gel and body lotion).
Crystal Symphony has three accessible cabins (one Penthouse suite and two external cabins). They have 81 cm doorways in both the cabin and the bathroom.
There are also 11 interconnected cabins on board, mostly used by families. These cabins offer a convertible sofa for a third passenger.
The rest of the rooms differ in size and some additional privileges in accordance with the selected category:
Outside cabin: 19 sq. m. Rooms are bright and with large windows.
Balcony Stateroom: Same dimensions as the outside staterooms, but with extra space in the form of a 4 sq. m. The balcony is equipped with two soft chairs and a small table large enough for dining. It is worth noting that the balcony cabins on decks 8 and 9 have larger balconies than the standard ones due to their location on the ship.
The Crystal Symphony offers several "purecabin" with a balcony. These cabins are intended for passengers with allergies or asthma. They go through a special seven-stage purification process to remove 99.9% of impurities from the air.
Suites: subdivided into five categories. All suites are comfortable and tastefully decorated. The standard suites have a neutral color scheme, dominated by a mixture of gray with brown and lilac shades, while the Seabreeze Penthouse suites are more orange-pink with shades of gray.
As a privilege, passengers in all five categories of Penthouse suites receive a personal butler who brings snacks, reservations at the restaurant and spa, changes drinks and serves meals to their room. In addition to butler service, all Penthouse passengers receive a welcome glass of champagne, a complimentary bottle of wine and a choice of liqueur. Mini-fridges are constantly replenished with beer and drinks.
Penthouse suite: 34 sq. M. m. have a large living room with sofa, chairs and a coffee table, as well as a dressing table. Each cabin has a dressing room. The bathrooms have a separate jacuzzi and spacious shower. The balconies are equipped with adjustable mesh chairs (pillows provided) and dining tables for two.

Seabreeze Penthouse suite: There are 28 Sea breeze Penthouse suites on board. They are located on Deck 9 and are the same size as the regular Penthouse Suites, but the design, especially in the bathroom, is slightly different. Bathrooms come with large walk-in showers. A vanity and wardrobe are next to the bathroom.

Suite class "Penthouse Suite": suites are 46 sq. m. have separate living and sleeping areas; the bedroom is separated from the living room by a curtain. The living room has a large work desk, sofa (with pull-out queen bed), coffee table, TV, armchairs, dining table for two and bar / mini fridge. A spacious bathroom with a separate bathtub and walk-in shower opens from both the living room and the bedroom. The bedroom is equipped with a second diesel locomotive and two bedside tables. The balcony has a dining table and chairs.

Sea breeze Penthouse Suite: These suites were added during the 2017 refurbishment by merging 24 small cabins on deck 9. The total is 12 Sea breeze Penthouse Suites, measuring 46 sqm. m each. The large bathroom has a spacious walk-in shower and a small washing machine. The balcony is equipped with a dining table and chairs.

Crystal Penthouse suite: there are only 2 Crystal Penthouse suites on the ship with an area of ​​91 sq. m each. They are equipped with separate sleeping and living areas and a dining table. The living room has attractive teak shelving, an L-shaped sofa, a writing desk, armchairs and a built-in bar. The large wardrobe includes a dressing table and plenty of storage space for personal items.
The Hollywood Theater plays popcorn movies. This is the most comfortable place in cloudy weather.
Crystal Casino offers a wide variety of table games and slot machines.
Galaxy Lounge is the ship's main lounge, where show comedians, singers and musicians are usually held.
Shore excursions include not only sightseeing of the city where the ship stops at the port, but also other entertainment. In particular, a trip to a Ferrari.
Computer University @ Sea is a computer class where passengers are encouraged to master a computer. It should be noted that all computers are from Apple.
The library contains CDs and DVDs for free use and, of course, books in different languages.
The ship has two swimming pools. The Seahorse is the main pool and features a stage and two Jacuzzis. Neptune is the second pool with a retractable roof.
The spa offers a full range of spa services, including hot stone massages and facials.
The beauty salon offers manicure and pedicure services and a hairdresser.
The gym is equipped with modern equipment and flat screen TVs to keep passengers entertained while exercising. Fitness classes are offered daily.
Lecture Series - Crystal Visions - A variety of insightful lectures and workshops.
Golf is a golf course.
Wimbledon Court - tennis court.
Entertainment programs:
Enjoy access to the best world class entertainment and performances from around the world. Attend theater shows or find your seat in the Galaxy Lounge for lavish Broadway shows.
• Crystal Cove is a welcoming atmosphere of modern style and warmth. There is soft piano music and lively conversation. The perfect place for a pre-dinner cocktail or lunch on the beach.
• Palm Court - Remembering yesterday's glamor-filled Hollywood Coconut Grove with ultra-modern flair, Palm Court sparkles like a crown jewel on a ship; ideal for tea and socializing during the day, with live music and dancing at night.
• Avenue Salon - Dark paneled walls and luxurious leather club chairs create the perfect space for cocktails and chat. Evening with piano singing.
• Stardust Club - Located in the heart of the ship with panoramic ocean views from starboard, this cozy spot hosts lectures during the day, dancing at night and a new signature dinner at the Supper Club, occasionally on every cruise.
• Resorts World at Sea Casino - Shiny and stylish with fabulous chandeliers and an atmosphere of emotion, enjoy the thrilling gambling experience of Resorts World at Sea aboard Crystal Serenity and Crystal Symphony.
• Connoisseur Club - Whether you prefer Monte Cristo or Davidoff with Courvoisier, your every wish will be satisfied with the comfortable exclusivity of the Connoisseur Club.
• Hollywood theater - Inspired by classic Art Deco cinemas, the theater features custom-made acoustic wall panels and velvet curtains. State-of-the-art Bose and Meyer sound systems and Barco projectors expand the possibilities.
• Galaxy Lounge - Each venue offers exceptional views, elaborate stage shows and Broadway-style productions that feature twice a night with celebrity performances, comedy revues, classic recitals and more.
• Starlite Club - Situated in the heart of the ship with panoramic ocean views, this cozy spot has a round bar and dance floor.
There are two special clubs for children on the ship: Waves and Fantasia. The Fantasia Club accepts children from 3 to 12 years old. The club is equipped with arts and crafts tables, televisions and game consoles with a variety of games.
Waves is a teenage club that accepts children from 13 to 17 years old.
If parents want to spend time alone, babysitting services are offered on the ship. The cost of the service is $ 10 per hour for one child, $ 15 per hour for two, and $ 20 per hour for three children. Children must be at least one year old. Orders must be made 24 hours in advance.
Restaurant - Beregovoy (Waterside) - modern and classic dishes;
Restaurant - Marketplace & churrascaria - classic dishes throughout the day;
Chef's restaurant "Nobu" Matsuhisa - Sushi bar;
Italian restaurant with signature cuisine - Prego;
Asian Restaurant - Silk Kitchen & Bar - al fresco dining;
PalmCourt - afternoon restaurant serving teas and cocktails;
Cafe-bar in Parisian style - The Bistro;
Vintage Room - Free Wine Tastings; wine dinners;
Trident Grill - Burgers, salads - outdoor poolside;
Ice Cream Bar - (Scoops Ice Cream Bar) - pool bar;
Leave your comment
Comment