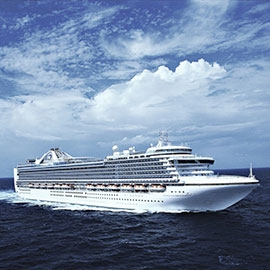 One of Princess Cruises' largest cruises, the Emerald Princess boasts a record number of outside cabins with balconies. There are more than 900 of them. The variety of entertainment and catering facilities will amaze even the most demanding tourist. In 2015, the liner, which was launched in 2007, underwent the first renovation.
Length - 290 m
Width - 36 m
Draft - 7.99 m
Number of decks - 15
Speed - 21.5 knots (39.8 km / h)
Capacity –3 114 passengers
Crew - 1200 h
Displacement -113 561 t
The Emerald Princess can travel to different parts of the world.
In terms of decor, all cabins follow the same style with patterned red carpet and neutral colors on walls and furniture. The color scheme creates a light and airy atmosphere that brings calm and homeliness.
All cabins have a writing desk and chair, an additional chair, a small glass round table, a queen-size bed that can be split into two single beds; two bedside tables, each with a bedside lamp; Egyptian cotton linens, telephone, mini-safe, hairdryer and HD flat-screen TV. The channels show the popular television series Downtown Abbey and The Boat of Love.
Above the table there are two American standard sockets, each with 110 volts.
Bathrooms are equipped with a walk-in shower with a small built-in shelf and a set of showerhead and shampoo toiletries, as well as three small shelves for storing personal detergents.
Cabins are divided into standard types:
Internal cabins: 15 to 17 sq. The rooms are equipped with fold-out beds that can accommodate two more guests, a spacious wardrobe with a place for hangers and a long shelf on top.
Outside cabins: 84 open-view cabins are located on decks 5 and 8. They are approximately 16.5 sq. m. 138 cabins with limited views are located on decks 8 and 15, their area is from 14.5 to 16.6 sq. m. Identical in size to the inner cabins, some of the outer ones also have folding beds.
Cabins with balconies: 21 sq. m plus balcony area 4sq. m., which is equipped with furniture (two folding sun loungers and a small round table). Some of the balcony cabins also have a fold-out bed to accommodate additional passengers.
Mini-suites: 30sq. m., the rooms have a balcony with an area of ​​5 sq. m. with two folding sun loungers and a small round table. In addition, the mini-suites feature two flat-screen HDTVs and a separate seating area with a sofa bed to accommodate a third passenger. Bathrooms have shower / tub combinations. Passengers in mini-suites will receive a welcome glass of champagne upon boarding in the cabin.
Suites: Suites and Family Suites are divided into five subcategories, the main difference being their size. It ranges from 42.5 sq. m up to 63.5 sq. The suites also have two HDTVs and a separate seating area with a sofa bed. In addition, these rooms are equipped with wooden furniture on the balcony, free minibar and separate refrigerator, CD / DVD player with access to the free DVD library and wardrobe.
The bathroom has a spa bath in addition to a shower stall, as well as a larger range of toiletries, including body lotion and a cooling eye mask.
The theater is a place where you can watch movies from time to time, when other events are not planned, in particular theatrical performances. The theater can accommodate up to 800 passengers.
Also on its stage is the "VoiceoftheOcean" competition, an analogue of the popular "Voice" show.
There are ballroom dance classes, ping pong tournaments and Wii Sports on board.
For nightlife lovers, there are clubs such as Club Fusion and Sky walkers, where DJs work for the good of the people until late at night.
Movies Under the Stars (Deck 15) - A movie theater under the stars draws in crowds (usually at 7 and 10 pm), featuring a mixture of classic movies and recently released cinematic blockbusters.
Gamblers can try their luck at Gatsby's Casino (Deck 6), which houses a variety of slot machines and gaming tables.
The boat has four swimming pools, all surrounded by blue and white sun loungers. Two hot tubs are located in each of the ship's three main pools.
The Internet Cafe is located on Deck 5.
The LotusSpa and Lotus Health & Fitness are located on two decks 16 and 17.
WHAT YOU NEED TO KNOW WHEN GOING ON A CRUISE
IMMIGRATION RULES Your passport must be valid for at least 6 months after the end of the cruise, expired passports are not accepted. To visit most countries, you must obtain an appropriate permit (visa) in advance. The passenger is directly responsible for the availability of visas required for the cruise.
THE PRICE OF A STANDARD CRUISE INCLUDES:
Travel on a liner
Accommodation in a cabin of the selected category
24-hour meals on board (excluding alcohol)
Entertainment programs on board
Programs for children and children's menu
24-hour cabin and steward service
Every night musical performances - shows, live music, discos
Use of the gym, sauna, jacuzzi.
Port dues
WHAT DOCUMENTS ARE REQUIRED FOR TRAVELING?
A tourist, going on a sea cruise, must have with him:
a foreign passport, which must contain the necessary visas;
voucher or cruise ticket;
medical insurance policy.
HOW TO GET TO THE LINER?
Contact your agent and order a transfer from the Airport to the seaport. In case you travel on your own, do not forget to ask your agent for a seaport diagram.
LANDING ON A SHIP?
The tourist is advised to arrive at the seaport 2 hours before departure.
ATTENTION! THE LINER IS NOT WAITING FOR LATE! Tourists bear full material and moral responsibility for the consequences that have arisen due to their delay in departure of the vessel.
LUGGAGE
Baggage is checked in at the port and delivered to the cabin (tip for baggage delivery is approximately $ 2 per item, paid upon check-in). Beforehand, it is necessary to stick luggage tags with the name and number of the cabin.
We kindly ask you to fill in your baggage tags yourself (cabin number and deck number).
After passing through customs and border formalities, the tourist surrenders his passport (for the duration of the cruise), and receives a "Personal card", which is an identity document for the duration of the cruise, a key to the cabin, a means of payment on board, etc. If you are going to pay in cash at the end of the cruise, then you will be asked to put a deposit of at least $ 300 per person on your "Personal Card".
Then the tourist goes on board the liner, is accommodated in the cabin (the number and category of the cabin are indicated in the voucher or ticket). Please note that for safety reasons visitors are not permitted on board.
Each cabin contains information about the location of services, the ship's plank chart, and a telephone directory of various ship services. Each cabin is equipped with air conditioning, telephone, TV, 110 volt and 220 volt sockets.
There is usually a "drill" before sailing, you can take a life jacket and take part in the drills. The plan of the exercise is indicated on the door of your cabin.
What is Purser'sdesk?
This is a guest service (analogous to "Reception" in a hotel), located on one of the decks of the liner (see the diagram) and helping passengers to receive information on all issues: receiving and sending correspondence, paying bills, searching for lost things, information services.
CLOTHES
Staying on a cruise is like relaxing in a luxury resort.
When packing your suitcase, please note that your luggage must contain 3 types of clothing: loose, formal and formal:
Free style: trousers, slacks, skirt, jumper, blouse, shirt. (In shorts, short T-shirts, "ripped" jeans, with bare legs - the entrance to the restaurant is prohibited).
Formal style: suit or dress - for ladies; jacket, tie - for men. (As if you went to a good restaurant at home.)
Formal style: evening dress or cocktail dress - ladies; a tuxedo or dark suit with a tie - for gentlemen. For such evenings, you can rent a suit on the ship.
Be sure to take into account the requirements for clothing in a number of countries: you will not be allowed into the ancient temples of Italy and Malta with bare knees and shoulders, in the countries of the East the restrictions are even stricter - consult your agent.
FOOD
In restaurants on board ships, there are usually 2 meal times for dinner: 18:30 / 20:30. You can choose which one you prefer and inform the agent about it when booking, and we will do our best to make you comfortable. Also specify in advance for how many people the table is preferable for you. On Princess ships there is a third option: Personalchoice (own choice). It gives you the freedom to decide where, when and with whom you dine every night. On the ships of Princess companies, in addition to the main one, there are themed restaurants where you can enjoy the national cuisine of Italy and America, paying only for a table reservation ($ 15-20 per person); cafes, bars and pizzerias, as well as a buffet restaurant on the upper deck.
For passengers in need of dietary meals, there is always a selection of low fat, cholesterol, sodium, sugar, vegetarian and kosher meals.
All ships use only fresh selected products, shipped at the nearest port.
Room service and drinks are available on all ships at an additional cost. An exception is the RoomService menu - ordering certain meals and drinks (you will find the list in your cabin).
You can also order breakfast in your room for free, you have a form in your cabin, you must fill it out and hang the handle on the door from the outside (you can also indicate the time when it is convenient for you to bring it).
ENTERTAINMENT FOR THE WHOLE FAMILY
Take your kids with you! Special programs for children of different ages on board each ship will not let them get bored, and in the kids club they can make friends with their peers from different countries. The children's menu and early meal changes allow the whole family to dine together in the restaurant. Thus, you can spend as much time with your family as you want.
You should only pay attention to the age restrictions of children: 6 months - for companies Crystal and Princess (European and Mediterranean routes, Caribbean, Mexico, Australia, Alaska). Both companies reserve the right to limit the number of children under 3 years of age on board.
Children should be accommodated either in the same cabin with their parents or in a communicating cabin. Unaccompanied children under 18 are not allowed on the cruise.
According to American laws, children under the age of 21 are prohibited from playing in casinos and drinking alcoholic beverages.
Doubts about the age of the tourist are resolved using the ID.
On PrincessCruises, access to the Spa, Jacuzzi and Gymnasium for children under 18 is only permitted with an adult.
All these measures are dictated by the desire to ensure a high level of security.
On the ships of the PrincessCruises company there are special children's centers for children of different ages: 3-7, 8-12 and 13-17 years old, in which events are specially designed for each group. What they have in common: the constant presence of staff, a playground, a shallow pool, an ice cream kiosk, a computer, an abundance of board and video games, ping-pong tables, videos. For teenagers, there is even their own jacuzzi bath and a section of the deck that belongs to them. All Princess ships have a special children's menu.
Visiting kids' clubs is free. Additionally paid ($ 5 / hour per child) only lessons from 22.00 to 0.00 and during the stay of the liner in the port.
Solo travelers won't feel lonely
When traveling alone, you will not feel lonely as you continually participate in daytime and nightly activities such as Let's Get to Know and Cocktail Parties. However, if you want, you can relax and enjoy the solitude.
ADDITIONAL EXPENSES ON BOARD AND THEIR PAYMENT
During the cruise, all your additional expenses (on board the ship) will be credited to your Personal Account (according to your cabin number), since according to customs laws, cash payments are not accepted on the ship. To open this account, a guarantee in the form of a credit card or a deposit of at least $ 300 per person is required.
To pay expenses, you only need to present your "Personal Card" and sign receipts. At the end of the cruise, you will be presented with an invoice indicating your expenses on board, which you will need to pay in cash or by credit card to Purser'sDesk. On the ships of "PRINCESS CRUISES" the following cards are accepted: VISA, MasterCard, Discover Card, Diners Club, Carte Blanche and American Express / Optima. You can also pay in dollars (US and Canadian), British pounds and traveler's checks (issued by banks in the USA, Canada and the UK).
TIP
Tipping is the norm all over the world, as 90% of staff salaries are tips.
On PRINCESSCRUISES liners, tips to waiters, your stewart and other service personnel are automatically credited to your "Personal Card" daily, at the rate of $ 14.50 per day, for guests of the category of cabins mini-suites $ 15.50 per day, and for guests of the category suite $ 16.50 per night. CALCULATED IN ADDITIONAL TO YOUR EXPENSES and are PAID on board on the last day of the cruise. If you wish to thank you for a different service, you can additionally add a certain amount to your account. If you are dissatisfied with the service provided, you can refuse to tip the staff, explaining the reason to Purser'sDesk.
Gratitude to the casino and spa staff on Princess ships is not regulated.
ON-BOARD SERVICES
Shore excursions.
The excursion program at the ports of call is not included in the cruise price and is paid additionally. To order individual or group excursions with a Russian-speaking guide, full payment is required in advance of the cruise. On board the liner orders are accepted for participation in group excursions conducted in English.
On the day of boarding, you have a special form in your cabin - an order for shore excursions, if you wish, you must fill it out and return it to a special "Shoreexcursion" counter, where you can get information about the proposed excursions at the ports of call and purchase tickets. Tourists, not nThose wishing to participate in excursions can independently manage their time in the port.
Medical services.
Each liner has a trained doctor and nurses on board who are available around the clock in case of emergency. Medical services provided on board are subject to additional charges.
Some people who are sensitive to even the slightest vibration of the ship can use special pills.
Laundry and dry cleaning services.
Our liners are equipped with excellent laundry and dry cleaning services. You only need to fill out an order form before 9.00 am (it is in your cabin) and give it to the steward along with the things in a plastic bag. Your order will be fulfilled on the same day 50% surcharge for urgency or the next day. The price list and a plastic bag for things are in the drawer of your cabin table. You can also iron or wash your own clothes. A laundry (Laundromat) is located on deck.
Duty free shops.
There are duty-free shops on board, where goods of world famous companies, souvenirs with the symbols of a cruise company, tobacco products, alcoholic beverages, clothing, perfumery and cosmetics, jewelry, and medicines are widely presented. The shops on board are only open while the vessel is in motion in accordance with international customs regulations.
International telephone, telefax, telex, internet
While the vessel is moving, you can use the services of international telephone communication (from the cabin), facsimile or telex communication (from the ship's radio station). There is also an Internet cafe on the liner. While the vessel is at the port, local communication systems can be used. The cost of an international telephone call from the ship is on average $ 15 per minute.
Sauna, massage center, beauty salon.
There is a sauna, massage center and beauty salon on board. Services are provided for an additional fee. If you wish to use these services, we recommend that you schedule an appointment in advance.
Services in the cabin.
For your convenience, there are soft drinks in the cabin, which are paid additionally.
You can contact Guest Service any time of the day or night to order an extra pillow, blanket, snacks in your cabin and much, much more. Drinks (juice, coffee) and snacks indicated in the RoomService menu are served in the cabin free of charge.
Radio and television in the cabin.
All cabins on the ships are equipped with radio and television. Television includes a satellite news channel from various countries, films, music programs and an in-house TV channel covering the on-board program, ports of call, etc.
Landing
The day before the end of the cruise, customs declarations and luggage tags will be delivered to your cabin. After collecting the suitcases, remove the old ones and place the new filled tags on the luggage, remembering their color. Baggage must be left in the corridor until 23.00. Leave hygiene items, medicines, valuables in your hand luggage. On the day of arrival at the final port, you must pay with your card before 07.00, receive a passport. Please note that large cruise ships line up for the Purser'sDesk on the day the cruise ends.
For your convenience, Princess invites you to register your credit card upon boarding or during the first days of the cruise. In this case, the money will be withdrawn from it automatically after you sign the final account.
There are three clubs on board for children of different ages. They are located on deck and accept children between the ages of 3 and 17.
Princess Pelicans accepts children between the ages of 3 and 7 and offers a range of activities such as dance parties, watching movies and cartoons, pajama parties, theme nights, fun fairs and art projects.
Shock waves is designed for kids ages 8 to 12 and includes activities such as kids dinners, dance parties, movies, video games, talent shows, karaoke and sports tournaments.
Remix accepts children from 13 to 17 years old. Teenagers can enjoy games on video game consoles, card games, board games, ping pong tables and jukeboxes.
The Michelangelo Dining Room (Deck 5), Botticelli Dining Room (Deck 6) and Da Vinci Dining Room (Deck 6) are the three main restaurants. All are made in the same design solution: spacious establishments with neutral tones in decoration, rich wood paneling, patterned carpets and Italian paintings on the walls. Bright white tablecloths cover the traditionally round tables. All canteens have one menu and are all open for breakfast, lunch and dinner. Mostly Italian cuisine is served, but there are others on the menu.
Guests are offered gourmet dishes such as grilled salmon or chicken in a variety of different ways. The menu also features vegetarian cuisine, with a fairly wide variety.
Additionally, on the ship you can visit:
Horizon Court Buffet (Deck 15) - An enormous buffet. The seats are equipped both outside and inside the establishment.
Cafe Caribe (Deck 15) - Right behind the HorizonCourt is Cafe Caribe. This is a smaller and more intimate place that offers amazing themed dinners, particularly Mexican and Indian. The wines are sold only in glasses.
Bars:
Pizzaand Ice Cream Bar (Deck 15) - Pizza with frozen.
Trident Grill (Deck 15) - Pool bar grill.
Vines Wineand Seafood Bar (Deck 5) - Wine bar serving not only alcoholic drinks but also sushi.
Speakeasy Cigar Lounge (deck 6) - cigar bar.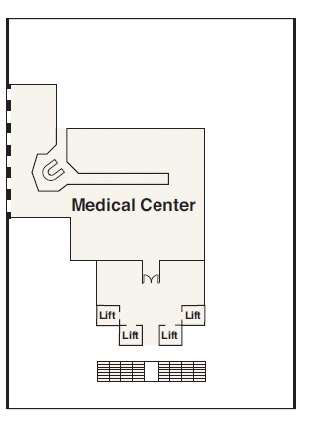 Leave your comment
Comment