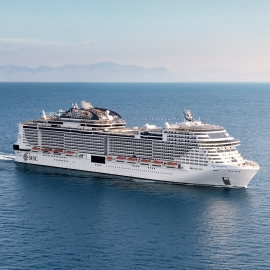 MSC Bellissima is a new generation cruise ship with a unique advanced onboard functionality - MSC for Me. This technology is specially designed to facilitate communication between passengers and the ship's crew. A mobile application has been developed for visitors, through which you can fully plan your day, find the necessary objects, monitor the movement of children and evaluate many more convenient functions.
The main characteristics of the vessel include:
Year of construction - 2019
Length - 315 m
Width - 43 m
Number of cabins - 2244
Capacity - 4500-5700 people
Displacement - 171,598 tons.
Number of decks - 18
Speed ​​- 22 knots
The first cruise on MSC Bellissima is scheduled for March 24, 2019 from the port of Genoa (Italy).
The liner will sail on the waters of the Mediterranean Sea and will allow its passengers to visit several European countries with a rich history at once: Italy, Spain, France.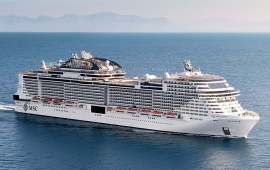 10 дней / 9 ночей
Route:
Date: 23 / 10 / 2021
Внутренняяот 35 269 UAH
С окномот 41 687 UAH
С балкономот 48 106 UAH
Date: 23 / 10 / 2021
Внутренняяот 35 269 UAH
С окномот 41 687 UAH
С балкономот 48 106 UAH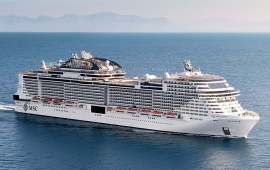 10 дней / 9 ночей
Route:
Date: 28 / 11 / 2021
Внутренняяот 33 664 UAH
С окномот 40 083 UAH
С балкономот 46 501 UAH
Date: 28 / 11 / 2021
Внутренняяот 33 664 UAH
С окномот 40 083 UAH
С балкономот 46 501 UAH
The cruise company MSC offers its visitors a wide selection of cabins of different categories. Liner Bellissima is no exception. The company will soon present comfortable rooms for staying throughout the trip, equipped with air conditioning, minibar, telephone and safe. Each guest will have access to interactive TV.
Additional options depend on the selected category of the cabin:
MSC Yacht Club Roya lSuite is a premium suite with an area of ​​65 sq.m. with a balcony with an area of ​​40sq.m., which has a dining table. The cabin is designed for a maximum of 4 people.
Additionally, guests are offered:
king bed;
spacious wardrobe;
bathroom with bath and shower;
separate living room;
private balcony with jacuzzi;
refrigerator and espresso machine.
MSC Yacht Club Deluxe Suit is a 30sqm deluxe suite with a balcony for 4 people with the following privileges:
king bed;
spacious wardrobe;
bathroom with large shower;
seating area and private balcony;
refrigerator and espresso machine.
MSC Yacht Club Interior is a comfortable 16sqm cabin for 2 people, among the additional features of which:
king bed;
spacious wardrobe;
bathroom with shower.
Duplex Suite - 52sqm duplex cabin with balcony, jacuzzi, separate dining / living room and sofa that can be converted into a double bed.
This room, which can accommodate up to 4 guests, features:
king-size bed in the main bedroom on the second floor;
two wardrobes;
two bathrooms (one with a bath, the other with a shower).
Suite with angled balcony - suite with an area of ​​28-38 sq.m. with a large corner balcony that can accommodate up to 4 people, it will also delight residents:
king bed;
large wardrobe;
bathroom with shower;
a separate seating area.
Special cabins for families - consist of two or more interconnecting cabins for up to 9 people and are equipped with private bathrooms. Such rooms are divided among themselves into standard categories: with a balcony, with a window, interior, studios.
Balcony - 19 sqm, with a balcony, king size bed, spacious wardrobe and seating area (up to 4 people).
Oceanview - 15-18 sqm, with window, king bed, spacious wardrobe and seating area (up to 4 people).
Interior - an internal cabin with an area of ​​16 sq. M. With a king-size bed and a spacious wardrobe (up to 2 people).
Interior Studio - 12 sq.m. interior single cabin. with a spacious wardrobe.
Wi-Fi connection is available to each passenger of the liner for a fee.
The cruise line is the exclusive partner of Cirque du Soleil - the world leader in live art entertainment - so passengers can enjoy two original shows 2 times a day, 6 days a week.
The cruise also features one of the most beautiful and exciting water parks in the sea, with three rolling slides, the Himalayan Bridge and many pools. The park offers entertainment for tourists of all ages.
During the rest, passengers can even visit their own TV studio and bar, which are responsible for radio and television broadcasting on the ship, broadcast live games, quizzes, talent contests and more. The studio also serves as an atmospheric stand-up show club, karaoke bar and a place to enjoy live music.
A sports complex, a nightclub, a bowling alley and even a Formula 1 simulator are presented to the attention of tourists.
MSC Crociere Passenger Memo

BOARDING THE SHIP

Check-in on a boat usually starts 3 hours before departure. At the port where your cruise starts, you
Easily navigate the MSC Crociere logo signs. Remember that no later than an hour before departure, you must already be on board the ship. To board the ship, you need to take the following steps:
upon arrival at the port, take special baggage tags from MSC Crociere employees and stick them on the baggage. On the tags, you must indicate your name, surname, ship name, cabin number, date and port of departure in Latin letters;
hand over luggage with pre-pasted tags to porters who will deliver it to your cabin door (usually within an hour after sailing);
when check-in begins, go to the Check-in counter and present your passport and cruise ticket;
after checking the documents, passengers are issued a Cruise Card - a magnetic card, which is later used as a key to your cabin, a pass to the ship and a card to pay for services on board (excursions, bar, dry cleaning, cabin service, hairdresser, beauty salon, duty free shops and a photographer).
to receive the Cruise Card, you must register your own credit card (Visa, Mastercard or American Express) or make a cash deposit on the first days of the cruise;
go to the maitre d 'to reserve a table in the ship's restaurant and shift in which you will have lunch and dinner.
Attention! The cruise of tourists who do not show up for boarding is considered canceled with a penalty of 100%.
If, nevertheless, you are late for some reason, be sure to inform the escort, operator or agency so that they warn MSC Crociere that you will catch up with the ship at the next port. Otherwise, the cruise administration reserves the right to sell the unoccupied cabin.
LUGGAGE
Your personal luggage is at your own responsibility.
CALCULATIONS ON BOARD
Prices on board MSC Crociere vessels are quoted in Euros when navigating the Mediterranean, Northern Europe, and when navigating in the Caribbean, South America, prices are quoted in US dollars. The Cashless System (non-cash payment) operates on board all ships. Thus, to pay for all expenses incurred on board, except for the casino, you will use the magnetic Cruise Card obtained upon check-in and verified by your credit card or cash deposit. When paying for any services or goods on board, you will be issued checks for signature, and all the amounts you spent will be recorded on the Cruise Card. We recommend that you keep receipts to avoid possible disagreements with the administration about the funds you spent. If during the cruise your Cruise Card balance (confirmed by cash deposit) approaches zero, you will be asked to add additional funds to the account. At the end of the cruise, the amount spent by you will be debited from your credit card (if the Cruise Card is confirmed by a credit card), or the rest of the deposit will be returned (in the case of cash guarantees).
PASSPORT
To travel on any of the routes suggested by MSC Crociere, you will need a passport valid for at least 3.5 months from the day you return from your trip. For minor children traveling without parents, in addition to a passport, a power of attorney is required issued for the accompanying adult passenger. After boarding, you must go to the reception desk in the central lobby and return your passport. The procedure for surrendering a passport for the duration of the cruise is mandatory for citizens of all countries outside the European Union.
We recommend making a copy of the first page of your passport in advance. If you have not done so, ask the staff to make you a copy of your passport, which, together with your Cruise Card, will serve as your identity ashore.
PROGRAM OF THE DAY
Every evening, a detailed program prepared by the Cruise Directorate for the next day is sent to the cabins to inform passengers about the activities and entertainment offered by the MSC staff.
FOOD
Larks coffee is served on the open deck from 06.30 to 07.00. Breakfast is served in the restaurant from 07.00 to 09.30, open deck buffet is offered from 07.00 to 10.00, you can also have breakfast in your own cabin from 07.30 to 10.00 if you order the steward in advance (you can find breakfast order forms in your cabin, this service is free, the possibility of its confirmation depends on the number of those who wish). Lunch in the restaurant (à la carte) is served in two shifts: from 12.00 and from 13.30. You can also dine on the open deck from 12.00 to 13.45 at the buffet. Afternoon tea is served at 16.15. Dinner in the restaurant (à la carte) is also served in two shifts: from 19.00 and from 21.00. A buffet for night owls is available at 24.00.
Please note that the given schedule may vary depending on the time of entering the ports and the excursion program, you will find out the exact time from the daily sheets of the "program of the day".
CLOTHES
The atmosphere on board is quite democraticah, so we recommend sportswear for every day, which is also well suited for shore excursions. We advise you to take a pullover or shawl with you to protect yourself from temperature fluctuations between the air-conditioned rooms and the open decks. In the evenings, a sweater or light jacket may be useful.
During the cruise, solemn events are held, for participation in which you must dress appropriately, we recommend a dark suit for men, an evening dress for ladies.
For excursions where it is planned to visit churches, temples, mosques, strict clothing is recommended, excluding shorts, bermuda shorts, tops, etc.
SMOKING
MSC cruises adhere to the "Clean Air" policy, which allows both smokers and non-smokers to spend their holidays on the ship in comfort and mutual respect.
On all MSC Crociere ships, smoking is only permitted in the Cigar Rooms, Casino and designated areas. Passengers will also be able to smoke on one side of the open deck.
All other areas, including cabins and cabins balconies, are non-smoking.
ON-BOARD ENTERTAINMENT
While sailing, the staff of MSC Croiciere take care to diversify your vacation as much as possible and choose an activity for everyone's liking. To do this, quizzes, bridge tournaments, ping-pong, volleyball, shuffle board, pool games, and various entertainment events are organized on board.
THE SHOPS
There are shops on board that include souvenirs, travel essentials, clothing, perfumery, jewelry, photographic equipment, as well as alcohol and tobacco. The shops are open daily when the ship is sailing on the high seas, making them a DUTY FREE zone!
ADDITIONAL SERVICES ON BOARD
Each MSC Croiciere ship has a first-aid post and medical services are available at all times when the ship is at sea. Medical services on board are paid, paid by the passenger at the rates of the Medical Association of Genoa.
Also onboard services are offered photography, hairdresser, beauty salon, dry cleaning, laundry and ironing services at an additional cost. You can also use telephone, fax, teletype, internet or mail (all communication services are paid additionally).
To use the mail, you simply need to hand the postcard or letter to the information office, which will take care of sending it through local Company agents. You can use the internet at the internet cafe or directly from your laptop if your cabin is equipped with a network connection. The onboard radio station operates 24 hours a day, but it is closed during anchorage in the port. You can call the ship through the INMARSAT station using the numbers shown in the table below.

MINI CLUB
All MSC Crociere ships have mini-clubs for children, where you can leave your children (3-17 years old) under the supervision of educators (including during shore excursions). For children, special programs have been developed for three age groups. This service is free.
Loungers
Sun loungers are provided free of charge, the only request is not to take their personal belongings during a possible long absence. In addition, beach towels are prepared for you by the pools and must be returned before leaving. If you wish, you can ask your maid for a towel.

STORAGE OF VALUES
MSC Croiciere is not responsible for the loss or theft of valuables or money left unattended on the ship, stored in the cabin or in personal luggage. Therefore, we recommend using safes in cabins or safes in the information office to store valuables.

TIP
According to international tradition, at the end of the cruise, tourists leave a tip to the service staff as a sign of gratitude for their work and attention. As of April 2006, a tip of € 8 per day is automatically charged and must be paid at the end of the cruise.

ELECTRICITY
Power supply in all MSC Melody cabins - 110V; MSC Musica, MSC Opera, MSC Lirica, MSC Sinfonia, MSC Armonia, MSC Rhapsody - 110 / 220V. The use of heating devices in the cabin (iron, electric kettle, boiler, etc.) is strictly prohibited.

CONTACT NUMBER
In case of difficulties and unforeseen situations, you can contact the MSC Croiciere operator on 0817 942 111.
There are several places for active recreation for young passengers. The ship has a spacious kids club with all kinds of entertainment, which was created in partnership with a large company for the production of baby products Chicco.
The cruise ship MSC Bellissima is a real epicenter of fun activities for children of all ages:
mini and junior clubs for children from 1 to 3 years old;
teenage clubs (one for children 12-14 years old, the second for 15-17 years old).
The ship's large playground changes its purpose depending on the time of day (playroom, cinema, disco venue).
The ship also has a large selection of LEGO® toys that can be found in mini and youth clubs.
On board the ship, each passenger will find the most suitable menu for themselves. Even representatives of alternative approaches to nutrition (vegetarians, vegans, etc.) will not be disappointed. The main cuisine of the liner is Italian, but some restaurants also offer French and Asian dishes.
The place responsible for educating passengers in the intricacies of Italian traditional food is Main Restaurant. Oriental Plaza introduces tourists to Asian dishes. And sushi lovers can enjoy them in plenty in a special sushi bar.
Leave your comment
Comment