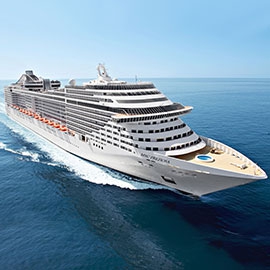 MSC Cruises' exciting new liner MSC Preziosa was launched in spring 2013. She is the 4th of the MSC Cruises Fantasia class ships, along with Divina, Fantasia and Splendida. For the construction of the liner, advanced and environmental technologies were used. An atmosphere of coziness and comfort reigns on board the liner.
Specifications
Year of construction - 2013, renovation - 2018
Length - 333 m.
Width - 38 m.
Displacement - 139,400 tons.
Number of cabins - 1650
Capacity - 4345 people.
Number of decks - 17
Speed ​​- 23 knots
On the liner you will feel like in a separate city, where it is incredibly fun and atmospheric. You will remember the liner design for a long time. Everything around shines and sparkles. In such an environment, you feel like a king or queen. Wait a few seconds...
There are 1,500 comfortable cabins on board, including 99 suites for MSC Yacht Club members. The cabins on the ship are incredibly cozy and spacious. The design of the room is very nice. The walls in each cabin are decorated with paintings and simply masterpiece decorative elements.
You can also boast of the neatness and brilliant cleanliness of the suites. Each cabin has a plasma TV, a small minibar, an international telephone, an individually controlled air conditioner, a safe box that will keep your valuables and papers, and Internet coverage.
Liner MSC Preziosa provides a lot of entertainment. At the stern of the vessel there is a wonderful swimming pool with a terrace that offers an amazing view of the sunset.
For passengers of the Yacht Club, there is a separate VIP area with a swimming pool, jacuzzi, bar, relaxation area, concierge service and the highest service.
Day and night, any passenger will find something to do. On board the liner there is a theater with 1600 seats, a 4-D cinema and an open-air cinema and, of course, swimming pools, saunas, Spa-center and shops with stylish things. For sports enthusiasts, there is a bowling alley and a mini golf course. Children can have fun in the children's area with animators.
At your service in the cabins: a line of toiletries specially created by Escents Aromatherapy, Nintendo Wii, free minibar, high quality linens, Egyptian cotton bathrobes and slippers (Mascioni, Italy), a selection of pillows designed by the laboratory "Dorelan", beds with ergonomic mattresses "Myform Memory", wooden shoe care set and other nice little things.
MSC Crociere Passenger Memo

BOARDING THE SHIP

Check-in on a boat usually starts 3 hours before departure. At the port where your cruise starts, you
Easily navigate the MSC Crociere logo signs. Remember that no later than an hour before departure, you must already be on board the ship. To board the ship, you need to take the following steps:
upon arrival at the port, take special baggage tags from MSC Crociere employees and stick them on the baggage. On the tags, you must indicate your name, surname, ship name, cabin number, date and port of departure in Latin letters;
hand over luggage with pre-pasted tags to porters who will deliver it to your cabin door (usually within an hour after sailing);
when check-in begins, go to the Check-in counter and present your passport and cruise ticket;
after checking the documents, passengers are issued a Cruise Card - a magnetic card, which is later used as a key to your cabin, a pass to the ship and a card to pay for services on board (excursions, bar, dry cleaning, cabin service, hairdresser, beauty salon, duty free shops and a photographer).
to receive the Cruise Card, you must register your own credit card (Visa, Mastercard or American Express) or make a cash deposit on the first days of the cruise;
go to the maitre d 'to reserve a table in the ship's restaurant and shift in which you will have lunch and dinner.
Attention! The cruise of tourists who do not show up for boarding is considered canceled with a penalty of 100%.
If, nevertheless, you are late for some reason, be sure to inform the escort, operator or agency so that they warn MSC Crociere that you will catch up with the ship at the next port. Otherwise, the cruise administration reserves the right to sell the unoccupied cabin.
LUGGAGE
Your personal luggage is at your own responsibility.
CALCULATIONS ON BOARD
Prices on board MSC Crociere vessels are quoted in Euros when navigating the Mediterranean, Northern Europe, and when navigating in the Caribbean, South America, prices are quoted in US dollars. The Cashless System (non-cash payment) operates on board all ships. Thus, to pay for all expenses incurred on board, except for the casino, you will use the magnetic Cruise Card obtained upon check-in and verified by your credit card or cash deposit. When paying for any services or goods on board, you will be issued checks for signature, and all the amounts you spent will be recorded on the Cruise Card. We recommend that you keep receipts to avoid possible disagreements with the administration about the funds you spent. If during the cruise your Cruise Card balance (confirmed by cash deposit) approaches zero, you will be asked to add additional funds to the account. At the end of the cruise, the amount spent by you will be debited from your credit card (if the Cruise Card is confirmed by a credit card), or the rest of the deposit will be returned (in the case of cash guarantees).
PASSPORT
To travel on any of the routes suggested by MSC Crociere, you will need a passport valid for at least 3.5 months from the day you return from your trip. For minor children traveling without parents, in addition to a passport, a power of attorney is required issued for the accompanying adult passenger. After boarding, you must go to the reception desk in the central lobby and return your passport. The procedure for surrendering a passport for the duration of the cruise is mandatory for citizens of all countries outside the European Union.
We recommend making a copy of the first page of your passport in advance. If you have not done so, ask the staff to make you a copy of your passport, which, together with your Cruise Card, will serve as your identity ashore.
PROGRAM OF THE DAY
Every evening, a detailed program prepared by the Cruise Directorate for the next day is sent to the cabins to inform passengers about the activities and entertainment offered by the MSC staff.
FOOD
Larks coffee is served on the open deck from 06.30 to 07.00. Breakfast is served in the restaurant from 07.00 to 09.30, open deck buffet is offered from 07.00 to 10.00, you can also have breakfast in your own cabin from 07.30 to 10.00 if you order the steward in advance (you can find breakfast order forms in your cabin, this service is free, the possibility of its confirmation depends on the number of those who wish). Lunch in the restaurant (à la carte) is served in two shifts: from 12.00 and from 13.30. You can also dine on the open deck from 12.00 to 13.45 at the buffet. Afternoon tea is served at 16.15. Dinner in the restaurant (à la carte) is also served in two shifts: from 19.00 and from 21.00. A buffet for night owls is available at 24.00.
Please note that the given schedule may vary depending on the time of entering the ports and the excursion program, you will find out the exact time from the daily sheets of the "program of the day".
CLOTHES
The atmosphere on board is quite democraticah, so we recommend sportswear for every day, which is also well suited for shore excursions. We advise you to take a pullover or shawl with you to protect yourself from temperature fluctuations between the air-conditioned rooms and the open decks. In the evenings, a sweater or light jacket may be useful.
During the cruise, solemn events are held, for participation in which you must dress appropriately, we recommend a dark suit for men, an evening dress for ladies.
For excursions where it is planned to visit churches, temples, mosques, strict clothing is recommended, excluding shorts, bermuda shorts, tops, etc.
SMOKING
MSC cruises adhere to the "Clean Air" policy, which allows both smokers and non-smokers to spend their holidays on the ship in comfort and mutual respect.
On all MSC Crociere ships, smoking is only permitted in the Cigar Rooms, Casino and designated areas. Passengers will also be able to smoke on one side of the open deck.
All other areas, including cabins and cabins balconies, are non-smoking.
ON-BOARD ENTERTAINMENT
While sailing, the staff of MSC Croiciere take care to diversify your vacation as much as possible and choose an activity for everyone's liking. To do this, quizzes, bridge tournaments, ping-pong, volleyball, shuffle board, pool games, and various entertainment events are organized on board.
THE SHOPS
There are shops on board that include souvenirs, travel essentials, clothing, perfumery, jewelry, photographic equipment, as well as alcohol and tobacco. The shops are open daily when the ship is sailing on the high seas, making them a DUTY FREE zone!
ADDITIONAL SERVICES ON BOARD
Each MSC Croiciere ship has a first-aid post and medical services are available at all times when the ship is at sea. Medical services on board are paid, paid by the passenger at the rates of the Medical Association of Genoa.
Also onboard services are offered photography, hairdresser, beauty salon, dry cleaning, laundry and ironing services at an additional cost. You can also use telephone, fax, teletype, internet or mail (all communication services are paid additionally).
To use the mail, you simply need to hand the postcard or letter to the information office, which will take care of sending it through local Company agents. You can use the internet at the internet cafe or directly from your laptop if your cabin is equipped with a network connection. The onboard radio station operates 24 hours a day, but it is closed during anchorage in the port. You can call the ship through the INMARSAT station using the numbers shown in the table below.

MINI CLUB
All MSC Crociere ships have mini-clubs for children, where you can leave your children (3-17 years old) under the supervision of educators (including during shore excursions). For children, special programs have been developed for three age groups. This service is free.
Loungers
Sun loungers are provided free of charge, the only request is not to take their personal belongings during a possible long absence. In addition, beach towels are prepared for you by the pools and must be returned before leaving. If you wish, you can ask your maid for a towel.

STORAGE OF VALUES
MSC Croiciere is not responsible for the loss or theft of valuables or money left unattended on the ship, stored in the cabin or in personal luggage. Therefore, we recommend using safes in cabins or safes in the information office to store valuables.

TIP
According to international tradition, at the end of the cruise, tourists leave a tip to the service staff as a sign of gratitude for their work and attention. As of April 2006, a tip of € 8 per day is automatically charged and must be paid at the end of the cruise.

ELECTRICITY
Power supply in all MSC Melody cabins - 110V; MSC Musica, MSC Opera, MSC Lirica, MSC Sinfonia, MSC Armonia, MSC Rhapsody - 110 / 220V. The use of heating devices in the cabin (iron, electric kettle, boiler, etc.) is strictly prohibited.

CONTACT NUMBER
In case of difficulties and unforeseen situations, you can contact the MSC Croiciere operator on 0817 942 111.
Children under the age of 18 travel free when sharing a cabin with two adults and at special rates for children accompanied by one adult in the same cabin. Unsurprisingly, MSC Cruises is popular with families. MSCPreziosa offers excellent facilities for children, including the brand new Doremi water area on deck 16.
Above Doremi, on Deck 18, is one of the ship's standout features, the 394-foot Vertigo waterslide. The slide is 42 feet high and takes thrill seekers on a winding descent that includes a 30-foot transparent section above the ship's side.
Doremiland's pirate-themed indoor playground on Deck 15 houses the Mini and Junior Clubs for children aged 3 to 6 and 7 to 11, respectively. The clubs offer free daily entertainment in different languages, depending on the nationality of the youth. Doremiland remains open at ports of call to provide supervised activities for children whose parents have booked shore excursions. Parents should be aware that MSCPreziosa does not offer babysitting services.
Children under 3 years old can join Babytime with an accompanying adult for two hours of classes every morning, afternoon and evening. The older children aged 12-14 are served by the Y-Team and the teenage club is served by the 15-17 years old. It offers a special teen disco - Graffiti's, a weekly themed party and the opportunity to take part in the weekly Flash Mob, wowing other passengers with a performance by the pool. The virtual world includes a video arcade, a Formula 1 racing car simulator and a 4D cinema, all at an additional cost.
Teens will feel very grown up with Teenage Kicks, a range of spa and beauty treatments, temporary stencil tattoos, and hairdressing services available at the spa.
On board the MSC Preziosa cruise ship, guests can enjoy good and delicious cuisine at 4 available restaurants. For food lovers, the Galaxy Restaurant is the perfect mouth-watering adventure - an open kitchen where you can enjoy delicious meals throughout the day.
A complete list of MSC Preziosa restaurants and bars:
Golden Lobster Restaurant (626 seats) offers a variety of Italian traditional dishes and wines, as well as vegan and vegetarian options;
L'Arabesque restaurant (766 seats);
La Locanda (105-seat wine bar and Italian restaurant; serves lunch and dinner);
Eataly Restaurant (80-seat Eataly Food Chain and Specialty Restaurant);
Ristorante Italia (24-seat restaurant and Italian food shop for dinner only);
Buffet restaurants Inca (412 seats) and Maia (404 seats, aft), free self-service cafes with various dining options - Grill Corner, Pasta, Pizza, Carving Show, Ethnic Corner, Mediterranean restaurant, bakery, children's corner;
La Palmeraie (100-seater aft diner; MSC Yacht Club guests only);
Galaxy Lounge and Disco (126-seat specialty restaurant for lunch, dinner and nightclub).
Leave your comment
Comment