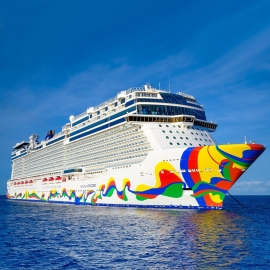 The famous cruise company Norwegian Cruise Line will launch a new Breakaway Plus class liner in the fall of 2019.
Norwegian Encore - will take on board almost 4 thousand people. Passengers will be able to enjoy a sea voyage filled with all kinds of entertainment and varied meals. The ship will feature a special Observation Lounge - a 180-degree area, created specifically for admiring the ocean and relaxing.
The liner has the following characteristics:
Year of construction - 2019
Displacement - 167800 tons.
Capacity - 3,998 people.
Length - 335 m.
Width - 41 m.
Draft - 9 m.
Crew - 2100 people.
Number of passenger decks - 15
Speed ​​- 23.2 knots
The first cruise on Norwegian Encore was made in autumn 2019. The ship departs from Port Miami and makes weeklong Caribbean cruises every Sunday. Wait a few seconds...
For the passengers of the new liner, a wide selection of cabins with a set of any desired functions is available. Lovers of relaxation in luxury conditions are offered a special The Haven area, which contains the most expensive cabins:
Mini suite with balcony
Suite with balcony
The area of ​​these cabins is 23-41 sq.m. They are designed for 2-4 people and are equipped with everything necessary for a comfortable stay: a large double bed (or two single beds), a folding bed, a sofa, a safe, a coffee maker, etc. A constant flow of fresh air is provided by a balcony of 4-13 sq.m. which, depending on the selected package of services, is equipped with tables, sun loungers, etc.
For residents of the VIP zone, 24-hour butler and concierge services are also available, and access to a private terrace overlooking the ocean is provided. This lounge area is equipped with panoramic windows and a partial glazed ceiling.
All other cabins are equipped with double or twin beds, folding bunks, shower, hairdryer, safe, minibar, TV, etc. They fall into standard categories:
Internal - 12.5 sq.m. for 2-4 passengers.
External with a window - 15-34.5 sq.m. for 2-5 passengers; non-opening windows.
External with balcony - 19-39.5 sq.m. to accommodate 2-4 passengers; balcony with an area of ​​3-14 sq.m .; additional sofa is provided.
Studio - 15-34.5 sq.m. to accommodate 2-5 people; non-opening windows.
Large groups and families can request accommodation in adjacent rooms. It is advisable to voice this request before booking so that the company staff will select the right option for you.
Norwegian Encore passengers will be able to get on board a real aesthetic pleasure. To do this, it is enough to go to the panoramic area to observe the surrounding landscapes. In the lounge area, tourists will be offered light snacks and cocktails, which will help set the right mood for admiring the ocean. Every tourist must visit this place at sunset time!
Traditionally for the Norwegian Cruise Line, the musical "Four Seasons" will be presented on board, as well as numerous Broadway-style productions. Fans of outdoor activities will be able to visit the pool with a jacuzzi and water slides, a sports ground, a fitness center, try their hand at mini golf, laser tag and even at a climbing wall. Another interesting place to spend your time will be a two-level karting. On it, tourists will be able to drive at speeds up to 65 km / h.
The nightlife is represented by casinos, arcade halls, a card game room and, of course, nightclubs. Numerous spa centers will help tourists to relax, and there are several beauty salons on the ship especially for the female half.
As with most cruise ships, Norwegian Encore has a theater at the bow, which hosts many exciting performances. Due to its large size, the theater occupies two decks 6 and 7.
Library and card game room. A small room where you can retire or play a variety of card games with friends.
Photo studio. There are also two rooms for organizing small group meetings. For example, when organizing MICE, we hold meetings or seminars for part of the group, right here.
Atrium. On Breakaway Plus class liners, the atrium is located on the 6th and 7th decks. Various dance competitions, numerous performances and concerts are held here every day. Right in the atrium on the 6th deck there is a bar, and on the 7th deck there is a grill bar with the best burgers. Meat is not spared here.
The nightlife is in full swing in the club. The animators put on a real show here. The most active guests who love the nightlife will definitely remember this place.
What a cruise ship without a casino. Of course, everyone who has been on cruises knows that modern liners must have a casino. Excitement, adrenaline and winning, all this awaits you on the cruise. Sometimes our tourists on board won back the cost of not only a cruise, but also a flight.
Well, what about without shopping. Immediately after passing the aft elevators, the Duty Free zone begins. Note that on the deck plan the elevators are marked with squares with crosses inside. All these designations on the deck plan are very important for every tourist, as they help to quickly explore the liner and navigate the location of objects. As we can see, there are a lot of infrastructure objects.
A variety of clothing, souvenir, drinks, sweets, jewelry and much more from the world's leading brands, as well as Norwegian Cruise Line branded stores, can be visited by walking on Deck 8.
The Garden Café, closer to the center of the liner, goes into an open area where:
- two swimming pools
- Surf Bar
- Children's water park with slides and fountains.
- And one of the most extreme water slides I've ever seen on board a ship - Ocean Loops.
Pulse fitness center. Considering the abundance of delicious food on board, a visit to the fitness center will be relevant. New and state-of-the-art fitness equipment will make your sports even more comfortable.
Beauty Salon and Barber Shop. Everything is done in order to always feel comfortable and attractive.
Also, unforgettable spa treatments from Mandara SPA are waiting for you. Experienced experts will do everything to make you relax, gain strength and energy.
Galaxy pavilion, which houses a variety of entertainment rides, augmented reality video games and simulations. This place will become a favorite not only for children, but also for adults. The spirit of excitement will overwhelm even the most indifferent.
Ocean Loops. The speed, transparent elements, construction and the fact that the slide is located on the 17th deck above the sea make it one of the most extreme slides on board ships. Many are afraid to come up and look overboard at this height, let alone go down the hill at that height. To visit this slide, there are certain recommendations and requirements for the guests of the liner. Requirements include height over 122 cm and weight from 55 to 136 kg. Among the recommendations, I would include wishes for clothes. You should be wearing a swimsuit or swimming trunks that do not impede slipping. Therefore, it is not recommended to go down in clothes with additional elements or to wear any jewelry. The attraction starts on the 18th deck and ends on the 17th.
Immediately on the port side is another slide called Aqua Racer. This slide is not as extreme, but there are requirements for height and weight. The descent itself is carried out on inflatable rings, which improves glide. There are both single and double circles. If your child's growth less than 140 cm, then he can only go down with an adult on a double circle. Moreover, the maximum weight of two people should be no more than 120 kg.
Aqua Racer occupies 4 decks, starting at 20th and descending to 17th.
As with most cruise ships, joggers have not been forgotten on board Norwegian Encore. Here, on the 17th deck, there is a jogging track, indicated on the deck plan as Jogging Track. The length of one circle is 200 meters. A morning run on the open deck of a cruise ship among the open sea surface will be remembered for a lifetime. I would like to know what is your favorite place to run. I would be grateful, sit down and write about it in the comments.
Here, on the 17th deck, there are 4 hot water jacuzzis, free space with sun loungers and of course the Heaven area for guests who live in suites.
Laser Tag, which is located on deck 19 aft of the ship. A bright shooter with elements of augmented reality awaits you on a specially designed platform. Your battles will take place on the field of ancient Atlantis. I would like to note that this type of recreation is absolutely safe for players of any age.
The cost of the game is $ 9.95 per person per game.
Real karting on board a cruise ship. Who would have thought 10 years ago? that this is possible on a ship, but the engineers have designed a full-fledged 342-meter race track that occupies 3 decks. But, Norwegian Cruise Line was able to implement this crazy idea and now you can make your vacation even more diverse.
USEFUL INFORMATION NORWEGIAN CRUISE LINE:
WHAT YOU NEED TO TAKE WITH YOURSELF:
Foreign passport (check if all visas required for travel are available) Cruise ticket Air ticket
Vouchers for hotels / transfers / excursions Medical insurance
Essential medicines and sunscreen Great mood
IN THE AIROPORT:
Please note that check-in for a flight begins at the airport of departure no later than two hours before departure and ends 1 hour before departure. We ask you to take care of your timely arrival at the airport in advance. We advise you to familiarize yourself with the baggage rules, especially those related to weight restrictions.
DOCUMENTS:
Make sure that your passport is valid and valid for at least 6 months from the date of the end of the trip. That all required visas are open. Otherwise, in the absence of the necessary documents, guests are not allowed on board with the full cost of the trip.
IN THE PORT:
TRANSFER
You should schedule your arrival at the cruise port of departure no later than two hours before the departure. Registration and boarding of the liner, as a rule, starts 4 hours before and ends one hour before the departure of the liner. You can get to the port by ordering a transfer in advance or by taxi.
LUGGAGE
Upon arrival at the port, you need to drop your luggage to the staff of the cruise company at the Baggage Drop-off counter. We recommend that you take all your valuables, documents, medicines and fragile items with you in your hand luggage. NCL recommends a maximum of two pieces of baggage per person, each of which should not exceed 23 kg.
BOARDING THE LINER
Boarding starts at the time indicated on the cruise ticket, usually 4 hours before departure. Upon check-in, you will be asked to present your passport and cruise ticket. Check the validity of the visas. Check your carry-on baggage. All passengers must be on board one hour before departure.
PRIORITY SEATING FOR GUESTS SUITES
Guests who have booked suites can enjoy priority boarding. Upon arrival at the port, please contact Customer Service for all the information you need.
DEPARTURE ON THE SHORE
Information on the cruise termination procedure will be provided by the company representatives on board the ship on the eve of the last day of the cruise to the cabin along with luggage tags. On the last night, before 23:59, luggage must be tagged and posted outside your cabin door. The staff will collect the luggage and deliver it to the port where you can collect it. We recommend leaving the necessary items in your hand luggage the next morning.
ON BOARD:
PROGRAM OF THE DAY
To make it easier for you to navigate on board, the program of the day will be delivered to the cabin every day. In it you will find the schedule of events and information about the port of anchorage, information about the liner, time and place of meals and special services or promotions. Be sure to carry the program of the day with you, even when disembarking ashore, as it contains contact numbers and information about the departure of the liner.
EVENTS, SERVICES AND SERVICE
You can choose to play sports or at the computer, go to wine tastings, cooking shows or Karaoke, play Bingo or try yourself in sports - everyone will find something to their liking. If you are looking for tranquility and privacy, you will certainly find them on board NCL ships. The Mandara Spa offers a wide variety of soothing and revitalizing treatments. Or just sit back in a sun lounger and sunbathe. In addition to the Mandara Spa, we also offer beauty services. On most ships, the cost of the services offered in the Spa and Beauty Center is not included in the cruise price.
The fitness center is open 24 hours a day. Fitness, yoga, Pilates, stretch, aerobics and step classes are offered. Please be aware that some classes are available at an additional cost. You can also do outdoor sports on a treadmill or on a basketball / volleyball court. Some ships have a tennis court. And for adrenaline lovers on the liners Norwegian Epic, Norwegian Gem and Norwegian Pearl there is a climbing wall. These liners also have bowling lanes.
On each ship you will find a large selection of duty-free shops, here you can save on alcoholic beverages, tobacco products, perfumes and cosmetics. In stores you can also buy swimwear and clothes, discounts are offered on jewelry and watches.
During cruises around Hawaii, the Casino is closed due to the region's laws. On all other routes and cruises, the Casino is open to passengers 18 years of age or older. Blackjack, roulette and slot machines - a small list of the offered possibilities. If you are new to the Casino, take our free training. Please be aware that it is prohibited to take videos or photographs at the Casino.
If you are a true connoisseur of art and like to visit auctions ions, you will love the art auctions. During each cruise, you are given an excellent opportunity to purchase original works with a discount of up to 80% of the regular cost, moreover, hundreds of works worth several thousand dollars are played out during the cruise. All purchased or won works will be packed and delivered to your home by mail. There are two or three art auctions during the cruise.
The cruise is a great opportunity to read a good book and the most suitable place for this activity is the library. Naturally, you can rent books. Moreover, newspapers in various languages ​​are sold on board.
Each liner has a professional photographer on board who can capture the entire cruise and keep it in mind with great photographs, whether it be an adventure at the port of call, a special event on the cruise, or photographs with the ship's captain and work crew. Isn't it nice to come home with a suitcase of clean clothes? This is possible thanks to the on-board laundry service. The staff will pick up all the necessary items and take them to the laundry.
RESTAURANTS
Free style cruises allow you to eat wherever and whenever you like. You can sleep off until 12:00 and order breakfast in your cabin, or skip breakfast and order a burger by the pool. These are the great benefits of Free style cruises - you can live on your own schedule. Thanks to traditional and alternative restaurants, you can try new cuisine every evening. And thanks to the "floating" schedule, you can always choose a restaurant to suit your mood, taste or outfit. One of the best buffets at sea is also equipped on board with a large bar with salads and hot dishes to order. Special meals are offered: children's menu, barbecue, low calorie meals, vegetarian meals and low calorie desserts. On almost all ships, your children will have their own dining area with their favorite meals. The exact opening hours of all food outlets are indicated in the daily program. Typically, restaurants open for dinner at 17:30 and remain open until 22:30. We recommend booking seats in the most popular restaurants in advance; table orders are accepted around the clock. To dine in the main restaurant, you do not need to reserve a table in advance, however, you may have to wait a bit until you are seated. On board the ships, screens are installed at the entrance to the restaurant and in public areas, which indicate the number of free tables in all restaurants.
24-hour cabin service is offered completely free of charge. However, you will have to pay for dinner in alternative restaurants, the cost of dinner per person varies from $ 10 to $ 20. Cold water, tea and coffee are served free of charge during dinner. For breakfast, juice is also included in the cruise price. The rest of the drinks will be added to your onboard bill.
If you are a wine connoisseur, then you will definitely enjoy the special wine program. We offer hand-selected wines from all over the world. Ask the waiter for a special wine list and you will surely choose the variety of wine that is perfect for any meal or event. You can order wine at any restaurant. If you would like to learn more about wines, we offer lectures and wine tastings at your service.
Please remember that restaurants aboard NCL are non-smoking.
BARS, RECREATION AREAS, THEATER
A large number of different bars and lounges are equipped on board the ships, which are open until late at night, so you can be sure that every evening will be unforgettable. Whether you are looking for a quiet place or want to dance on the dance floor - it doesn't matter, here you will find the perfect place for any mood! Be sure to check out the new, cutting edge themed parties. The onboard theaters host a variety of entertainment programs such as Broadway shows, Las Vegas shows, magic shows and comedians.
DRESS
The style of dressing aboard NCL ships is neither too formal nor too casual. We call it smart casual. During the day you can wear whatever you want: pants, skirt, jeans, T-shirt, shorts, etc. Even if you just relaxed by the pool and did not have time to change ... no big deal. A bathing suit with a pareo or sundress is an acceptable look for a buffet or outdoor restaurant. When night falls, relaxation is felt throughout. For dinner, men should wear a shirt with trousers or jeans. Women usually wear dresses or a skirt with a blouse. If you want to dress up and add a little luxury to your evening, don't worry, we have a special table for this occasion. Swimwear, T-shirts and shorts are not allowed to enter the restaurant after 17:30.
Warm climates require lightweight, breathable fabrics. For cooler climates, we recommend layering clothes and possibly rainuk, umbrella and gloves. Don't forget to bring your gym clothes and trainers to work out in the fitness center. During the excursions, comfortable clothes and shoes are preferred. When visiting some attractions, you will need appropriate clothing. For example, in open tops or shorts, you may not be allowed to go to church.
PROGRAM FOR CHILDREN

The cruise is ideal for families, and the Free style cruise makes it even more attractive for families. Sometimes children want to take a break from their parents and go about their business. For this, programs for children and adolescents of various ages have been prepared on board the ship. There are four groups in total: from 2 to 5 years old, from 6 to 9 years old, from 10 to 12 years old, and from 13 to 17 years old. Babysitting services for the younger group from 2 to 5 years old are available at a small additional cost, both day and night.
COMMUNICATION ON BOARD
All ships are equipped with modern satellite phones. You can also receive and send faxes from the ship.
TELEPHONE OF ALL SHIPS
001 732 335 3280 (from $ 7.95 per minute)
For friends and relatives who stayed at home: if you want to call the liner, please, do not forget about the time difference and do not forget to give the liner name, passenger name, cabin number and your card number:
Fax area code:
00870 Norwegian Dawn: area code + 331 13 07 11
Norwegian Gem: area code + 761 15 42 45
Norwegian Jade: area code + 764 58 92 59
Norwegian Jewel: area code + 764 45 33 13
Norwegian Majesty: area code + 130 77 53
Norwegian Pearl: area code + 764 65 07 41
Norwegian Sky: area code + 336 97 62 14
Norwegian Spirit: area code + 331 17 46 15
Norwegian Star: area code + 331 10 82 15
Norwegian Sun: area code + 331 11 09 14
Pride of America: Area Code + 226 97 84 11
CELLULAR PHONES ON BOARD
On board the liner, you can receive incoming calls, make calls and receive SMS messages - for this your phone must be of the Tri-Band standard.
INTERNET ACCESS
There is an Internet cafe on board the ship. Your cruise documents contain an email address that was assigned to you during the cruise and will be activated as soon as you use it. Wireless Internet is also available on board for a small additional cost.
DOCTOR SERVICES ON BOARD
The services of a certified doctor and nurse are provided on board. If necessary, the on-board doctor can prescribe medication for you. But remember that the medical equipment and medicines presented on the ship can only provide basic health care. Unfortunately, we are unable to offer patient care who requires specialized equipment and medicines. Passengers in need of such conditions can be evacuated ashore.
SPECIAL EVENTS
A cruise is a great way to celebrate an important event. Whether it's a bottle of expensive champagne for a special occasion, a tray of cold snacks, or just something special to decorate your cabin. We also offer holiday packages for newlyweds and wedding ceremonies. If you wish to celebrate a holiday on board NCL ships, please notify us at least three weeks before departure.
WHAT IS INCLUDED IN THE COST OF THE CRUISE
The cruise price includes accommodation in a cabin, food, entertainment, port taxes and taxes. Also the price includes cold water, tea and coffee in restaurants.
Dinner in an alternative restaurant is paid separately, its cost is from $ 10 to $ 20 per person. Also additionally paid for: alcoholic and soft drinks, services of the Spa and beauty center, bowling, casinos, shore excursions, individual lessons, laundry services, goods purchased in the store on board the ship, photographs, telephone services, Internet, fax and tip.
CASH AND ON-BOARD ACCOUNT
On board the liner, the official currency is US dollars. However, you will not need a lot of cash, as the payment system is simplified for your convenience. When registering for the liner, you open an on-board account, which records all your purchases made on the liner. Make sure that on the day of boarding the ship, you indicated the payment method for the onboard bill: American Express, Discover Card, JCB Card, MasterCard, Visa, travel checks or cash. Please be aware that debit cards are not accepted. If you have chosen travel checks or cash as payment, you will have to leave a deposit of $ 100 per person per day. If the amount spent exceeds the limit, a notification will be sent to your cabin.
When buying a service or product on board, you need to present an onboard card, write your name and cabin number on the check. The passenger receives a copy of the receipt and a final bill at the end of the cruise.
Please remember that you cannot pay with an onboard card at the Casino.
On the last night of the cruise, your bill will be delivered to your cabin. If you have any questions, you can contact the reception. We recommend that you resolve all issues in the evening the day before disembarking from the liner, so as not to delay The process of disembarking from the liner in the morning.
If you have registered your credit card and your account statement is correct, you can safely go through the drop-off procedure. Please be aware that any purchases made after final invoicing must be paid additionally at reception on the day of disembarkation. An exception is the minibar products that you used on the last night of the cruise, their cost will be automatically charged to your credit card.
Travel checks and most credit cards are accepted at the ship's ports of call. When paying for purchases with travel checks, you must have your passport with you. Also, when visiting other countries, we advise you to carry a small amount of cash in local currency. Depending on the region visited, sometimes US dollars are also accepted outside the US.
PAYMENT FOR SERVICE
The main task of the NCL company is to make sure that the client gets maximum pleasure from the rest, and the company's working team will provide service at the level that NCL is famous for. NCL will automatically add $ 12 per day service charge to the onboard bill. This amount will be added to the salaries of those who served you during the cruise and made your stay on board more comfortable.
If you have any comments regarding the service, please inform the staff at the information desk. NCL has developed a program that sets the level of passenger satisfaction with the company's service.
LANGUAGES ON BOARD
The international atmosphere on board is another reason why NCL cruises are special.
The official language on board is English, which is why we advise our clients to have at least a basic level of knowledge of English. You can contact our multilingual hostess for any questions.
ANIMALS
pets are not allowed on board in accordance with company policy.
ALCOHOL ON BOARD
Passengers under the age of 18 may not consume or purchase alcoholic beverages on board. Passengers from 18 to 20 years old must have written permission from their parents or their attendant that they can purchase light alcoholic drinks (beer and wine) while the liner is in international waters (with the exception of Alaska and Hawaii, where passengers who purchase alcohol must be at least 21 years old).
Passengers over the age of 21 can bring a bottle of wine on board. If you want to open this bottle on board the liner, you will be charged a duty of $ 15 for uncorking and serving the wine you brought with you. Other alcoholic beverages may not be carried on board. If you purchase alcohol prior to cruising, these bottles or containers will be placed in a safe and delivered to your cabin on the last day of your cruise.
SMOKING ON SHIP
There are many smoking areas on the ship. You can smoke on the balcony of your cabin, in the Casino, Cigar Bar and on the open decks (except for: sports deck, area near the children's pool, food outlets).
According to the rules of the cruise company and in order to take care of the health of non-smoking passengers, smoking is not allowed in public places such as restaurants, elevators, theaters, etc.
Please note that smoking on the open decks is prohibited during the mandatory drill, during transfers to tenders or while refueling the liner.
SHORE EXCURSIONS
Choose from our many excursions or plan your sightseeing tours. You can purchase excursions at all ports of call from the onboard tour desk. We recommend booking excursions on the first day of the cruise, or even before the cruise starts, in order to be sure that you will definitely get on the excursion you want.
If you have booked NCL excursions in advance, the dollar value will be added to your in-flight bill on the first day of the cruise. The excursion vouchers will be sent to your cabin. Usually, you can cancel any excursion no later than 48 hours before arrival at the port of the selected excursion. However, please be aware that any tour may be canceled or changed for specific reasons.
In all ports, the passenger must be on board at least one hour before the departure of the liner. Please be aware that on-board times may vary depending on the time in port. Be sure to keep an eye on the time changes throughout the cruise. If you are late for the liner, only you are responsible for all costs that you incur.
A DRILL
On the first day of the cruise, there is a compulsory training alarm, where you will be told how to behave in an emergency.
VISITORS ON BOARD
For security reasons, we do not allow visitors to be escorted on board.
SAFE
Each cabin is equipped with a safe. Please be aware that NCL is not responsible for the loss or damage of valuables left in the cabin or on board.
ELECTRICAL DEVICES
All cabins are equipped with electrical outlets 110 and 220 volts. An adapter is required for European devices. Some electrical appliances run on oversized batteries, so be sure to purchase them in advance.
FEATURES:
VACCINATION
Vaccinations are not required for any NCL cruise at this time (participants on the Machu Picchu land program in Cusco must be vaccinated against yellow fever at least 10 days prior to arrival in Peru). In any case, please contact your local health department to find out which vaccinations are required to visit the countries on your cruise. In any case, it is necessary to have a certificate of completed vaccinations with you, as requirements for vaccination may vary.
PREGNANCY
For safety reasons, women who are 24 weeks pregnant or more are not allowed on board at the time of the end of the cruise. Pregnant women need to have a document with them indicating the timing of pregnancy. Please note that NCL is not responsible for any complications during the cruise.
PASSENGERS UNDER 21 YEARS OLD
Due to limited medical conditions on board, we do not accept infants under the age of 6 months or less on the cruise. There are cots on board for children over two years old.
Passengers under the age of 21 must be accompanied by a parent, guardian or companion who is at least 21 years old. If the accompanying person is not an official representative or parent, then a notarized permission for the child to leave the country is required. Children traveling with one parent must have a document confirming the consent of the other parent for the child to leave the country. The absence of the relevant document may lead to denial of boarding the liner without reimbursement of any compensation.
Passengers under the age of 18 are not allowed in the Casino. Children under the age of 16 must be accompanied by an adult when using the fitness center.
Passengers under the age of 21 are not allowed to enter the Bliss Ultra Lounge, as Bliss Ultra operates as a nightclub during this time and is not allowed to anyone under the age of 21.
DISABLED PASSENGERS
NCL offers accommodation for passengers with disabilities. All ships have disabled cabins. These cabins feature wider doorways and more spacious bathrooms, with bright lights and vibrating alarm under the pillow for passengers with visual and auditory disabilities.
Passengers must notify the company of any individual medical, physical and other needs as early as possible, preferably at the time of booking the cruise, as for some conditions we must obtain written permission. Due to unpredictable circumstances at sea, when a passenger with a disability does not meet certain safety or other criteria, even with the assistance provided, NCL may find it necessary to ask the passenger to book alternative services.
Passengers who cannot meet their basic needs (dressing, eating, moving, etc.) on their own must travel with a companion.
We wish you a pleasant stay!
Couples do not have to worry about organizing leisure activities for their children. The company traditionally arranges special age-specific gaming clubs on its cruises. Toddlers can find something to do in the playrooms with lots of fun and toys. Older children will appreciate the rooms with slot machines. And for teenagers, they will regularly arrange discos.
Additionally, there is a children's pool with water slides on board. Babysitting services are available for parents so that they can safely enjoy the delicious meals presented on board the restaurants or visit the nightclub.
Splash Academy is an entertainment center for children with many educational and play activities with highly professional animators.
Guppies is a kids club for the youngest guests of the cruise ship. Here you can play with your child with a variety of interactive toys and a variety of games.
Entourage is a teen-only club. This is your child's personal space, where he can, apart from adults, not only enjoy communication with peers, watching movies, music and games, but also attend exclusive parties.
Norwegian Encore has a wide variety of dining options available to passengers, of which several are the main in-room restaurants.
Among the remaining participants of the cruise trip will find:
INSTITUTIONS OF FRENCH, ITALIAN, CLASSIC EUROPEAN, JAPANESE, LATIN-AMERICAN, CLASSIC ASIAN, MEXICAN AND BRAZILIAN CUISINE;
BUFFET;
RESTAURANT OF SEAFOOD;
SEVERAL STEAK HOUSES;
GRILL BAR;
COFFEE HOUSES.
Diet and alternative meals will be available on board. A number of establishments offer a special children's menu.
Texas smokehouse, which was simply named Q. This is a place for true connoisseurs of barbecue in the best Texas traditions. The finest meat dishes, a variety of drinks and live performances by country musicians will make your evening unforgettable. This steakhouse, along with Los Lobos, The Local Bar and Grill, Coco's and American Diner, are exclusive Breakaway Plus establishments. Please note that Q refers to À la carte restaurants and meals are not included in the cruise price.
Coco's Patisserie - The cruise ship employees themselves call Coco's patisserie the sweetest place on the ship. Here you can please yourself and the whole family with a variety of the freshest and most delicious sweets.
All sweets are available for an additional fee, as the patisserie is also an À la carte restaurant.
Teppanyaki Restaurant is an alternative Japanese restaurant that serves the finest Japanese cuisine right in front of you using the freshest and finest ingredients. You will be delighted not only by delicious dishes, but also by a whole show on their preparation.
Savor and Taste are the main restaurants and breakfast, lunch, dinner will be absolutely free for you. As a rule, in a restaurant, during dinner, they make acquaintances with new interesting companies. And, of course, you always want to continue communication after dinner ... In this case, Mixx Bar and its professional bartenders will come to your aid, who will prepare the most exclusive cocktails for you.
The Manhattan Room. A visit to this restaurant is also included in the cruise price, like the previous two. Both classic dishes and modern cuisine are prepared for you. I would like to mention the seafood dishes and desserts that we tasted on board.
The Local Bar & Grill, as it is open 24/7 and food is absolutely free. And given that various concerts in the atrium continue until late at night, this area becomes a real oasis for lovers of nightlife and evening shows. As with the rest of the ship, bar products are available at an additional cost. You can get acquainted with the prices for drinks in the menu.
The menu can be found at the link
Cagney's Steakhouse - in which unique steaks from certified Hartley Ranch Premium Black Angus Beef will be prepared for you.
Los Lobos, a premium Mexican restaurant.
The Bake Shop and Dolce Gelato Gelato, where you can purchase real Italian Gelato.
Mojito Bar with a large terrace serving a variety of Cuban cocktails from professional bartenders.
Ocean Blue Cafe serving the freshest seafood. Unfortunately, this is an À la carte restaurant and not only drinks, but also meals for an additional fee. The restaurant also has its own terrace, which will allow you to taste delicious dishes while enjoying the view of the sea surface and the passing islands.
Onda by Scarpetta restaurant. This is an alternative Italian restaurant that will delight you with a large selection of specialty pasta and seafood dishes. The Cellars Wine Bar located in the restaurant will delight you with a rich wine list. The restaurant is located on the port side of the ship and also has a terrace.
The Cavern Club, which will be a real discovery for fans and connoisseurs of the famous Beatles. Your attention will be presented exclusive programs from the cover band The Beatles of all eras of the legendary band's creativity. All this is absolutely free for the guests of the liner. Please note that The Cavern Club also has its own terrace.
Right next to The Cavern Club is the Maltings Whiskey Bar with the most extensive menu of whiskey, bourbon and scotch, as well as exclusive cocktails and many types of rum, vodka and tequila. Are you a true whiskey connoisseur? - That way.
The menu can be found at the link
And of course, what a whiskey without a cigar ... And here they thought about your comfort, placing The Humidor Cigar Lounge right next to the Maltings Whiskey Bar. At your service is a closed lounge area with a large selection of cigars and cigarettes, comfortable furniture and classic interior design.
The District Brew House. This is the place for true beer connoisseurs. 50 types of bottled beer, 22 types of draft beer. I have not seen such an assortment in any pub. And of course, it is simply impossible not to mention the interior and location of the pub. Large panoramic windows, leather sofas, metal and wood furniture, paintings and other decorative elements create an indescribable atmosphere shit. And you can capture your emotions in the photo booth.
Food Republic restaurant. What makes it special? This restaurant presents the best dishes from many countries of the world, and a convenient menu, which is designed as an application for a tablet, will help you to understand this abundance of dishes. As you can see, there is a tablet on each table on which you can carefully examine each dish, its composition and order it with one click. It is very convenient, you do not need to imagine how the dish looks or what is included in it, and you do not need to wait for the waiter to approach you. Since the restaurant is À la carte, you will have to pay to visit it.
There are single cabins available on board the Norwegian Encore - Studio category. So, while designing, the designers made sure that the guests did not feel alone and made an exclusive Studio Lounge. Access to this area is possible from the Studio category cabins, which are located on 10th, 11th and 12th decks.
Garden Café. This restaurant on the Swedish line, which is so loved by the passengers of the liner. A wide variety of dishes will be provided to guests in unlimited quantities. The principle of operation does not differ from the buffets on other cruise ships, but the quality of food and products itself is significantly higher than on ships of other cruise companies of a similar class. Here you can also take free coffee, tea, juices and other drinks, which are presented in the vending machines. There are bars and vending machines on the territory of the buffet, where you can buy a glass of wine yourself.
French restaurant - Le Bistro, located on the port side of the ship. Le Bistro's menu consists of three main parts: soups, salads and snacks; meat, seafood and poultry; and desserts.
The menu can be found at the link
American Diner. This diner stands out among all the restaurants and bars of the liner, first of all, for its design. The sofas here are made from parts of old American car models, and the entire interior is imbued with the American lifestyle of the 80s. The restaurant was first implemented on the Norwegian Joy liner, which was launched in 2017.
The menu can be found at the link
Please note that the American Diner is an alternative restaurant. Due to the peculiarity of the location, the restaurant has an open area, which allows you to enjoy the fresh sea breeze, unforgettable views, as well as quickly move to the area with pools and a water park.
Leave your comment
Comment
Андрей Корниенко
16.10.2020 13:59
Norwegian Encore впечатляющий круизный лайнер. С первого шага на борт корабля погружаешься в атмосферу отдыха и высокого сервиса. Я впервые был на лайнере американской круизной компании. После круиза стало понятно, почему круизы от NCL стоят дороже чем круизы, например, от Costa. Как минимум, здесь намного больше всего входит в стоимость. Ну и конечно же, намного круче аттракционы.
На лайнере есть 10 баров, 14 ресторанов, кафе-мороженное и даже Starbucks!
Так же, как и на любом другом лайнере здесь можно найти шведскую линию, СПА зону, спортзал, лаунж зоны и тд.
А вот что действительно не встретишь на каждом круизном лайнере – это аквапарк. На NSC Encore представлено 2 горки. Казалось бы, всего 2 горки… Зато каких! Обе горки по высоте занимают 4 палубы! А одна из горок прозрачная даже выходит за приделы лайнера, что подарит невероятные эмоции всем посетителям.
Основная часть ресторанов расположена на палубах 6, 7 и 8. А вот что еще отличает данный лайнер от все остальных – расположение шведской линии. Она находится на 16 палубе, на носу (!) лайнера (во всех остальных лайнерах шведская линия находится на корме). Так же из необычных нововведений – автоматы с вином на шведской линии. Ставишь бокал, выбираешь какое вино по вкусу и вуаля – он у тебя уже в бокале!
Думаю нужно отдельно упомянуть об лаунж зонах.
Отдельная лаунж зона есть у кают The Haven, она расположена на 17 и 18 палубах, на носу лайнера. А вот что касается общей лаунж зоны для всех пассажиров – она расположена на 15 палубы, так же на носу лайнера. Полностью панорамный вид дает возможность насладится величием моря или красотой города, если лайнер стоит в порту. Так же здесь можно найти макет лайнера, приблизительно 2 метра в длину и 1 метр в высоту.
И как же не вспомнить о развлечениях, которых на этом лайнере предостаточно!!! Чего стоит только Galaxy Pavilion – зона развлечений с использованием виртуальной реальности. Можно поездить по парку юрского периода, убегая на джипе от динозавров или же покататься на американских горках. Полетать над ущельем на дельтаплане? Пожалуйста! Посоревноваться с друзьями или детьми на болидах формулы 1? Здесь это так же есть!
Что что, но развлечений тут больше чем в некоторых парках развлечений. Дети точно останутся в восторге! Да и не только дети…)
Понравилось все что было на лайнере, но есть одно «но» - завтрак на шведской линии. Какой-то он совсем скудный… Хотя может все из-за того, что это инаугурационный круиз и она работает не на 100%.

Рекомендовать стоит не что-то конкретно а целиком весь лайнер! Тут любой человек найдет для себя занятие. Кто-то захочет побыть в тишине и почитать книгу в лаунж зоне, кто-то весело провести время, покатавшись на картинге или поиграв в LASER TAG на открытом воздухе. А если же кто-то захочет устроить гастрономический тур – все это реально и на борту! Масса ресторанов, с разнообразными странными мира будут ждать с распростёртыми объятиями.

Сравнивая Costa Venezia и Norwegian Encore – второй на голову выше своего визави.
Если перечислять все, что есть на лайнере от компании Costa Cruises, то на лайнере от компании NCL это будет в 2, а то и 3 раза больше. Казалось бы, две компании класса стандарт, но Norwegian Cruise Line – это совершенно другой уровень.
Еще не один год лайнер Norwegian Encore будет смело составлять конкуренцию флагманам других именитых круизных компаний.
Reply