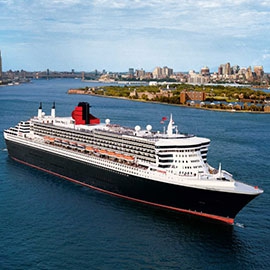 Queen Mary 2 is a classic liner from 2004, which until 2009 was considered the largest cruise ship in the world. Its special charm is a combination of the grandeur of old England and modern technology. On this ship, guests will find a variety of entertainment, exciting and educational activities, excursions and more. dr.
Specifications
Year of construction - 2004, renovation - 2016
Tonnage - 148,528 tons.
Length - 345 m.
Width - 41 m.
Total cabin - 1296
Total passengers - 3090 people.
Crew - 1253 people.
Number of decks - 12
The main route of Queen Mary 2 is considered to be cruises across the Atlantic Ocean. The port of departure is Southampton. Literally in 2016, the company carried out a major overhaul of this ship, as a result of which 50 cabins were added. Wait a few seconds...
The QM2 has 1,360 cabins in four main classes. The cabins are spacious and well lit. Except for the single cabins, all have king-size beds that can be split into two single beds. All cabins feature Samsung flat-screen TVs with multiple movie and news channels. All cabins have a telephone, refrigerator, hairdryer, safe, desk, dressing table and chair, two-seater sofa, coffee table, tea and coffee maker. The suites have a coffee machine.
All bathrooms are equipped with Penhaligon's toiletries, including shampoo, conditioner, bath gel, body lotion, and bathrobes and slippers. All bathrooms have a clothesline.
Cabins are divided into the following categories:
Inner cabin: 18 sq. m., located on decks 4, 5, 6, 9, 10, 11, 12 and 13. All passengers of these cabins receive a free bottle of sparkling wine upon arrival.
External cabin: there are two categories of external cabins - 15 single rooms with an area of ​​16.5 sq. m up to 17 sq. m. and 62 standard external cabins with an area of ​​18 sq. m.
The single outside cabins include a double bed and one bedside table with two drawers, a pendant light that frees up space on the nightstand for personal use.
Balcony stateroom: Located on decks 4, 5, 6, 8, 11, 12 and 13, the balcony staterooms range from 23 and 25sq. m. The balconies have two sun loungers and a small round table.
Suite: Divided into 5 categories - Princess Grill, Queens Grill, Queens Grill Penthouse, Royal Suite and Queens Grill Duplex.
Princess Grill - located on a deck of 10 suites with an area of ​​35 sq. They are larger and more luxurious than cabins with balconies. With stylish cream colors on the walls, the refurbished cabins look like stylish hotel rooms. The rooms have a table, a short-backed armchair and a sofa. Each of the balconies is equipped with furniture, which includes two easy chairs and a table. As privileges passengers receive concierge service, sparkling wine and chocolate upon check-in, daily fresh fruit and stationery.
Located on Decks 9, 10 and 11, the QueensGrill Suites feature a spacious living room, dressing room and bathroom with separate shower and Jacuzzi. Additional amenities include a concierge service, a bottle of champagne and candy upon check-in, and complimentary drinks (including two bottles of wine or other spirits of your choice and soft drinks).
The Queens Grill Penthouse Suites are located on Decks 9-10 and are 70 sq. The cabins have a luxurious Wedgwood tea set, an L-shaped sofa, two armchairs, a coffee table, thick woolen blankets neatly arranged on an armchair in the living room. The bathroom has a dressing room and a separate shower and bath. Additional bathroom amenities include a body sponge, Gilchrist & Soames bath salts and a foot scrub.
Royal Suite - just on board 4RoyalSuite. Two (Queen Mary and Queen Elizabeth) with an area of ​​111 sq. m. have balconies and two (Queen Anne and Queen Victoria) with an area of ​​74 sq. m do not have. The suites are located at the front of Deck 10, offering breathtaking views of the sea. The cabins have marble floors, a dining area for eight (Queen Mary and Queen Elizabeth) and four (Queen Anne and Queen Victoria), a second living room with an en suite bathroom and flat screen TV. The bedroom has another TV, which also has a dressing room and a bathroom with shower and separate jacuzzi.
There are two types of Queens Grill Duplex suites on board - Duplex Apartments known as Windsor, Bucking ham and Holyrood, and Grand Duplex Apartments known as Balmoral and Sandringham. The only difference is the area of ​​the rooms, which ranges from 137 to 209 sq. m.
The Queens Grill Duplex, located on Decks 9 and 10 (accessed via Deck 9), have two bathrooms - one downstairs and one upstairs. The room has a table that can accommodate eight people, chairs, a large open living room with dining tables, a large coffee table, an armchair with a footrest and a separate writing desk with a chair. On the second floor, passengers receive their own Techno Gym exercise bike, armchair with side table and binoculars ...
The bedroom has a large bed with flat screen TV, desk and chair, and walk-in closets with en-suite bathrooms. One bathroom has a jacuzzi, sink and vanity with shaving mirror and toilet, and the other has a shower, sink, bidet and toilet.
The two-story ship's Royal Court Theater (Decks 2 and 3) is a lovely venue with red seats positioned around a central stage with an LED screen. The theater hosts a variety of shows and performances.
Illuminations (Deck 3) - A 500-seat lecture hall that also doubles as a movie theater. Films are usually shown twice a day. Illuminations is also home to the CunardInsights program, which features lectures on a variety of topics. Lectures are usually held twice a day.
Empire Casino offers three card tables, roulette and slot machines. The casino hosts nightly special events such as Happy Hour Slots and lottery draws.
The Queens Room is 975 sq. m. is the largest ballroom on cruise ships.
There are four swimming pools on board the QM2, which are also equipped with a jacuzzi: Pavilion Pool (Deck 12), Terrace (Deck 8), Minnows (Deck 6) and Canyon Ranch Spa Club Therapy Indoor Pool (Deck 7).
The rest of the craft boutiques are clustered around the Grand Lobby (Deck 3), which sells duty-free items, perfumes, watches, designer goods, cosmetics, accessories and more.
The library (deck 8) contains over 9,500 books and is equipped with 6 computers and 1 printer. There is also a magazine collection and a seating area. Books must be returned before the end of the flight. The ship's bookstore (Deck 8), leading to the library, offers fiction and popular science books, including those of contemporary writers. In addition, the bookstore sells interesting souvenirs from the CunardLine cruise line and the QM2 ship, such as reference books, ship models, key chains, pens, magnets and other items.
The rest of the stores are clustered around GrandLobby (Deck 3), which sells duty-free items, perfumes, watches, designer goods, cosmetics, accessories and more.
Computers are available at ConneXionsRoom 1 (Deck 2).
The Canyon Ranch Spa Cub offers a variety of spa treatments, beauty treatments for men and women, including haircuts, styling and coloring, depilation, massage, facials and body wraps.
The fitness center (Deck 7), exactly like the spa, is open from 6 pm to 8 pm. It is equipped with all the necessary equipment found in a modern gym, including sports mats and gymnastic balls.
REMINDER FOR PASSENGERS
A cruise is a combination of new experiences and carefully preserved cruise traditions.
Here are some tips to help you prepare for your trip.
Features of boarding the liner
The boarding will start at 13.00.
For passengers in Britania class cabins (A1 - D8), the optimal boarding time depends on which deck your cabin is located on:
8 deck - landing after 12.00
7 deck - landing after 13.00
6 deck - landing after 14.00
5 deck - landing after 14.45
4 deck - landing after 15.00
1st deck - landing after 15.30
For passengers staying in cabins of the Queens Grill and Princess Grill categories, boarding is carried out from 12.00 to 15.00.
What clothes to take with you?
In the afternoon: aboard the QV, you will immerse yourself in an elegant yet relaxed atmosphere of luxury. You can visit restaurants and salons in any casual clothing you like. Swimwear, short shorts and tracksuits are recommended for visiting the SPA salon and relaxing by the pool.
In the evening: going out is one of the most memorable events. Evening dresses are recommended for a gala dinner (as if you went to a good restaurant at home).
You will find clothing recommendations in the daily cruise program.
We advise you to bring three types of clothing with you:
Formal - a tuxedo or dark suit and tie for men, cocktail or evening dress for ladies.
Formal (semi-formal) - a jacket and tie for gentlemen, a dress or suit for ladies.
Free (elegant casual) - skirt, blouse, trousers, jacket, jumper for ladies, trousers, shirt, jumper for gentlemen.
During shore excursions, you will need summer or warm clothing (depending on the route). Remember that in many countries it is forbidden to visit temples and cathedrals in shorts, tops with bare shoulders, short T-shirts. Also, do not forget to bring an umbrella and a light jacket with you on your trip, as well as comfortable shoes for walking around the city. If you wear glasses, take a spare pair with you.
Laundry service
On board you can use the laundry and dry cleaning services. The cost of the services will be debited from your account on the ship. You can also wash and iron your clothes yourself
Luggage and valuables
The liability of the Cunard cruise line for lost or damaged baggage and other personal belongings of passengers is determined by the Agreement. The company is not responsible for photo and video cameras, jewelry, cash and other valuable, fragile and fragile items. It is recommended to pack these things, as well as the medicines you need, in your hand luggage. For security reasons, all passengers and luggage are checked. On board you can use the safe for free.
Restaurants
Cunard Line has won numerous awards for its fine dining and service.
Traditionally, it offers a different level of food and service according to the accommodation of passengers on the ship.
In the main two-story restaurant "Britannia", dinner is held in 2 shifts.
The cozy restaurant "Princess Grill" on deck 11 is designed for passengers of the Princess Suites.
The exclusive Queens Grill on Deck 11 awaits guests in luxurious suites and apartments for breakfast, lunch and dinner.
At the Todd English Restaurant, located on Deck 2, you can sample Mediterranean cuisine from the chef. Advance booking is required. There is an additional charge of $ 20 for lunch and $ 30 for lunch per person.
The 24-hour restaurant "The Lido" offers a buffet breakfast and lunch.
You can visit the traditional English Golden Lion Pub or the Broadwalk Café for a variety of grilled dishes. In addition, passengers can use the cabin service around the clock, as well as have tea in the Winter Garden.
Tip
The staff compensation is deducted from your account on board and subsequently divided equally among the staff. Tipping to staff in bars, restaurants in the amount of 15% is also included in the bill for drinks and is subsequently distributed equally. You can also directly reward someone from the team in reward for the special services rendered to you.
Communication on board
You will always stay in touch with your friends and colleagues using the phone or the Internet on board. You will receive your own email address, as well as complete information about this service on board the ship.
Tongue
English is the official language on board QV. All written and oral announcements are made in English.
Medical services
There is sufficient basic medical equipment to care for sick and injured persons. No equipment is provided on board to treat pre-existing conditions. If you require special care while traveling, you must notify Cunard Cruise Line in writing at the time of booking. Due to the fact that the range of medical services on board is limited and medical care is not provided ashore, women in the last trimester are pregnant Awns are not allowed on the cruise.
Financial services
There is a financial center on board where you can exchange cash or travel checks for any local currency. When boarding the liner, you will be asked to register your credit card and your personal account will be opened. Visa, MasterCard, Diners Club, American Express checks, JCB, Discover are accepted. You can also deposit $ 300 in cash or in the form of travel checks. All your expenses on board are automatically debited from your account, except for postage stamps and casino chips. All prices on board are quoted in US dollars. For your convenience and safety, we recommend that you keep your savings in travel checks, which can be cashed on board. Personal checks and letters of credit are not accepted.
Safety
Liners of the Cunard company fully comply with international requirements and are among the safest in the cruise fleet. Before the liner embarks on a cruise, a general training alert for passengers is conducted on board. Participation in the drill is compulsory for everyone. You will find information on safety and emergency behavior in your cabin. Children's life jackets are available from your maid.
Tenders
In those ports of call, where the liner is anchored away from the coast, the boat will take you to the pier and back.
Visitors
For safety reasons, visitors are not allowed on board.
Smoking
To ensure the comfort of all passengers, smoking is prohibited in restaurants, elevators and some public places. Many public places have designated smoking areas. Smoking cigars and pipes is allowed exclusively in Chirchhill's Cigar Lounge.
Disabled passengers
Passengers with disabilities are allowed on board, however, due to the design features of the liner, the movement of passengers in wheelchairs and with visual impairments may be limited. For safety reasons, we recommend that passengers with disabilities travel with a companion. In those ports of call where the liner is on the tender, passengers in wheelchairs will not be able to go ashore. At the special request of a passenger with a disability, the company provides a detailed description of the cabin space, indicating the size of the doorways. If you need to be accompanied by a service animal, you must notify the cruise line when booking. In some countries, local legislation prohibits service animals from going ashore. The passenger is obliged to provide all the necessary documents.
Passengers requiring constant medical care must obtain a health certificate and an official travel permit from their doctor. Passengers on special diets must notify Cunard at least 6 weeks prior to cruising.
The Kids Zone (Deck 6) has a full program of entertainment and activities for children under the supervision of staff. This program divides children into three categories: PlayZone (suitable for toddlers up to 7 years old), Kids Zone (suitable for children aged 8-12) and Zone (suitable for teenagers aged 12-17).
King's Court is a buffet restaurant with 478 seats.
Britannia is a 1,351-seat main restaurant open for breakfast, lunch and dinner.
Carvery is a restaurant that serves fine English cuisine.
Lotus - Asian restaurant (Chinese, Japanese, Indian and Thai)
La Piazza is a restaurant that serves Italian cuisine.
Queens Grill is a 206-seat restaurant that is only accessible to passengers in the Queens Grill Suites.
Princess Grill is a 180-seater restaurant that can only be visited by passengers in Princess Grill rooms.
Bars:
Golden Lion Pub (Deck2)
Chart Room (Deck 3)
Sir Samuel's (deck 3)
Carinthia Lounge (Deck 7)
Terrace Bar (deck 8)
Churchill's Cigar Lounge (Deck 9)
Commodore Club (deck)
Leave your comment
Comment