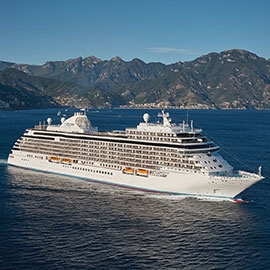 The Seven Seas Explorer is one of the new ships of RSSC (Regent Seven Seas Cruises) along with the Splendor (2020) and the predecessors in the fleet Voyager, Navigator and Mariner.
Specifications
Year of construction - 2016
Length - 224 m.
Width - 31 m.
Displacement - 56,000 tons.
Capacity - 754-829
Number of cabins - 377
Speed ​​- 22 knots
Number of decks - 13
The Seven Seas Explorer itinerary program is based on luxury cruises in the Mediterranean in Italy (Adriatic Sea), the French Riviera and the Holy Land (visiting Turkey, Cyprus, Israel, Egypt). The routes are one-way, with departures from the ports of Italy, Spain, Monaco, Portugal, Greece, Turkey.
The first sailing season in South America is scheduled for 2019 (January to March). After two years of service in the Mediterranean, Caribbean, Africa and Northern Europe, the liner calls at 10 South American cruise ports on 5 voyages.
In many ways, the ship fits the bill, with extraordinary features and minute details that will make even the most discerning passenger extremely happy. Wait a few seconds...
Seven Seas Explorer's design is modern and beautiful. The liner strikes a balance between traditional features and a more modern ambience.
Time on board the ship will be as enriching as time on the shore. Relax by the pool, compete in friendly games on the sports field, sample teas and receive information from an experienced lecturer. The evenings on board are filled with music and fun. Enjoy an incendiary cabaret, try your luck at the casino, step onto the karaoke stage, or simply find a quiet spot on the deck to enjoy a symphony of stars.
A complete list of lounges, clubs and other entertainment options for kids, teens and adults:
Observation Lounge (grand piano bar with live music in the evenings);
The Boutique (duty-free shop: luxury jewelry, precious stones, branded perfumes, watches, designer clothes, accessories, gifts, souvenirs, clothes with the Regent logo);
casino;
pool area (with a large pool, 2 jacuzzis, a sunbathing area with sun loungers, tennis tables, a relaxation area; served by a pool bar);
Canyon Ranch Spa & Wellness Center consists of 8 treatment rooms, saunas (including infrared sauna), steam rooms (including aroma steam room), cold room (temperature 54 ° F / 12 ° C), thermal room, shower room (varying degrees water pressure, therapeutic audio effects / waterfalls, thunderstorms), relaxation room, infinity pool, as well as a beauty salon, gym and aerobics studio. Some of the spa's features include cocoon-style design, Swarovski crystal centerpiece, marble floor, light wood, exquisite treatments;
the fitness center (deck 6) has floor-to-ceiling windows and modern equipment (cardio and strength equipment), a separate studio for classes (cycling, yoga, pilates);
upper deck (jogging track; sports ground: mini golf, golf; shuffleboard; paddle tennis court);
Constellation Theater (the main hall for demonstration of music and shows in the 2-deck hall, as well as the performance of aerial acrobatics "Circus-rock-n-roll");
atrium (2-storey open area);
Club.com (computer room with internet);
library;
Connoisseur Club (smokers lounge with comfortable leather seating; offers hand-rolled Cuban cigars);
Card Rooms (bridge tournaments and lectures are held);
Explorer Lounge and Bar (disco night club; during the day there is a piano bar with performances by pianists);
Meridian Lounge (serves as an entertainment hall with leather furniture, blue carpeting, dark wood panels, antique floor; has its own bar, offers signature cocktails);
Coffee Connection (pastry shop, branded coffee);
Horizon Lounge (lounge with large dance floor; daily quizzes and afternoon tea).
The Club Mariner program is designed for children between the ages of 5 and 17, under the supervision of specially trained counselors, and is offered on selected summer and holiday outings. The activities are designed for children in three age groups, including icebreakers, whale watching in Alaska and learning to paint in the tropics.
The Seven Seas Voyager offers a variety of culinary delights. There are several restaurants on the ship with a great culinary variety that is sure to satisfy all tastes. The onboard cuisine is made up of fresh, local produce and is combined with the skill and creativity of award-winning chefs to create gourmet cuisine, a feast for the senses and your taste. Restaurant meals and drinks can be offered as an all inclusive concept at no additional cost.
Pacific Rim: Get the most out of the exotic by taking a seat under the oversized lanterns and hand-painted artwork covering the entire rear wall. You will receive a signature cocktail and an extraordinary culinary journey. Be sure to check out the ocean views through lotus-shaped windows.

Chartreuse. This is an art deco restaurant with flooring and sparkling gold tiles on the walls. The decor of a chic Parisian restaurant, discovered while walking along the Seine. Savor Chartreuse delights such as tender veal, grape chutney and walnut sauce.

Prime 7 is a true classic in every sense - the epitome of luxury. Works by Picasso and Chagall decorate the lobby of the restaurant, as well as leather armchairs and polished wood. Enjoy a cocktail at the bar, followed by a juicy filet mignon or a mouth-watering côte de beuf. For dessert - a slice of Valhrona 14-layer chocolate cake with pistachio sauce.

LaVeranda. Located on deck 11 at the stern of the ship. Guests can enjoy stunning ocean views while enjoying an elegant breakfast and lunch buffet in the chic indoor dining room or al fresco on the shaded outdoor deck. Breakfasts include traditional dishes as well as omelet to order, a variety of fresh fruit and pastries, and daily specials such as fluffy Belgian waffles with fresh blueberry compote. For lunch, guests can sample a variety of dishes from the plentiful salad bar, gourmet sandwiches, hot cuts and delicious desserts.

Sette Mari at La Veranda - Every evening La Veranda turns into Sette Mari at La Veranda with a casual dining environment. Choose from authentic Italian specialties inspired by family recipes that span generations, or sample something with a modern twist like spiced tuna steak, endive stew, polenta and salmorillo. Enjoy it all with a Tuscan wine. Sette Mari at La Veranda is open for dinner only.
Coffee Connection - Enjoy complimentary coffee drinks prepared by the barista as well as delicious pastries, gourmet sandwiches and homemade cookies. Whether it is browsing international newspapers or simply spectacular views, this café is the perfect place to relax, chat, enjoy coffee and snacks throughout the day.

Compass Rose: The largest specialty restaurant on the sea, Compass Rose delights in a wonderful ambience that goes from refreshing natural light during the day to dazzling blue reflected over a glass setting overhead. Choose from an endless combination of dishes, garnished with a choice of sauce and garnished with side dishes.

Pool Grill. An ideal place for a casual meal after swimming or sunbathing. The Pool Grill Restaurant serves à la carte grilled burgers and seafood, sandwiches, fresh salads and treats such as milkshakes and ice cream.

Room Service - From breakfast on a secluded spacious balcony to a gourmet dinner served in your room, 24/7. The menu includes a variety of snacks, main courses, drinks and desserts. During dinner, the menu expands to include appetizers from the largest specialty restaurant on the sea, Compass Rose.
Leave your comment
Comment