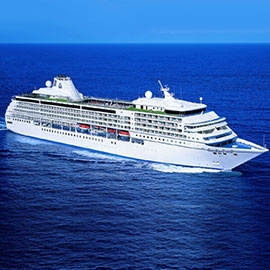 The Seven Seas Mariner is the second of the Regent Seven Seas Cruises, along with the new Explorer (2016) and Splendor (2020), as well as the Voyager (2003) and Navigator (1999).
Specifications
Year of construction - 2001, renovation - 2017
Length - 216 m.
Width - 28 m.
Displacement - 48,075 tons.
Capacity - 708-779
Number of cabins - 354
Speed ​​- 21 knots
Number of decks - 12
The Seven Seas Mariner itinerary program is based on luxury World Cruises cruises visiting exotic ports in the South Pacific, South America, South Africa (departing from Cape Town) and the Caribbean (departing from Miami). Summer Mariner cruises in Europe on Mediterranean routes from Rome, Venice, Barcelona with transatlantic crossings.
Due to its small size, the vessel can enter ports that larger liners do not have access to, so the routes offer exotic and unusual ports of call.
The décor aboard the ship is very stylish and classic, reflecting the typical elegant ambiance of Regent Seven Seas Cruises.
A varied entertainment program ensures that you will not be bored on board. Enjoy live entertainment in the evening or try your luck at casino blackjack. If you prefer to end your day in a relaxed atmosphere, the elegant bars and lounges offer live music in a relaxed environment. During the day, you can relax and unwind in the library or at the exclusive Canyon Ranch Spa. On the other hand, you can find more excitement and a selection of sports activities on the poolside terrace.
Casino - If you're in the mood for a game, head to the elegantly appointed casino to play blackjack or try your luck at roulette, poker, craps or slots. Whether you are a player or a spectator, the excitement is contagious, the drinks are delicious and the staff are welcoming.

Connoisseurs club. Maybe it's the dark blue walls that give the Connoisseur Club such a generic, old-fashioned feel. Or is it a collection of impossibly comfortable leather chairs. Whatever it is, this is a relaxing place for you and new friends to enjoy a cigar and sip of cognac (both available for purchase) in classic gentlemen's clubbing surroundings.

Constellation Theater - Get ready to witness phenomenal theater performances ranging from full-blown musical theater entertainment to fiery vocalists, all backed up by the incredible five-piece Regent Signature Orchestra.
Horizon Lounge. It is the perfect place to sample classic cocktails or just relax and chat with new friends. The musicians play familiar tunes throughout the day, as well as before and after dinner, making it ideal for an informal setting. Game shows, nightly entertainment and live music events are held regularly.

Mariner Lounge: The perfect place to meet new friends for a pre-dinner cocktail. As the night progresses, the spectacularly designed space transforms into a nightclub, where the liner guests gather to dance or sing along in a karaoke competition.

Observation Lounge: A chic and comfortable place to read, relax and enjoy a cocktail while admiring the breathtaking views every time the Seven Seas Mariner enters and leaves one of its world ports of call. Live music is played throughout the day, making it another inviting place on board to unwind with afternoon tea or pre-dinner cocktails.

Stars Lounge: High-backed velvet chairs and a shimmering bar are the staples of this popular spot for after-dinner drinks and evening cocktails. The art lounge has a circular dance floor where you can dance on weekends or participate in karaoke competitions.
During school holidays, childcare personnel are hired to manage Club Mariner, a youth program for three different age groups: 5 to 8, 9 to 12, and 13 to 17.
Activities that include dance parties, movies, sports tournaments, arts and crafts lessons and more tend to run from June to late August and other times when there are more children on board.
There are many culinary highlights aboard the Seven Seas Mariner. Several restaurants with a great culinary variety that will surely satisfy all tastes. Among them, a restaurant serving continental and vegetarian cuisine, an American steakhouse, a restaurant serving traditional and modern French cuisine or Italian delicacies and the best Italian wines. The grill bar has a popular burger bar and a milkshake bar.
A complete list of Seven Seas Mariner restaurants and bars:
Compass Rose (restaurant in the main dining room, breakfast, lunch and dinner; it offers European continental dishes and alternative dishes - vegetarian, specialties from the Spa menu, selected dishes from the Regent's Chartreuse menu with fine French cuisine);

Signatures (French signature restaurant, dinner only, reservation required; replaced in 2016 with Regent Cruises, a new Chartreuse signature restaurant serving traditional French cuisine);
Pool Grill (fast food bar by the pool);

Prime 7 (Dinner, Reservation Only Restaurant with American Steakhouse)
La Veranda / Sette Mari (casual dining; operates as a self-service buffet on the ship; in the evenings, the buffet turns into an Italian dining Sette Mari, free).
Leave your comment
Comment