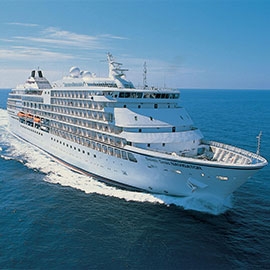 The Seven Seas Navigator is the very first of the Regent Seven Seas Cruises ships with the new Explorer (2016) and Splendor (2020), as well as the Mariner (2001) and Voyager (2003).
Specifications
Year of construction - 1999, renovation - 2016
Length - 170 m.
Width - 24 m.
Displacement - 28 803 tons.
Capacity - 506-557
Number of cabins - 253
Speed ​​- 18 knots
Number of decks - 12
The Seven Seas Navigator itinerary program is based on Caribbean cruises from Miami and to Alaska from Vancouver. Regent Navigator cruises to New England with departures from New York and Montreal, as well as to Europe on Mediterranean routes from Rome, Venice and Barcelona.
In the spring of 2016, the liner was renovated. Its highlights include a brand new library complete with an artificial fireplace, as well as a self-service Coffee Connection relaxation area that serves drinks and snacks. The Compass Rose restaurant, the main dining room on the ship, and the informal LaVeranda restaurant have been completely renovated. 245 oceanfront suites by ship, 90 percent of which have private balconies, have also been refurbished with new furniture (including Regent's Elite Collection mattresses and linens) and art Wait a few seconds...
The exquisite and varied entertainment on board the Seven Seas Navigator is designed to generate standing ovation, bursts of laughter and a host of pleasant experiences.
A complete list of lounges, clubs and other entertainment options for kids, teens and adults:
Navigator Lounge (signature cocktail bar with grand piano; serves an early continental breakfast with fresh pastries and signature coffee / tea);
library (combined library and computer room with internet);
Coffee Connection (specialized coffee bar);
Club Connoisseur (smokers lounge with comfortable leather chairs; offers hand-rolled Cuban cigars)
card room / conference room (bridge tournaments and lectures are organized);
Stars Lounge (night club and disco with its own bar, live music, karaoke, dance parties);
Seven Seas Lounge (2-level main hall for shows and evening entertainment in cabaret style);
The Boutique (duty-free shop: luxury jewelry, precious stones, branded perfumes, watches, designer clothes, accessories, gifts, souvenirs, clothes with the Regent logo);
casino (with 2 sections: for slot machines and for gaming tables);
Navigator Pool Area (with large pool, two jacuzzis, sunbathing area with sun loungers, tennis tables, sitting area; served by a pool bar)
Galileo Lounge (with indoor / outdoor seating, dance floor, live grand piano; daily quizzes, afternoon tea and live music events);
Canyon Ranch spa and wellness center (treatment rooms, saunas, relaxation room. The center includes a beauty salon, gym and aerobics studio);
fitness center (with floor-to-ceiling windows, modern equipment);
upper deck (Power Walking / Jogging Track; playground, mini golf).
Regent Seven Seas Cruises offers a Club Mariner program for children aged 6 and over. She is only available on certain routes, so it is important to make sure she enters the cruise. Club Mariner gives your kids the opportunity to meet their peers, play games, do crafts and have fun.
Coffee Connection - Enjoy complimentary coffee drinks prepared by the barista, along with delicious pastries, gourmet sandwiches and homemade cookies. Whether it is browsing international newspapers or simply spectacular views, this café is the perfect place to relax, chat, enjoy coffee and snacks throughout the day.
Compass Rose: As the flagship restaurant on board, the spacious Compass Rose serves breakfast, lunch and dinner as well as an exceptional variety of European Continental cuisine, aromatic vegetarian and kosher dishes. The restaurant is elegantly decorated in blue and silver with stunning Versace tableware. It delights with its warm, light and sophisticated atmosphere.
LaVeranda - Start your day with breakfast at La Veranda. Enjoy stunning ocean views as you sample bespoke omelets and other treats. Lunch offers a variety of delicious dishes, including hot cuts.
The Pool Grill is truly a meeting place. An informal dinner, a snack after sunbathing or swimming in the pool. Poolside grill is open air but amply shaded for a comfortable dining experience. Try grilled burgers and seafood, sandwiches and fresh salads. Indulge in a milkshake or hand-made poppy seed ice cream dessert.
Prime7: A true classic in every sense, the refurbished Prime 7 on the Seven Seas Navigator is the epitome of luxury. Imperial dark blue walls with a golden hue, light-colored leather armchairs, and sumptuous wood trim create a sophisticated and elegant backdrop for staple steaks and seafood. Large artwork, marble sculptures and quirky patterned floors enhance the decor. Sip a cocktail at the bar before enjoying a juicy filet mignon or côte de beuf.
Sette Mari At La Veranda Every evening La Veranda turns into Sette Mari At La Veranda. A selection of authentic Italian specialties, inspired by family recipes that span generations, or anything with a modern twist like spiced tuna steak, endive stew, polenta and salmorillo. Enjoy all of this with an aromatic Tuscan wine. Sette Mari AtLa Veranda is open for dinner only.
Leave your comment
Comment