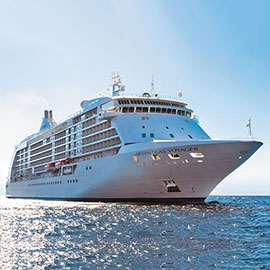 Seven Seas Voyager is the third of the Regent Seven Seas Cruises ships, along with the new Explorer (2016) and Splendor (2020), as well as Navigator (1999) and Mariner (2001).
Specifications
Year of construction - 2003, renovation - 2016
Length - 206 m.
Width - 29 m.
Displacement - 42,363 tons.
Capacity - 706-777
Number of cabins - 353
Speed ​​- 20 knots
Number of decks - 12
The Seven Seas Voyager itinerary program is based on luxury World Cruises cruises from Asian ports from China, Singapore and Japan. Regent Voyager cruises Europe along the Baltic Sea routes with departures from Stockholm, Copenhagen, Southampton, and also cruises between Asia and Europe.
Regent Voyager is one of the most luxurious cruise ships in World Cruise, offering Around the World voyages every year. It includes up to 30 different countries and numerous exotic ports in Asia, Australia, South America, the Caribbean, Africa, as well as transatlantic crossings, the Panama Canal and / or Suez Canal.
Stylish décor on board is classically styled with mahogany, leather armchairs and elegant art deco floors. Design suites, fine dining and an exclusive spa complete the Seven Seas Voyager package. Wait a few seconds...
The Seven Seas Voyager cruise ship with its brilliant Scandinavian-style interiors is reminiscent of an old school. Many suites also have butlers. In the morning you can relax by the heated swimming pool, where the staff is waiting for you. In the afternoon, schedule a hot stone massage at the spa, or exercise with a personal trainer on the ship. Dinner is romance at Signatures, which features French cuisine such as Magret duck fillets on the menu. After dinner, have a drink at the Connoisseur Club, before heading out to gamble at the casino.
A complete list of lounges, clubs and other entertainment options for kids, teens and adults:
theater "Constellation" (the main hall for demonstration of music and shows in a 2-deck hall, as well as the performance of aerial acrobatics "Circus-rock-n-roll");
atrium (8-storey open area);
Mariner Lounge (signature cocktail bar with grand piano; serves an early continental breakfast with fresh pastries and signature coffee / tea)
Club.com (computer room with internet);
library;
Connoisseur Club (smokers lounge with comfortable leather chairs; offers hand-rolled Cuban cigars);
Card Room (organizes bridge tournaments and lectures);
Coffee Connection (specialty coffee and pastry bar)
Horizon Lounge (with a large dance floor; organizes daily quizzes and offers afternoon tea);
Observation Lounge (grand piano bar with live music in the evenings);
The Boutique (duty-free shop: luxury jewelry, precious stones, branded perfumes, watches, designer clothes, accessories, gifts, souvenirs, clothes with the Regent logo);
casino (with 2 sections: for slot machines and for gaming tables);
Stars Lounge (night club);
Mariner area (with a large pool, 3 jacuzzis, sunbathing area with sun loungers, tennis tables, relaxation area; serves a pool bar);
Canyon Ranch spa and wellness center (treatment rooms, saunas, relaxation room. The center includes a beauty salon, gym and aerobics studio);
fitness center (with floor-to-ceiling windows, modern equipment);
Promenade (Deck 6);
Upper Deck (Power Walk / Treadmill; Sports Field: Mini Golf, Golf Course; Shuffleboard; Bocce; Paddle Tennis Court).
Some cruises have a Club Mariner program for youth. The program of events on these ships is dedicated to one of the ship halls. The Mariner Club is divided into two age groups: from 5 to 12 and from 13 to 17 years old. The program is available on sea days, usually from 9:30 am to 8:30 pm. On port days, it begins immediately before the ship leaves the port. There are two Club Mariner consultants who work together, but each is responsible for an age group. They are certified as First Aid and CPR, with a focus on youth programs. The cruise director works with a team of animators and consultants to organize events, films and games for the participants. Activities include board games, Wii (playstation), chocolate fountain, friendship bracelet making, cookie decorating, karaoke, charades, backstage tour of the main theater, dance parties, social media (for the older group), and other games and crafts ...
The Seven Seas Voyager offers a variety of culinary delights. There are several restaurants on the ship with a great culinary variety that is sure to satisfy all tastes. The onboard cuisine is made up of fresh, local produce and is combined with the skill and creativity of award-winning chefs to create gourmet cuisine, a feast for the senses and your taste. Restaurant meals and drinks can be offered as an all inclusive concept at no additional cost.
Compass Rose Restaurant is the main dining room at Seven Seas Voyager. It operates on an open basis and serves breakfast, lunch and dinner.
La Veranda is a daytime shipboard buffet serving breakfast and lunch. In the evening, it turns into a bistro serving Mediterranean cuisine.
Prime 7 Signature Steakhouse. Pre-order is required for dinner. Dinner is served al fresco on the Voyager pool deck at least once during each cruise.
Another choice for casual dining is the poolside grill. Enjoy a variety of main courses and delicacies aboard the cruise ship.
Leave your comment
Comment