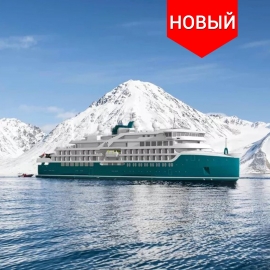 CREW 120
GUESTS 152
DECKS 9
LENGTH 115 m
DRAFT 5.5 m
BREADTH 23 m
REGISTERED Malta
CRUISING SPEED 15.5 knots in open water
LIFEBOATS 2 fully enclosed
PROPULSION DIESEL-ELECTRIC ENGINES 4x Medium speed, Polar code Cat A.
Making her maiden voyage in April 2022, our 5 star elegant Scandi-design boutique ship offers you an intimate setting from which you will be fully immersed in all the sights and scenery of your voyage.
For now, sit back, relax and take a moment to get to know your expedition ship.

Our brand new ship (Yet to be officially named) has been designed to journey to off the beaten path destinations and remote polar regions in style and comfort.

The ship incorporates a PC5 ice-strengthened hull combined with extra-large stabilisers to make your journey as smooth as possible. Wait a few seconds...
The Swan Hellenic brand has historically been a pioneer in bringing its guests to places others only dreamed of. For 70 years, we have carefully worked out every detail of our cruises. Today we travel to regions inaccessible to others, strive to immerse ourselves in impressions and make discoveries that change the way our guests perceive the world around them. Choose to travel with Swan Hellenic and see more.
The attentive and hospitable crew on board will do their utmost to ensure that guests have an unforgettable experience of a lifetime on exciting new voyages in which we have combined the latest technology of polar class liners with modern sophisticated interiors.
Basecamp Concierge Service in the lobby where expedition members are assisted to leave their expedition gear for further cleaning and disinfection, which is necessary to prevent microbial contamination. Also, in the elegant lobby interiors, made in a corporate design with natural textures and tones, you can always relax and share your impressions with a warming cup of coffee before and after the expedition.
Passing through the spacious reception area with its expressive, streamlined shapes, you find yourself in a real whirlpool of light on the main staircase, where sunlight penetrates through the geometric wooden walls.
Entering the main restaurant with a huge selection of seats and impressive panoramic windows, you find yourself in the already familiar signature atmosphere of abundance of wood and warm natural materials. However, things are not so simple: changes in lighting and table setting transform daytime everyday comfort into a sophisticated place to dine in the evening.
The panoramic lounge is the real heart of the liner. Your next stop is an area of ​​stark contrasts with chrome and massive panoramic windows, plush sofas and armchairs. Here you will feel that you are inside the ship and at the same time on the open deck. Featuring a large LED screen for lectures by expeditionary experts and guest speakers, a piano and pop-up screens for entertainment and a host of other uses, it surprises with a variety of cozy seating options, both inside and outside the ship.
After a relaxing break in the Club Lounge with 24-hour gourmet dining, a variety of cozy armchairs and a holographic fireplace surrounded by panoramic ocean views, the virtual tour invites you to the outdoor pool bar and grill. Here you will find a heated infinity pool and spacious outdoor decks that allow Swan Hellenic members to truly immerse themselves in the inspiring scenery overboard.
Next, you will find an impressive panoramic sauna and outdoor hot tubs, where after a relaxing massage you can admire the views surrounding the ship. Now is the time to discover the understated elegance of your balcony stateroom or suite: a contemporary blend of pastel colors, natural textures, high-tech entertainment and a variety of lighting options for every mood, created by an authentic flame fireplace - everything you need for the warmest ambience.
Useful information
What is not included in the cruise fare?

Additional activities such as kayaking, private tours and special arrangements, plus private Zodiac tours, cost extra.
In destinations other than the polar region we will have a list of shore activities-excursions for each port of call planned and communicated 9-12 months prior to departure, In each of those destinations there will always be a basic activity free of charge included in the package. Other excursions or private arrangements will be at extra charge as published in the above mentioned list.
Laundry, premium wines and spirits, plus purchases from the ship's boutique and any spa treatments are not included. Basic WiFi will be free where available on SH Minerva and Vega Class with additional data packages available for purchase on board.
You will need to purchase your own visas where required, travel insurance, flights, domestic transfers and any hotel requirements pre or post cruise, unless otherwise stated within the itinerary description.

If I travel alone, is there a single supplement?

Yes. There are no single rooms on board. The single supplement will be 1.70 times the price per person.

How far in advance should I book?

With any wish-list trip it is important to book as far in advance as possible in order to secure your preferred cruise dates and flights.
You might also want to reserve a particular cabin category and it is worth bearing in mind that suites and interconnecting rooms for family or friend groups are always in demand.
All suites will have the ability to connect with the balcony room next door. We recommend booking at least one year in advance.

Do I have to pay for the trip in full when I book?

Guests have the ability to hold their booking free of charge for 48 hours. Bookings can be reserved with a 25% deposit, with full payment taken 90 days prior to departure.

How cold does it get?

Antarctic

The Antarctic Peninsula is the warmest part of the continent (summer 2019 saw one of the warmest on record, with one research station recording 17.5°C).
Prepare for at least -5°C and for temperatures to feel much colder than that if there is a wind chill.
January is the warmest month to visit.
The Arctic

The average Arctic summer hovers around 0°C in June through September. In general, Arctic summers are short and cool.

Do I need to pre-book excursions?

In destinations outside of polar regions, we will have a series of shore excursions available to book for each port of call 9-12 months prior to departure. Within each of those destinations there will be an activity or transfer included free of charge. To ensure you do not miss out, we would recommend booking ahead of your cruise.
More information will be provided in your personal, pre-trip documentation packs.
Zodiac excursions do not need to be pre-booked.
Are the ship's wheelchairs accessible?
We offer an Oceanview cabin that's been specifically designed to be completely ADA compliant and therefore includes a fully operable wheelchair access wet unit.
The ship itself has two lifts serving every passenger deck except the Stargazing top deck, which is therefore more difficult to access, as are the Aft Marina and Swan's Nest forward observation platform. Moreover, we do not have any special equipment facilitating access to the swimming pool, jacuzzi and sauna. Otherwise our ship is entirely at your disposal.
Many of the expeditions ashore in remote places are by zodiac. Boarding them and returning aboard can present challenges for wheelchair users. In addition, polar expedition terrain can of course itself be problematic. But these challenges are by no means always insurmountable. Our highly-experienced crews are trained to provide reliable advice and assistance. They will always make every effort to ensure our wheelchair-using guests enjoy a memorable experience of each destination.
Our general guidance, however, is to recommend that wheelchair users travel with a companion for their ease and enjoyment.
At the same time, guests who prefer to remain aboard, where we naturally continue to provide a complete service, can fully appreciate the beauty of the magnificent remote areas visited in a way that's worlds apart from any towering giant cruise liner. Our panoramic interiors and ample open decks enable you to enjoy a truly immersive and intimate experience of the inspiring surroundings.
ANTARCTICA CRUISES

Where is Antarctica – and how do I get there?

Antarctica is the southernmost of the world's seven continents and is surrounded by the Southern Ocean. The Antarctic Peninsula is the closest point to land and can be reached in two days from the tip of South America.
Guests will fly to Argentina, or Chile, and then take an onward flight to Ushuaia , located at the very tip of South America. Your ship will depart from Ushuaia.

When is the best time to visit Antarctica?

The visitor season straddles the southern hemisphere's spring and summer (November to March), and although weather can never be guaranteed you should see plenty of sunshine.
In spring, visitors can expect to see more sea ice and dramatic icebergs – a big draw for many. Bear in mind that in early spring proposed stops may have to be rescheduled if they remain ice-bound, or a sudden drop in temperature overnight causes ice to re-freeze. This is also the mating season for seabirds and mammals including breeding elephant seals.
In summer the chances of seeing whales – including humpback, orca and minke – are greater. Penguin chicks and seal pups are in abundance. As the Austral summer progresses you will experience almost 24-hour daylight.
The continent is at its warmest between mid-December and mid-January.

I've been to the Arctic, would I enjoy Antarctica?

The two destinations share several characteristics and our itineraries to both of these destinations emphasise scientific appreciation and historical understanding.
If you enjoy immersing yourself in pristine, off-grid wilderness and seeing extraordinary wildlife in its natural habitat, then there is no reason why you shouldn't enjoy both the Arctic and Antarctica.
The wildlife is surprisingly different in both places - you'll only see penguins in the Antarctic not Arctic, for example.
Extreme temperatures aren't for everyone. Life on board the ships will follow similar patterns with the day comprising a combination of informative and engaging talks, expert-led excursions, fine dining and relaxation time on our luxury boutique ship.
Our ships have plenty of outdoor space to take in your surroundings.
For guests, the journey to Antarctica (around two days in total) is a consideration however.

Apart from my cruise, is there anywhere else I can visit as part of the trip?

We recommend spending some time in the region's stunning national parks.
From Ushuaia it is possible to visit Tierra del Fuego – there are treks and walks of various lengths.
In Chilean Patagonia (near the port city of Punta Arenas) there are trips to Torres del Paine National Park, known for its spectacular glaciers, lakes and pampas.
Other iconic sights in Latin America include the Inca Trail and Machu Picchu in Peru, Iguazu Falls in Brazil and Cartagena in Colombia.

ARCTIC CRUISES

How do I get to The Arctic?

Depending on which destination your expedition ship leaves from (Tromso, Svalbard, Kangerlussuaq), you should be able to book flights fairly easily to the main departure point.
Note that flights to and from the ship are not included unless otherwise specified. (View the what's included section at the end of each itinerary).

I've been to Antarctica, would I enjoy The Arctic?

The two destinations share several characteristics and our itineraries to both of these destinations emphasise scientific appreciation and historical understanding.
If you enjoy immersing yourself in pristine, off-grid wilderness and seeing extraordinary wildlife in its natural habitat, then there is no reason why you shouldn't enjoy both the Arctic and Antarctica.
The wildlife is surprisingly different in both places - you'll only see polar bears in the Arctic not Antarctica, for example.
Life on board the ships will follow similar patterns with the day comprising a combination of informative and engaging talks, expert-led excursions, fine dining and relaxation time on our luxury boutique ship. Our ships have plenty of outdoor space to take in your surroundings.
Flights to the Arctic are usually shorter. Bear in mind that despite less jet lag, long nights of midnight sun will affect your body clock.

BEFORE YOU GO

What do I need to pack? Do I need formal clothing?

Expedition cruises are primarily concerned with what happens outside the ship, so dress codes are very relaxed. There are no formalities at mealtimes.
At breakfast and lunch, you will wear the clothes you are going outside in (minus the outer gear). Once you have changed out of your expedition gear in the evening you will want to put on something casual and comfortable. And it is always worth having an extra layer at hand if you are the type that likes to rush out on deck when something is spotted.
During the daytime around the ship, you will want casual trousers, jeans or smart sportswear, long-sleeve tops and thin jumpers plus a bodywarmer and/or other layers. It will be warm and comfortable inside.
Evening is casual too – perhaps pack a couple of casual shirts and or skirts/dresses. Keep footwear to a minimum. On board a pair of lightweight trainers or similar (useful for when trying on gear for size) will suffice, while slippers should be worn in your cabin only.
For shore excursions, you will be provided with Swan Hellenic Expeditions parkas and rubber muck boots.

How much luggage allowance will I have?

The international allowance (and the number of checked bags) will depend on your airline and class of travel. When booking onwards internal flights to your departure port, check that airline's allowance. Some only permit 15kg per person. It is usually possible to buy an extra 5kg but be sure to do this online for both the outward and return flights, before you travel, and keep a copy of the confirmation number and/or email.

Who will my fellow passengers be?

Our typical guest is well-travelled, curious and eager to learn about the places they visit. Our passengers care about the environment, too, which is why our expert wildlife guides always travel ashore with passengers. In this more intimate cruising environment, where like-minded people are seeking genuine destination immersion, good relationships are easily formed.
Due to the small-group touring philosophy, there will also be opportunities to meet fellow passengers on your trips ashore, and in the evening, at the daily/evening recap.

Will I get seasick?

Not everyone feels the effect of motion sickness. If you know you are prone to it or are unsure, visit your doctor and see advice regarding the best preventative medicine for you (you will need to take tablets prior to boarding). A good pharmacist should also be able to offer advice over the counter. Check for any conflicts with existing medication. Regular cruisers use various methods including tablets, patches and PSI/acupressure bands, but it is not a case of one size fits all. If you need medical assistance onboard, our doctor is on hand with advice.
For our Antarctica cruises, bear in mind that the Drake Passage can be rough. You may be lucky but if you do become unwell remember: it is important to keep hydrated and to eat little, and often (dry toast, biscuits or crackers are good).
Do not look at the waves or other moving objects. Don't use electronic devices, watch the TV or attempt to read. Avoid alcohol, fatty or spicy foods.

Are vaccinations required?

No vaccinations are required for visiting The Arctic or Antarctic. However, it is recommended that you have all your up-to-date vaccinations for tetanus and flu.
Should I buy a camera?

Many camera outlets will also rent cameras, so if you are not sure whether to spend money on a new camera, then look into hiring equipment before you leave home.
For more about photography on board, visit our blog section.
Can I fly drones?

Unfortunately, you cannot bring nor fly drones onboard. The flying of unmanned aerial vehicles (UAVs) is prohibited or strictly regulated in several countries we sail to.
What currency do I need?

On board

On-board currency is the USD. Onboard spend will be added to your final bill. It is worth taking a debit/credit card in case of any problems paying your bill. Remember to tell your bank before travelling to avoid having your card refused.
Antarctica
There is no official currency as Antarctica does not belong to one country. It is governed by the Antarctic Treaty System (ATS) signed by various nations.
The Falkland Islands, South Georgia and the South Sandwich Islands are British Overseas Territories and as such use GBP.
Arctic/Russian Far East
Destinations on our Arctic and Russian Far East cruises include Norway, Russia, Greenland (Denmark), Canada and Alaska.
Check your itinerary for which destinations are covered. In most cases, you will only need currency at the beginning and end of your cruise, and for souvenirs, as most other expenses will be covered on your cruise.

LIFE ON BOARD

What is the food like on board? Do you cater to all dietary requirements?

On our elegant expedition ships, we pride ourselves on offering an extraordinary culinary experience that combines varied international trends in food and drinks, sometimes with a local accent, with healthy, energy-packed ingredients and plenty of protein for the explorer in you. Menus will please the most discerning of palates, with healthy menus showcasing fresh, local ingredients and menus to serve special dietary requirements.
Breakfast will include a wide range of hot, cold and cooked-to-order items. Expect daily chef 'specials' and eggs cooked to order. As well as plenty of fruit, nuts, sprinkling seeds (such as chia) and fresh juices there will be home-made bread, granola and other cereals, salmon and cooked meats and cheeses, yoghurt and porridge/oatmeal.
Lunch might consist of a salad bar and soup and other starter items followed by pasta, fish, meat, veggie options and a variety of hot and cold desserts. There will always be a cheese board and coffee and tea. House wines and beer are served with lunch or dinner.
Dinner is served a la carte, and will be akin to fine dining, with friendly informality. Expect nothing but the finest dishes – creative, healthy and with service to match. Enjoy our choice of fine wines, served throughout the meal.
Dietary requirements - most dietary requirements, including vegetarian, vegan and diabetic will be catered for and there will also be gluten-free options. Please make clear any special requests at the time of booking as we cannot guarantee options will be available once the cruise departs.

Where are meals served?

The Swan Restaurants will serve breakfast, lunch and dinner. Our restaurant is free seating.
The Club Lounge will offer 24-hour dining, lighter dishes and snacks.
Expedition passengers are generally outgoing and friendly and like to mingle with fellow passengers. In the evening our maître d' can accommodate any special requests.
Room service is also available as and when you're in the mood for some quiet time.
Will there be an open bar / self service or manned bar?

Our ships have a very well stocked bar with a selection of soft drinks, wines and beers included within your cruise fare. A selection of premium beers, wine and spirits are available at an additional cost.
Expedition passengers are generally outgoing and friendly and like to mingle with fellow passengers. In the evening our maître d' can accommodate any special requests.

What are the cabins like?

Your cabin is your elegant home away from home – a place to relax, recharge and admire the ever-changing scenery. Expect superb beds, minimum noise and vibration and a separate entrance, living area and bedroom. We also offer interconnecting suite and balcony rooms for families and groups.
Our cabins range from 19 sqm (Oceanview cabins) to 49 sqm (Premium Suite). The stylish and contemporary Scandi-design, decor is on a par with the best of the world's boutique hotels. Softwood fittings, earthy tones and textures and thoughtful lighting make the rooms a place of retreat, rather than just somewhere to sleep. All have wardrobes, a desk, comfy seating areas and personal safes and mini-bars. There will be USB ports for charging devices.
Ensuite bathrooms are equally roomy with large sinks, glass-enclosed rain showers and plenty of storage space.

Will I have a balcony?

Our Suites and Balcony cabins have a balcony with chairs and a small table. Depending on your cabin category balconies range from 6 to 12 sqm.

What is there to do on board?

Take time to relax in one our spacious viewing areas and enjoy our wide selection of rich reference and other reading materials in the stylish library. We make guest wellbeing our priority, so you can work out in our state-of-the-art gym, enjoy a massage or enjoy the thermal suite, and try some yoga or stretch classes. Or just kick back in the elegant bar area or your scandi-design cabin retreat.
Lectures are led by the foremost experts in their field to allow you to fully immerse yourself in your surroundings, learning about the environment, flora, fauna, geology, climate and history of a destination.
Our photography lab supports your own personal adventure on board, allowing you to capture your journey and those exceptional moments that will last a lifetime. Professionals are on hand to guide you with free classes to help you record your memorable encounters, with private assistance on demand at a cost.
Take a pew in the forward-facing Swan's Nest observation platform for extraordinary 180-degree views.

What is WiFi like on board?

WiFi is available but we ask all guests to bear in mind that we are cruising in an extremely remote area so coverage is patchy and speeds may not be what you are used to.
Basic WiFi is free where available, with a range of data packages available for purchase onboard.
Is there a doctor on the cruise?

All ships have a medical room and a ship's doctor onboard.

How clean is the ship?

Both ships will be compliant with the strictest Public Health and hygiene standards of the industry for all the activities on board including all the food handling and processing.
We go to great lengths to ensure cleanliness and sanitation onboard. The air distributed on board is disinfected by latest generation of advanced oxidation UV cells for the maximum protection against viruses and bacteria.
There are plenty of hand sanitiser stations around the ship and you will be encouraged to sanitise your hands before and after going ashore and always before mealtimes. In order to protect the environment, we also adhere to strict biosecurity rules. You will be asked to walk through a cleaning solution on leaving and re-boarding the ship.
What is your policy on sustainability, and what about the company's environmental credentials?

Our ships have been designed and built in accordance with the latest sustainable practices.
Onboard we are reducing the use of paper and single-use plastic onboard the ship
Our ships use dynamic positioning technology which allows our ships to remain in locations without dropping anchor, which in turn reduces our environmental impact.
Whilst in port, we use batter power which reduces the burning of fuel. As our ships are new, they are fitted with SCRs (Selective catalytic reduction units)
Water filtration onboard allowing guests to choose between still and sparkling water. Guests can use their complimentary refillable bottles to reduce the amount of plastic bottled water in use.
Finally, our staff follow strict guidelines to limit our footprint in the destinations we visit. We are constantly reviewing our sustainability policy and always looking at ways we can leave a positive impact wherever we take our guests.
What wildlife can I expect to see?

From penguins, seals and whales in Antarctica, to walruses, polar bears and Arctic foxes in the Arctic, your Swan Hellenic cruise will guarantee you see plenty of wildlife..
How close do we get to wildlife?

Observing from a distance is the best mantra. Official guidelines require passengers to keep a minimum of five metres away from the wildlife, though penguins (in Antarctica), in particular, are curious creatures and unafraid of humans, so this may not always go to plan!
Whilst among wildlife walk slowly and keep noise to a minimum. If wildlife changes its behaviour, stop moving, or slowly put more distance between you. Animals are particularly sensitive to disturbance when they are breeding (including nesting) or moulting.
Your guides will keep a watchful eye at all times but do keep your distance.
How physically active do I need to be?

The ships are very well designed with side and aft marina embarkation allowing everyone to safely and easily embark on zodiacs.
Good mobility is essential, particularly for getting on and off the Zodiacs ashore. We have made the ride to shore as stable as possible by using superior quality non rigid keel zodiacs which will make possible for you to land-beach in the most interesting location.
For less mobile guests we will provide to sightsee in the destination and cruising around ice, icebergs, reefs etc with our specially designed hard keel zodiacs .
There will always be guided walks of various difficulties level so that you can choose the plan that suits you best. Those wishing to partake in more active excursions, such as kayaking, will need prior experience.
How do we 'land' ashore?

The Zodiac nudges up to a 'beach' or an island. Sometimes the boat captain will use the tide to push the boat ashore. Expedition guides and crew will hold the Zodiac stable while passengers slide their legs over the side and wiggle toward the front of the boat before stepping out. This may mean stepping into the water but there will be someone to help you and the muck boots will prevent you from getting wet.
Do you have rest days from excursions?

Most guests will want to partake in at least one excursion per day but if you wish to sit some excursions out there is plenty to do on the ship. Many of our cruises also have sea days, when we do not land. Visit the library, get to know your fellow guests, attend the photography lab or one of our scientific-based lectures, watch a film on your in-room TV or enjoy the views from the observation lounge. You will never be bored!
Can I smoke onboard?

Smoking is permitted in designated areas on Deck 8 aft portside and on Deck 4 mid ship portside.
There is no smoking in any indoor area nor on balconies.
SINGLE

Single adult occupancy surcharge in Stateroom / Suite and Premium Suite: supplement 70% on the above mentioned per person price based on double occupancy basis (calculation: the here above indicated gross fare per person multiplied by 1.70).

Single adult occupancy together with one/two/three child(ren)in the same Staterooms and/or Suites: for the adult the here above indicated.

"single surcharge" policy will be applied plus the child-children policy depending on the age of the child-children.

Age Policy

Children under the age of 08 will not be allowed on the Swan Hellenic voyages (due to Expedition Security Reasons)

Child Pricing

Model (08-17)

08 - 12 years of age included will travel for free (port taxes only)

13 - 17 years of age included in a triple Balcony Stateroom, we will charge USD100,00 net per person per night, plus port taxes

13 - 17 years of age included in a Suite and/or Premium Suite will travel for free (paying port taxes only)

TRIPLE
Totally 16 Balcony staterooms on Deck 6 which can accomodate upto 03 guests into a dedicated triple Balcony Stateroom (see deckplan)
QUADRUPLE

Totally 06 Suites and Premium Suites on Deck 5 & 6 can accomodate upto 04 guests (see deckplan)

Premium Suite Deck 6 - 628, 629 (see deckplan)

Adult as 3rd/4th

guest(s)

For adults traveling as 3rd and/or 4th guest(s) in the same Stateroom/Suite/Premium Suite occupied by two full paying guests, a 50% discount of the full paying guests will apply

Bars & Restaurants

Swan Hellenic's plethora of dining options provide guests with an appetite for global flavours a tempting variety of options, from sun chasing early riser's breakfast through to late dinner and 24 hour room service.
The onboard restaurants serve modern international delicacies featuring regional cuisine and ingredients creating a unique once-in-a-lifetime dining experience.
World renowned chefs will prepare culinary experiences from the destinations visited, pairing the latest international trends with untasted regional delights.
Bespoke & private dining experiences will be offered both inside and outside (depending on the weather conditions and routing). Offering guests superb the opportunity to enjoy and explore top-tier culinary skills and the local landscape that is home to distinctive unique flavours of seasonal ingredients, alongside fine wines.

The Swan Restaurant

As the main venue for breakfast, lunch and dinner, our 150-seat restaurant serves international and regional cuisine focussed on quality local ingredients from the unique destinations we visit, showcasing creative flavourful cuisine. With open seating, guests can dine at their leisure, from breakfast through to dinner.

Helmed by a culinary master, the airy, contemporary space champions artful modern and traditional delicacies, also offering healthy diet-inspired menus that focus on seasonal ingredients sourced from local farmers, fisheries and artisans, prepared in a light, clean style. Catering to a range of diets, we offer wholesome, health conscious fare that respects responsible sourcing from the sea as well as careful cultivation of the soil.
Start your day with made-to-order omelettes, waffles or pancakes, to healthy fresh fruit and vegetable smoothies. A broad selection of other breakfast favourites is also available.
For lunch, opt for made-to-order pastas and risottos, cheese and meat antipasti or freshly cooked seafood. A raw bar will feature fresh seafood, organic bites and delectable carpaccio. A delicious selection of soups and carved meats accompany a tempting array of mouth-watering desserts, including sugar & gluten free options.
For dinner we will take you on a culinary journey with a variety of menus designed to provide an upscale, contemporary take on destination-based influences, delivering authentic flavours reimagined from adventurous surroundings.
Select quality wines chosen by our sommelier, liquors, beers and soft drinks are complimentary.
Our sommelier will also be at your service in case you decide to pair your meal with a bottle from our selection of superior labels and vintages. Speciality and premium products selected from our Aficionado Menu will be charged to your shipboard account.
Private dining experiences are also available at the Chef's table in the main restaurant. These intimate meals are bespoke and the executive chef along with our sommelier will curate a tailor made menu with wine pairing. We take it the extra step, adding the concept of wine education and carefully explaining each new pour as it complements the dish. Private dining experiences are offered at an additional cost and need to be booked in advance.

Club Lounge

Discover the culinary finesse with tapas-inspired gastro market small plates. Vibrant and welcoming, the Club Lounge acts as a hub, playing home to interactive food counters and a range of thrilling dining options: freshly made pizza from our Italian pizza oven and locally-inspired tapas, all to enjoy while sipping Swan Hellenic's signature sundowner cocktail - making it the ideal setting for delicious, social gatherings. Tuck into the signature tapas with a twist and delectable seasonal local fare 24 hours a day, with a panoramic view of the ocean glittering below.

Designed to be a social space, the Club Lounge gives the feel of an expansive living room, leading out to an al fresco Poolside Bar with stellar views of the outdoor pool and glistening sea. An a la carte menu features burgers, wraps, creative salads and locally inspired global small plates.

The elegant 24-hour lounge is versatile for everything from breakfast to an elegant afternoon tea and pre-dinner Gin O'clock tipple. Afternoon Tea is a glamourous and contemporary progression of savoury bites, finger sandwiches and scones followed by colourful tarts and desserts. Refresh your palate with a selection of international teas or a cold glass of champagne.

Imbibe in our daily Gin O'clock and indulge in its distinct flavour and aroma while watching the sea swallow the sinking sun. Take your tipple outdoors and breathe in the calm fragrance of the salty sea air.

Freshly baked light snacks, pastries, and a self-service coffee bar available round-the-clock. Espresso, café lattes, cappuccino and specialty teas are served in our comfortable café. Wines by the glass and cocktails are also available throughout the day into the late evening.

Balcony D5
28 sq. m. Sleeps 2

Located at the forward and aft of the ship, these balcony staterooms feature 2 single beds or double bed bedroom with living room area, a luxurious bathroom and your own private 6m2 balcony

Balcony M5
28 sq. m. Sleeps 2

Located at the centre of the ship, these balcony staterooms feature 2 single beds or double bed bedroom with living room area, a luxurious bathroom and your own private 6m2 balcony

Balcony D6
28 sq. m. Sleeps 2

Located on deck six, these balcony staterooms feature 2 single beds or double bed bedroom with living room area, a luxurious bathroom and your own private 6m2 balcony

Suite
44 sq. m. Sleeps 2

Our Suites features a superking bed and separate living room with a soothing flame-effect fireplace and a luxurious ensuite bathroom and a 12 sq.m. private balcony.

Leave your comment
Comment