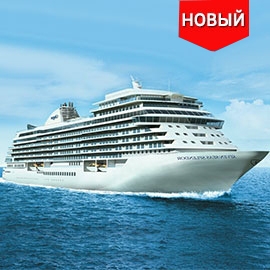 The Seven Seas Splendor cruise liner is the newest RSSC (Regent Seven Seas Cruises) liner after the Seven Seas Explorer and the fifth vessel after the Voyager, Navigator and Mariner.
Specifications
Year of construction - 2020
Length - 223 m.
Width - 32 m.
Displacement - 56,000 tons.
Capacity - 754-829
Number of cabins - 377
Speed ​​- 22 knots
Number of decks - 13
Seven Seas Splendor Inauguration Ceremony - February 2020.
The first cruise is on February 6, 2020 from Barcelona to Miami.
Popular ports of call: San Juan (Puerto Rico), Cabo San Lucas (Mexico), New York and Los Angeles (USA), Barcelona and Cartagena (Spain), Saint Tropez (France), Dubrovnik (Croatia ), Amalfi Coast (Italy), Corfu (Greece).
The Seven Seas Splendor itinerary program is based on cruises in the Caribbean, North America and Europe (Mediterranean) with the Panama Canal crossing between Florida and California. In summer, the ship cruises in the Mediterranean and in winter is based in Miami for Caribbean cruises. Wait a few seconds...
On board the Seven Seas Splendor you can find many activities throughout the day such as quizzes, dance lessons, cooking demonstrations, shuffleboard tournaments and wine tastings led by a knowledgeable sommelier. The ship's program attracts guest lecturers, many of whom have connections with the Smithsonian Institution, to discuss topics ranging from history and geography to technology and space exploration.
In the evening, passengers can enjoy a variety of cabaret shows at the two-story Constellation Theater or try their luck at casino gambling. The cruise ship has a total of five all-new performances aboard the Seven Seas Splendor, which span the spectrum from rock and country music to stories, adventure, romance and intrigue.
In addition to performances at the Constellation Theater, Regent also features four unique entertainment venues aboard the Seven Seas Splendor:
The Splendor Lounge is a dark and clubhouse place with plush seating and elegant walls. A contemporary duo perform here, creating the perfect atmosphere for pre and post dinner drinks.
Meridian Lounge - Specializing in custom cocktails and continuing the club theme found in the Splendor Lounge. Live music is offered every evening.
Observation Lounge - which houses a grand piano bar with live music in the evenings.
Lido pool area (with large pool, 2 Jacuzzis, sunbathing area with sun loungers, tennis tables, relaxation area).
As well as sports facilities, boutiques, fitness center, spa, card room and Connoisseur smoking room.
Club Mariner is a program that runs during the summer months and during the holiday seasons. It offers various activities for children, which are divided into three age groups: 5-8 years old, 9-12 and 13-17 years old. Activities are designed for each group.
Club Mariner's consultants run a variety of activities including games, craft projects, films, to ensure that every child has an unforgettable experience. Teens help the counselor choose the activities they prefer to take on the cruise.
The cruise line organizes cooking courses in a dedicated naval culinary arts kitchen. The educational kitchen offers dishes made with local produce. Shore-themed food tours are available for booking through RSSC Gourmet Explorer Tours. On these tours, passengers can enjoy gourmet food prepared by renowned local chefs, as well as wine tastings at high-end estates and a visit to the local food market.
A complete list of Seven Seas Splendor restaurants and bars:
Compass Rose (restaurant in the main dining room, open breakfast, lunch and dinner; it features European continental and alternative dishes - vegetarian, specialties from the Spa menu, selected from the Regent's Chartreuse menu with fine French cuisine);
Chartreuse (Regent's new French signature restaurant, which also serves signature Chartreuse liqueur cocktails; offers one of the finest gourmet dishes at sea);
Prime 7 (restaurant only for reservations with American Steakhouse);
La Veranda / Sette Mari (casual dining; operates as a self-service buffet on the ship; in the evening the buffet turns into an Italian restaurant "Sette Mari", complimentary. Destination Corner serves local cuisine at the destination);
Pacific Rim (Asian restaurant, dinner only, with a big dragon artistic setting);
Coffee Connection - outdoor recreation area.
Leave your comment
Comment