Viking Cruises
Viking Ocean Cruises is a fairly young but successful cruise company that has already earned a good reputation in the world of cruise travel. In 2016-2017, Viking Cruises even won the first place in the ranking of the best cruise companies in the world!
Viking Cruises was founded in Basel by Thorsten Hagen, who bought the first four ships in 1997. And in 2000, Viking not only bought Europe's KD River Cruises, a large river cruise company, but was also able to confidently enter the American market, locating its headquarters in Los Angeles.
Initially, the company specialized exclusively in sightseeing river cruises, focusing on a tourist interested in local history, geography, and art. However, in 2015, Viking Cruises unveiled its first sea liner, Viking Star, with a capacity of 960 guests. In 2016, the company launched its second liner, Viking Sea. Viking Sky and Viking Sun will join them in 2017, and Viking Spirit in 2018. The sixth liner of the Viking Navy, which is scheduled for launch in 2019, has not yet been named.
The fourth liner of the company, Viking Sun, in its first season will carry out the world's first round-the-world cruise lasting 141 days, which will cover all 5 continents, 35 countries, 66 ports, of which 12 guests will stay overnight. Starting in 2018, the company's fifth ship, Viking Spirit, will be able to take you to the Middle East, Australia, Asia and Alaska.
Viking Ocean Cruises' award-winning liners are thoughtfully designed and sized to seamlessly enter most ports, large and small, for the most comfortable embarkation and disembarkation for their guests. Each cabin on any ship has a separate veranda balcony. Each ship has a large selection of diverse restaurants, including an open-air one, a grandiose swimming pool, an unusual spa in the Nordic style, a lounge hall with panoramic sea views and a specially selected constantly updated collection of books and many more interesting details that create coziness and a sense of elegance in everything. While studying in Switzerland, the staff will do everything possible to make the cruise remember you as the best event in your life. Viking Ocean Cruises will not only meet all your expectations, they will exceed them!
In addition, Viking Cruises always emphasize modernity. So on board, you can count on not only affordable Wi-Fi, but also essential things like USB ports and a Business Center to stay connected. On special desktop screens you can view any information about events on the ship, as well as play chess, checkers or cards, if you are in the mood. The interactive TV system has a collection of films and will also allow you to book a table or spa treatments directly from your cabin.
The Viking Ocean Cruises concept is cruises for the thinking traveler. For those who travel to learn, perceive and understand. For those who believe that travel is not just a vacation, but a door leading to inspiration, acquaintance with new cultures and self-discovery.
Viking Ocean Cruises are especially proud of the routes. A typical cruise lasts from 8 to 15 days and is planned to maximize the time spent in each port. Operating sea cruises cover Scandinavia and Batika, the western and eastern Mediterranean, the British Isles, North America and the Caribbean. There is also the possibility of combined cruises lasting from 22 to 50 days ...
More days means more discoveries! This is why Viking Cruises has the option of extending the tour before departure or after arrival. Enjoy the journey in full after spending a couple of days in the city of departure, because now it's up to you to decide which city to sail from!
On their routes around the world, Viking Ocean Cruises offer their guests a trip to the other side of the well-known tourist scene, to get to the roots. The waterfront excursions are just the first step in your acquaintance with history and culture, then the doors of gastronomic sensations, authentic experiences and privileged access to places inaccessible to other tourists will open before you.
"Pearls" of Viking Ocean Cruises:
West Indian cruise - 11 days, 9 countries - from San Juan to San Juan. A spicy Caribbean cocktail of turquoise waters, emerald green islands and European heritage, where the colonial wealth of San Juan is set off by the British, French or Dutch flavor of the Lesser Antilles.
Scandinavia & Kiel Canal - 11 days, 5 countries - from Copenhagen across the seas of history to Amsterdam. An opportunity to visit the famous trading cities that made Europe what it is. Almost a day in fabulous Copenhagen, a rich excursion program in Hanseatic Hamburg, a walk in Amsterdam surrounded by canals, a sightseeing tour of modern Oslo and passage along the Kiel Canal - an engineering work of art.

Majestic Mediterranean - 15 days, 6 countries - Western Cthe Mediterranean has always been the cradle of cultures and the center of an idle lifestyle. Experience the beauty of antiquity and modern glamor in Marseille, Saint Tropez and Monte Carlo. Discover completely new perspectives on the rocky shores of Sicily and Sardinia. Walk the road to ancient Carthage visiting hot Tunisia and enjoy the antique streets of the old Kasbah in Algeria. Return to the days of the Renaissance in Valencia. In Florence, Barcelona and Rome, you can even stay overnight.

Southeast Asia and Hong Kong - 15 days, 4 countries - from Bangkok to Hong Kong, you will discover the very heart of Indochina. In order to feel the rhythm of life in Asia and at least look a little behind the veil of eastern secrets, the liner and its guests stay overnight in five of the six ports of stay. Sightseeing sea excursions along the inner bays and bays will give you the opportunity to fully enjoy the majestic and at the same time bright beauty of the tropics.

In the rays of the midnight sun - 15 days, 3 countries - from Bergen to London, from the northernmost point of Scandinavia to the Shetland and Orkney Islands. The journey will take you along the legendary fjords, visit Edinburgh, where the glorious history of the Middle Ages is combined with the beauty of classical architecture, as well as dock from the Thames side in royal London.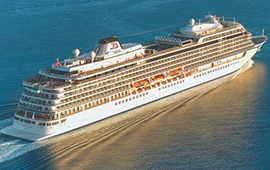 8 дней / 7 ночей
Route:
Date: 21 / 09 / 2021
от 98 218 UAH
от 103 676 UAH
от 122 779 UAH
от 199 192 UAH
Date: 21 / 09 / 2021
от 98 218 UAH
от 103 676 UAH
от 122 779 UAH
от 199 192 UAH

8 дней / 7 ночей
Route:
Date: 05 / 01 / 2022
от 54 553 UAH
от 60 011 UAH
от 76 385 UAH
от 117 321 UAH
Date: 05 / 01 / 2022
от 54 553 UAH
от 60 011 UAH
от 76 385 UAH
от 117 321 UAH
Anti-crisis conditions for booking cruises
FCC - Future Cruise Credit. A certificate for a cruise, according to which you can pay for a cruise in the future with this cruise company.
Stock
Deposit amount
For how many days is the surcharge Penalties
Conditions apply
Viking Cruises 30% of the total price 80 days before the cruise
24 hours before the cruise - no penalty
24 hours or less before the cruise - 100% of the total cost.
* Payment is refunded by the FCC.
For any cruises 2020-2022
* when booking before 11/30/2020.
Promotional conditions for all cruise lines: