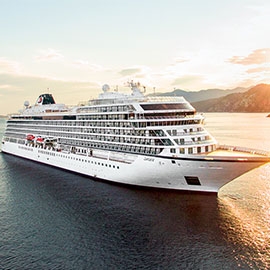 The Viking Sun cruise ship is the 3rd in a series of vessels built for Viking Ocean Cruises.
Specifications
Year of construction - 2017
Length - 227 m.
Width - 28 m.
Displacement - 47 800 tons.
Capacity - 930
Number of cabins - 464
Speed ​​- 20 knots
Number of decks - 9
The Viking Sun itinerary program is based on cruises in Southern and Northern Europe (Baltic and Mediterranean regions).
All cabins of the liner have balconies. Décor in neutral tones with lots of Scandinavian touches, ranging from an art collection to a host of cozy nooks designed to inspire you on your holiday.
The ship has several notable differences from its predecessors in the navy. The Viking Sun is the first vessel in the fleet to cruise the world (141-day voyage, early 2018), so Viking has made some changes to the cabins, especially maximizing space with the headroom needed for a long cruise. Wait a few seconds...
There are shops on Decks 1 and 2. There is a boutique next to the living room that sells perfumes, cosmetics, soaps and shampoos. Deck 2 - a boutique selling watches and jewelry. The most intriguing onboard store is also located on Deck 2, which sells clothing and gifts made in the Scandinavian countries. There is a small corner with basic necessities such as toiletries, snacks and sweets.
The Viking library concept is one of the most unique on the cruise. Instead of placing their impeccable collection in the same room as the books, the volumes are housed in secluded nooks throughout the living room and beyond. In fact, you can find ample selection in the corridors around Wintergarden, on the upper level of the Explorers' Hall, and in the cabins.
In addition, Deck 2 houses the Viking Heritage Museum, a small corner dedicated to artifacts of northern life.
Private meeting rooms are located next to Manfredi's and Chef's Table (restaurants that serve as private dining rooms at mealtimes). They are equipped with video teleconferencing equipment. A couple of small cinemas near the Zvezda Theater are also dedicated to video conferencing.
Liv Nordic, the Swedish resort operator, has created one of the most beautiful and unique spas in the industry aboard the Viking Sun. Focused on Scandinavian treatments using organic materials, the spa offers a simple yet comprehensive menu of treatments, including massages and body wraps.
There is a fitness center where you will find cardiovascular equipment such as treadmills, elliptical and stationary bicycles.
Viking Sun services also include a theater, lounges, bars, pool areas, jacuzzi, beauty salon, promenade and sports decks.
Viking Sun has a variety of restaurants offering food day and night. There are seven locations to choose from such as Chef's Table, Manfredi's, Viking Bar, the Kitchen Table, the Restaurant, World Café, the Pool Grill.
24-hour cabin service is also available. The menu offers an amazing variety of options, and one of Viking Sun's recent improvements is a pretty good selection of wholesome dishes, from appetizers to desserts. The menu features sugar-free, vegetarian or heart-healthy options.
Complimentary house wine, beer and soft drinks are served for lunch and dinner at all locations.
Leave your comment
Comment