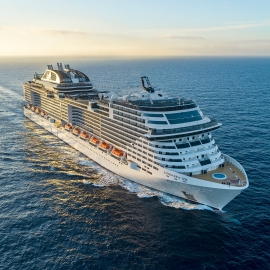 The new representative of the Meraviglia-Plus series,
MSC Grandiosa
, was launched in autumn 2019. The company has already conquered the lovers of sea travel with its ships with an interesting set of entertainment and comfortable cabins. It has also confidently embraced digital technology for even greater passenger convenience. The latest ships are equipped with a specially developed MSC for Me program, with which guests can manage their leisure time via an app on their phone. The functionality of such a service includes a ship map showing all catering establishments, shops, entertainment points, etc. the ability to communicate with the crew and resolve emerging problems in a timely manner, as well as communication with other tourists.
Technical sheets:
Year of build – 2019
Length / Beam / Height - 331,43 m / 43 m post panamax / 67 m
Number of passengers – 6334
Number of cabins – 2421, incl. 60 for guests with disabilities or reduced mobility
Crew members Approx. - 1704
Gross tonnage – 181 000
Surface area 460.000 m2, incl. 35.000 m² public areas
Public area ratio 7,8 m2 per passenger
DECKS 19, incl. 15 for guests
LIFTS 32, incl. 19 for guests (2 panoramics and 1 for the MSC Yacht Club)
Voltage (in cabin) 120/230 volts
Maximum speed 22,2 knots
Stabilisers Stabilised with 2 fins
Pools 4, incl. 1 with sliding roof and 1 for the MSC Yacht Club; 9 whirlpool baths
Environmental technology awt – Advanced Water Treatment, Energy Saving & Monitoring System, Scrubbers, LED technology and SCR system
MSC Cruises is committed to protecting nature, seas and oceans because they are one of the planet's most valuable resources. All MSC Cruises ships are equipped with state of the art technology to help reduce the environmental impact of cruise ships. MSC Grandiosa sets the standard for the future as the ship is equipped with some of the latest cutting-edge environmental technologies designed to meet the world's strictest environmental standards set by the International Maritime Organization (IMO):
- Hybrid Exhaust Gas Cleaning System (EGCS): This system substantially "purifies" the ship's exhaust gases, resulting in a 98% reduction in sulfur oxide (SOx).
- Selective Catalytic Reduction System: 90% less nitrogen oxide (NOx) through active emission control, which reduces NOx emissions.
- Hydrodynamics: latest generation azipods® (electrically driven engine) with reduced fuel consumption resulting in lower emissions.
- Advanced waste management: comprehensive systems to reduce emissions and increase the recycling and reuse of all waste on board.
- Advanced Wastewater Treatment: The system treats and purifies wastewater, heating, ventilation and air conditioning (HVAC) water.
- Electrical connection at the port: to reduce emissions, a connection is made to the local power grid while the vessel is in port.
- Ballast Water Treatment System: A system that avoids the release of invasive aquatic organisms into the oceans when ballast water is used.
- Energy efficient liner design: uses 28% less fuel compared to Fantasia class ships, which translates to 255 kg CO2 emissions reduction per guest per cruise. And this despite the fact that MSC Grandiosa is much larger than the Fantasia class liners.
- Hull Paints: The hulls of all MSC Cruises ships are coated with special eco-friendly paints that inhibit the growth of shells, algae and marine organisms to significantly reduce drag.
- Trim Optimization: software application for monitoring and optimizing trim, vessel stability in real time. This technology helps the ship's officers maintain the balance of the ship at the optimum stage to reduce fuel consumption and improve performance.
- Intelligent HVAC system: Two high and low temperature recuperation circuits to intelligently redistribute heat and cold from laundry and engine rooms to heat swimming pools or other parts of the ship.
- Energy efficient LED lighting: All MSC Cruises ships use only energy efficient LED and fluorescent lighting.
SERVICES FOR LINER'S GUESTS:
Medical Center, Deck 4 Picasso - MSC Grandiosa Medical Center will provide first aid or advice on any medical issue.
Infinity Atrium, Deck 5 Caravaggio - Reception and guest service are located here
Excursions office, Deck 5 Caravaggio and Excursions point, 6 Leonardo da Vinci - Here you can get acquainted with excursions in the ports, as well as purchase your favorite. Unfortunately, there is no way to book Russian-language excursions on board. For booking excursions in Russian, please contact the managers of For Gates Ukraine.

CONFERENCE ROOMS - rooms that can be rented for conferences.
For all questions regarding the organization of MICE on board the MSC Grandiosa cruise ship, please contact the managers of Four Gates Ukraine.
Business Center, Deck 5 Caravaggio
58 seats | Area: 67 m²
Teatre La Comedie, Decks 5 Caravaggio / 6 Leonardo da Vinci
975 seats | Area: 1000 m² | Stage area: 217 m²
Carousel Lounge, Deck 7 Michelangelo
376 seats | Area: 1100 m² | Stage area: 130 m²
Attic Club, Deck 18 Gauguin
41 seats | Area: 450 m² | Stage area: 21.2 m²
Sky Lounge, Deck 18 Gauguin
180 seats | Area: 630 m²
* The ship is equipped with advanced sound and light systems, video projection equipment. A high-tech image sharing system will allow any technique to be used on the ship. Wi-Fi internet access in all public areas and in cabins. Wait a few seconds...
Theater La Comedie, Deck 5 Caravaggio / 6 Leonardo da Vinci - At the bow of the MSC Grandiosa is a theater that spans two decks. In this case, the 5th and 6th. The entrance to the theater is also located on the 5th and 6th decks.
975 seats | Area: 1000 m²

Emotions - Immersive Gallery, Deck 6 Leonardo da Vinci - Photo Gallery

Fashion Jewelery, Deck 6 Leonardo da Vinci is a Duty Free shop where you can buy fashion jewelry from famous brands.
Area: 45 m²

Galleria Grandiosa, Deck 6 Leonardo da Vinci / 7 Michelangelo - with an interactive semicircular ceiling create a special atmosphere in the evening and is one of the most popular places on board.
Area: 1250 m²

Grandiosa Boutique, Deck 6 Leonardo da Vinci is a Duty Free shop where you can buy a variety of goods, souvenirs and jewelry from the world's leading brands.
Area: 254 m²

MSC Foundation, Deck 6 Leonardo da Vinci - office of the charitable organization - MSC FOUNDATION. Here you can buy souvenirs, thereby donating part of the purchase amount to charity. Also in the office you can find out all the details of the organization's activities and get complete information about all its projects.
Area: 38 m²

MSC Photo, Deck 6 Leonardo da Vinci - photo studio with galleries
Area: 120 m²

MSC Shop, Deck 6 Leonardo da Vinci is a Duty Free shop for MSC Cruises branded merchandise.
Area: 55 m²

Piazza Del Lusso, Deck 6 Leonardo da Vinci - Duty Free store, with world famous brands: watches, jewelry and fashion accessories;
Area: 274 m²

Shopping Gallery, Deck 6 Leonardo da Vinci - this store presents perfumery and cosmetics, hygiene, pharmaceuticals, technology, confectionery;
Area: 274 m²

The Art Wall, Deck 6 Leonardo da Vinci - an exhibition of 26 original paintings by Edgar Degas from the "Ballerina" series located in the L'atelier Bistrot
The Carousel Lounge, Deck 7 Michelangelo is not just a bar, but a purpose-built entertainment complex. It was specially designed for the world famous show - Cirque du Soleil at Sea. New technical elements were also added to the stage:
277 seats | Area: 1100 m²

Le Grand Casino, Deck 7 Michelangelo - 164 new machines and 12 tables for poker, roulette and blackjack will give you an adrenaline rush and in some cases big sums of money.
600 seats | Area: 1400 m²

Outlet At Sea, Deck 7 Michelangelo - Duty Free shop.

Fitness Classes, Deck 16 Velazquez - For group fitness classes.

MSC Gym powered by Technogym®, Deck 16 Velazquez - a gym with new and modern equipment for those trying to keep fit.
Area: 570 m²

Power Walking Track, Deck 17 - treadmill.
Lenght: 328 meters

Attic Club, Deck 18 Gauguin - Disco club for adults and teenagers.
41 seats | Area: 70 m²

Horizon Amphitheater, Deck 19 Degas
Area: 1075 m²

MSC AUREA SPA, Deck 7 Michelangelo
On an area of ​​1100 m2 there are:
MSC AUREA SPA RECEPTION - Reception and welcome area
BARBER SHOP - Professional men's haircuts, styling and shaving
BEAUTY SERVICES - professional make-up services
COSMETICS & SPA SHOP - store of products for hair care, skin and other cosmetics from world famous brands
JEAN LOUIS DAVID HAIR SALON - women's haircuts, dyeing and styling.
MANICURE & PEDICURE - manicure and pedicure salon
MASSAGES & TREATMENTS - Massage, Body care, Facial care
MEDI SPA - Anti-aging and body shaping treatments, Acupuncture
SOLARIUM - The latest equipment ensures a safe tan with an even tan.
THALASSO ROOM - Signature thalassotherapy body treatments
THERMAL AREA - sensory steam bath, Mediterranean bath, Finnish sauna, "Water paradise", Salt relaxation, Relaxing harmonic vibrations, Ice waterfall, Water benches, Hot tub
MSC Crociere Passenger Memo

BOARDING THE SHIP

Check-in on a boat usually starts 3 hours before departure. At the port where your cruise starts, you
Easily navigate the MSC Crociere logo signs. Remember that no later than an hour before departure, you must already be on board the ship. To board the ship, you need to take the following steps:
upon arrival at the port, take special baggage tags from MSC Crociere employees and stick them on the baggage. On the tags, you must indicate your name, surname, ship name, cabin number, date and port of departure in Latin letters;
hand over luggage with pre-pasted tags to porters who will deliver it to your cabin door (usually within an hour after sailing);
when check-in begins, go to the Check-in counter and present your passport and cruise ticket;
after checking the documents, passengers are issued a Cruise Card - a magnetic card, which is later used as a key to your cabin, a pass to the ship and a card to pay for services on board (excursions, bar, dry cleaning, cabin service, hairdresser, beauty salon, duty free shops and a photographer).
to receive the Cruise Card, you must register your own credit card (Visa, Mastercard or American Express) or make a cash deposit on the first days of the cruise;
go to the maitre d 'to reserve a table in the ship's restaurant and shift in which you will have lunch and dinner.
Attention! The cruise of tourists who do not show up for boarding is considered canceled with a penalty of 100%.
If, nevertheless, you are late for some reason, be sure to inform the escort, operator or agency so that they warn MSC Crociere that you will catch up with the ship at the next port. Otherwise, the cruise administration reserves the right to sell the unoccupied cabin.
LUGGAGE
Your personal luggage is at your own responsibility.
CALCULATIONS ON BOARD
Prices on board MSC Crociere vessels are quoted in Euros when navigating the Mediterranean, Northern Europe, and when navigating in the Caribbean, South America, prices are quoted in US dollars. The Cashless System (non-cash payment) operates on board all ships. Thus, to pay for all expenses incurred on board, except for the casino, you will use the magnetic Cruise Card obtained upon check-in and verified by your credit card or cash deposit. When paying for any services or goods on board, you will be issued checks for signature, and all the amounts you spent will be recorded on the Cruise Card. We recommend that you keep receipts to avoid possible disagreements with the administration about the funds you spent. If during the cruise your Cruise Card balance (confirmed by cash deposit) approaches zero, you will be asked to add additional funds to the account. At the end of the cruise, the amount spent by you will be debited from your credit card (if the Cruise Card is confirmed by a credit card), or the rest of the deposit will be returned (in the case of cash guarantees).
PASSPORT
To travel on any of the routes suggested by MSC Crociere, you will need a passport valid for at least 3.5 months from the day you return from your trip. For minor children traveling without parents, in addition to a passport, a power of attorney is required issued for the accompanying adult passenger. After boarding, you must go to the reception desk in the central lobby and return your passport. The procedure for surrendering a passport for the duration of the cruise is mandatory for citizens of all countries outside the European Union.
We recommend making a copy of the first page of your passport in advance. If you have not done so, ask the staff to make you a copy of your passport, which, together with your Cruise Card, will serve as your identity ashore.
PROGRAM OF THE DAY
Every evening, a detailed program prepared by the Cruise Directorate for the next day is sent to the cabins to inform passengers about the activities and entertainment offered by the MSC staff.
FOOD
Larks coffee is served on the open deck from 06.30 to 07.00. Breakfast is served in the restaurant from 07.00 to 09.30, open deck buffet is offered from 07.00 to 10.00, you can also have breakfast in your own cabin from 07.30 to 10.00 if you order the steward in advance (you can find breakfast order forms in your cabin, this service is free, the possibility of its confirmation depends on the number of those who wish). Lunch in the restaurant (à la carte) is served in two shifts: from 12.00 and from 13.30. You can also dine on the open deck from 12.00 to 13.45 at the buffet. Afternoon tea is served at 16.15. Dinner in the restaurant (à la carte) is also served in two shifts: from 19.00 and from 21.00. A buffet for night owls is available at 24.00.
Please note that the given schedule may vary depending on the time of entering the ports and the excursion program, you will find out the exact time from the daily sheets of the "program of the day".
CLOTHES
The atmosphere on board is quite democraticah, so we recommend sportswear for every day, which is also well suited for shore excursions. We advise you to take a pullover or shawl with you to protect yourself from temperature fluctuations between the air-conditioned rooms and the open decks. In the evenings, a sweater or light jacket may be useful.
During the cruise, solemn events are held, for participation in which you must dress appropriately, we recommend a dark suit for men, an evening dress for ladies.
For excursions where it is planned to visit churches, temples, mosques, strict clothing is recommended, excluding shorts, bermuda shorts, tops, etc.
SMOKING
MSC cruises adhere to the "Clean Air" policy, which allows both smokers and non-smokers to spend their holidays on the ship in comfort and mutual respect.
On all MSC Crociere ships, smoking is only permitted in the Cigar Rooms, Casino and designated areas. Passengers will also be able to smoke on one side of the open deck.
All other areas, including cabins and cabins balconies, are non-smoking.
ON-BOARD ENTERTAINMENT
While sailing, the staff of MSC Croiciere take care to diversify your vacation as much as possible and choose an activity for everyone's liking. To do this, quizzes, bridge tournaments, ping-pong, volleyball, shuffle board, pool games, and various entertainment events are organized on board.
THE SHOPS
There are shops on board that include souvenirs, travel essentials, clothing, perfumery, jewelry, photographic equipment, as well as alcohol and tobacco. The shops are open daily when the ship is sailing on the high seas, making them a DUTY FREE zone!
ADDITIONAL SERVICES ON BOARD
Each MSC Croiciere ship has a first-aid post and medical services are available at all times when the ship is at sea. Medical services on board are paid, paid by the passenger at the rates of the Medical Association of Genoa.
Also onboard services are offered photography, hairdresser, beauty salon, dry cleaning, laundry and ironing services at an additional cost. You can also use telephone, fax, teletype, internet or mail (all communication services are paid additionally).
To use the mail, you simply need to hand the postcard or letter to the information office, which will take care of sending it through local Company agents. You can use the internet at the internet cafe or directly from your laptop if your cabin is equipped with a network connection. The onboard radio station operates 24 hours a day, but it is closed during anchorage in the port. You can call the ship through the INMARSAT station using the numbers shown in the table below.

MINI CLUB
All MSC Crociere ships have mini-clubs for children, where you can leave your children (3-17 years old) under the supervision of educators (including during shore excursions). For children, special programs have been developed for three age groups. This service is free.
Loungers
Sun loungers are provided free of charge, the only request is not to take their personal belongings during a possible long absence. In addition, beach towels are prepared for you by the pools and must be returned before leaving. If you wish, you can ask your maid for a towel.

STORAGE OF VALUES
MSC Croiciere is not responsible for the loss or theft of valuables or money left unattended on the ship, stored in the cabin or in personal luggage. Therefore, we recommend using safes in cabins or safes in the information office to store valuables.

TIP
According to international tradition, at the end of the cruise, tourists leave a tip to the service staff as a sign of gratitude for their work and attention. As of April 2006, a tip of € 8 per day is automatically charged and must be paid at the end of the cruise.

ELECTRICITY
Power supply in all MSC Melody cabins - 110V; MSC Musica, MSC Opera, MSC Lirica, MSC Sinfonia, MSC Armonia, MSC Rhapsody - 110 / 220V. The use of heating devices in the cabin (iron, electric kettle, boiler, etc.) is strictly prohibited.

CONTACT NUMBER
In case of difficulties and unforeseen situations, you can contact the MSC Croiciere operator on 0817 942 111.
MSC Cruises works in partnership with London-based agency The Department, which specializes in theatrical and technological productions for a variety of global brands and companies to present:
The Drone Academy - This high-tech, high-energy relay race at the MSC Grandiosa comes alive at night with fluorescent effects and glowing drones. Teens learn drone piloting skills before competing in teams to fly around the 390 m2 arena overcoming 15 obstacles.
Spy Mission - Children play a central role in an exciting new spy quest. Reduction of boundaries between reality and fiction; Guests walk through many different scenes throughout the ship to unravel unique storylines, seek clues and solve mysteries to win many MSC Cruises prizes.
Atmosphere Pool, Deck 15 Cézanne
Safari Pool, Deck 15 Cezanne
Horizon Pool, Deck 16 Velazquez
F1 Simulator, Deck 16 Velazquez is a Formula 1 simulator. But there is not one, but two cars here, which will allow you to compete in driving skills between two guests.
Virtual Games Arcade & Bowling, Deck 16 Velazquez is a video game and bowling room with two full lanes.
Area: 166 m²
VR Maze, Deck 16 Velazquez - Virtual Reality Attraction
XD Interactive Cinema, Deck 16 Velazquez - The virtual 5D cinema will bring new emotions.
Sportplex, Deck 16 Velazquez - a sports ground where you can play basketball, volleyball, tennis and of course minifootball.
Doremi Lab, Deck 18 Gauguin is a world where everything is made for children of all ages.
Baby Club Chicco, Deck 18 Gauguin - The signature Chicco Kids Club for children up to 3 years old.
Area: 47 m²
LEGO® Mini Club, Deck 18 Gauguin - Signature LEGO® Kids Club for kids ages 3-6.
Area: 65 m²
LEGO® Junior Club, Deck 18 Gauguin - Signature LEGO® Kids Club for kids ages 7-11.
Area: 70 m²
Young Club, Deck 18 Gauguin - Youth club for children from 12 to 14 years old.
Area: 80 m²
Teen Club, Deck 18 Gauguin - Club for teens from 15 to 17 years old.
Area: 50 m²
Web Creator Room, Deck 18 Gauguin - Specialized room for young people and teenagers who cannot live without social media and blogging. Everything will be here for the convenient processing of your best content. And there is definitely something to show aboard the MSC Grandiosa.
Area: 48 m²
Wild Forest AQUAPARK, Deck 19 Degas - Large water park with three completely different water slides.
Area: 1000 m²
Himalayan Bridge, Deck 19 Degas is a rope park located 80 m above sea level. A truly extreme attraction.
Length: 82 m.
MSC Cruises strives to provide its guests with authentic dishes from around the world. Lots of different restaurants international cuisine concept. The cruise company cooperates with world-class chefs:

There are a total of 13 restaurants on board MSC Grandiosa.
To enhance the dinner experience in the main restaurants, MSC Cruises works with 6 award-winning chefs who offer a variety of specialties every night just for MSC Cruises guests.
Harald Wohlfahrt - German chef with 25 years of experience is the owner of three stars Milen!
Jereme Leung's - a famous Chinese chef will delight you with dishes of the Far East.
Raymond Blanc is the owner of two Michelin stars and one of the most respected chefs in the UK.
Roy Yamaguchi - Japanese-American chef will bring their signature Asian flavors to gourmet dishes aboard the MSC Grandiosa.
Ramón Freixa - Michelin-starred chef has added his best Spanish-style dishes to the menu.
Jean-Philippe - is one of the best confectioners in the world, dedicated to the art of baking, chocolate and desserts. Especially for you and will prepare for their own branded desserts.
MAIN RESTAURANTS:
For the first time on the MSC Cruises liner, MSC Grandiosa presents the main restaurants serving the best of Mediterranean and international cuisine.

Purple Crab, Deck 5 Caravaggio - One of the main restaurants, located right next to the Infinity Atrium on the 5th deck.
604 seats | Area 1050 m2

La Loggia, Deck 6 Leonardo da Vinci - The main restaurant, which is located aft of the 6th deck.
730 seats | Area 1000 m2

La Perla Grigia / La Perle Grise, Deck 6 Leonardo da Vinci is the largest restaurant on board the MSC Grandiosa.
828 seats | Area: 1338 m²

Il Campo Restaurant, Deck 7 Michelangelo - Specialized main restaurant for guests, book cabins of category Aurea. More about cabins in the section "Cabins and decks"
160 seats | Area: 333 m2

Marketplace Buffet, Deck 15 Cézanne - No cruise vacation will be complete without a buffet where you can enjoy your favorite meals in a relaxed setting no matter the weather. The freshest dishes and ingredients are prepared directly on board: mozzarella, freshly baked bread (including a unique recipe for croissants, cooked only on MSC Cruises), fresh pasta, a variety of fruits and vegetables and much more.
1298 seats | Area: 3650 m2
ALTERNATIVE RESTAURANTS / A la Carte (extra charge)
L'atelier Bistrot, Deck 6 Leonardo da Vinci - first debuted at MSC Bellissima in March 2019, offering a new restaurant concept with a vintage atmosphere and the traditional atmosphere of a Parisian bistro. MSC Grandiosa has taken L'Atelier Bistrot to a new level, creating a more spacious and expanded space with a lounge. An exhibition of original Impressionist art from Degas Danse Dessin will complement this. A wonderful collection that includes 26 iconic drawings by the famous French Impressionist Edgar Degas.
66 seats | Area: 437 m2

Butcher's Cut, Deck 7 Michelangelo - American Steak House
Traditional steak house in the American style, where the best steak will be prepared in front of your eyes! This will be guaranteed by professional chefs and the best products from Meats by Linz and the Chicago meat farm Angus. The best beef aged for 21 to 28 days, cooked to your taste is perfectly combined with any of the 10 side dishes and a wide selection of craft beer and American wines.
58 seats | Area: 70 m2

Hello! Tapas Bar By Ramon Freixa, Deck 6 Leonardo da Vinci - Spanish tapas bar
The tapas bar, which offers typical Spanish tapas, offers everything from spicy ham to soft sangria. This is a fine restaurant, where each menu item is selected and selected by the chef personally Ramon Freisha. This is the third such restaurant in the Meraviglia class.
56 seats | Area: 150 m2

Kaito Sushi Bar, Deck 7 Michelangelo - Japanese specialty restaurant
Kaito teppanyaki and sushi bar are a real feast of the senses! Experienced chefs work on the two teppanyaki grills, brightly turning cutlery and food to the delight of guests and their tastes. The sushi bar offers more than 40 delicious sushi made from the freshest and carefully selected ingredients. The combined effect is a fun and relaxed atmosphere.
32 seats | Area: 95 m2

Kaito Teppanyaki, Deck 7 Michelangelo - a specialized restaurant Teppanyaki, where experienced chefs will prepare for you the best Japanese cuisine. And waiting for your meal will not be boring, because all this will be prepared before your eyes!
16 seats | Area: 72 m2
Jean-Philippe Chocolat & Cafe, Deck 6 Leonardo da Vinci - just a grand chocolate workshop has an open chocolate gallery framed by stunning chocolate sculptures worthy of a museum. It sells not just desserts, but works of art. You can even buy a chocolate souvenir in the form of an MSC Grandiosa liner or choose any of a thousand different shapes on the tablet. The menu: 16 types of chocolate bars, 13 types of pasta, 6 types of round truffles, 40 types of chocolate products, 10 types of branded pancakes, as well as other sweets and cookies
80 seats | Area: 230 m2
Jean-Philippe Crepes & Gelato, Deck 6 Leonardo da Vinci - offers many different types of ice cream and sorbet from Jean-Philippe Mori. The menu: 13 flavors of ice cream, 5 types of milkshakes, 3 types of special health cocktails, 4 types of smoothies, 9 types of ice cream, 4 flavors of sorbet.
15 seats | Area: 41 m2
BARS:
Attic Club, Deck 18 Gauguin - disco club for adults and teenagers.
41 seats | Area: 70 m2
Carousel Lounge, Deck 7 Michelangelo is not just a bar, but a specially built entertainment complex. It was specially designed for the world-famous show - Cirque du Soleil at Sea. New technical elements were also added to the stage:
• 80 kinetic LED spheres that increase the number of visual effects to change the style and atmosphere of the hall. Movable LED lights are scattered throughout the Carousel Lounge to provide depth and visual background for spectators.
• A new two-meter lift in the center of a unique stage that rotates 360 °. It was designed by a team of designers specifically for the performance of solo artists.
277 seats | Area 1100 m2
Champagne Bar, Deck 7 Michelangelo - The bar offers a variety of champagne, prosecco and other sparkling wines, as well as a wide selection of cold dishes and snacks.
155 seats | Area: 594 m2
EDGE - Cocktail Bar, Deck 6 Leonardo da Vinci - conveniently located near the main restaurants, specially designed for guests who want to freshen up or cheer up before dinner.
60 seats | Area: 160 m2
Grandiosa Bar & Lounge, Deck 6 Leonardo da Vinci - located on the starboard side, in front of the theater. Here you can order cool cocktails or a glass of Italian wine in anticipation of the show at the theater.
62 seats | Area: 315 m2
Infinity Bar, Deck 5 Caravaggio - is located directly in the "heart of the liner" - Infinity Atrium. The menu includes classic cocktails and drinks of famous brands.
21 seats | Area: 120 m2
Le Grand Casino Bar, Deck 7 Michelangelo - is located directly in Le Grand Casino.
23 seats
Marketplace Bar, Deck 15 Cézanne - serves Marketplace Buffet visitors.
Masters Of The Sea, Deck 7 Michelangelo - a real English pub with a large selection of whiskey and beer. But the main thing here is the range of alcoholic beverages, and the interior and atmosphere. Recommended for all lovers of whiskey, intoxicants and many dishes with snacks, typical pubs.
81 seats | Area: 200 m2
Safari Bar, Deck 15 Cézanne - is located in the relaxation area by the Safari Pool.
150 seats
Sky Lounge, Deck 18 Gauguin - a piano bar with panoramic sea views and a seating area with pool. In addition to a large menu of drinks, here you can taste molecular cocktails from professional bartenders MSC Cruises.
180 seats | Area: 630 m2
Sports Bar, Deck 16 Velázquez - a classic sports bar where you can watch your favorite teams play in a friendly atmosphere with a glass of soft drink.
24 seats | Area: 319 m2
TV Studio & Bar, Deck 7 Michelangelo - is on the starboard side. Very bright and spacious bar, which hosts many events and performances by local musicians.
101 seats | Area: 340 m2

Leave your comment
Comment
Black Friday от компании MSC Cruises!
С 26.11 по 04.12 пройдет акция 96 ЧАСОВ*2: Black Friday
https://4gates.com.ua/rus/discount/29/
Reply