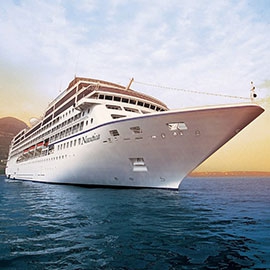 Liner Oceania Nautica, like its twins Reggata and Insignia, was built back in 1998. In 2010 the ship was completely renovated, which gave it a new round of life. Oceania Cruises has tried to invest in the ships of this series all possible amenities, a full range of additional services and, of course, the chic atmosphere of an elite country club of the 30s. last century.
Along with the luxurious interior and high class of service, Nautica is famous for the following characteristics:
Displacement - 30,277 tons.
Capacity - 824 people
Length - 181 m.
Width - 25 m.
Draft - 5.95 m.
Crew - 386 people.
Number of passenger decks - 9
Speed ​​- 18 knots
On this ship, passengers will be able to visit the most famous cities with a long history and culture around the globe.
The interior of the cabins complements the design of the liner itself. Even the lowest category rooms have everything you need for a comfortable pastime: a large double bed (split into two single beds, if necessary), a coffee table with a small sofa, a spacious luggage storage room, a dressing table with a mirror, a bathroom with a shower. Traditionally, all rooms have a safe, telephone, TV, air conditioning and minibar. In addition, guests are provided with clean towels, bathrobes and cotton slippers. Depending on the category, passengers have a number of other privileges.
All cabins can be divided into the following types:
Suites. There are three classes of suites on the ship: Owner's, Vista and Penthouse - with an area of ​​30-92 sq.m., where guests have access to personal concierge services, a laptop with Internet access, unlimited access to the spa complex and the lounge area. The premises themselves have dedicated seating areas, several bathrooms with jacuzzi, access to a private balcony and much more.
Outside cabins are Ocean view with Balcony. There are simply rooms with a balcony, and there is a separate class Concierge (with a personal concierge service) - an area of ​​20 sq. M. with panoramic windows and a balcony, a small seating area and a table for your morning meal.
External Ocean view types are cabins with panoramic windows or portholes (depending on the class) with an area of ​​13-15 sq.m. They are equipped, in addition to the main one, with a small breakfast table, a spacious wardrobe for personal belongings and a seating area. The Deluxe class rooms provide for the use of designer furniture.
Internal (no windows) - small cozy rooms with an area of ​​15 sq. m. with a set of basic furniture for living.
Guests can order service in their cabins around the clock. Cleaning is done twice every day: in the morning and before bedtime.
Oceania Nautica does not have a separate outdoor deck, but there is a small outdoor jogging track around the pool.
Otherwise, guests are provided with many entertainment venues for an interesting pastime:
cafes, bars and restaurants;
recreation areas: common and exclusively for suite passengers;
pool with jacuzzi;
library;
spa complex, beauty salon;
shopping center;
dance floor;
casino.
Among the main activities carried out on board during a sea voyage are:
Tuxedo is an evening of live music with an alternative take on the cult music of bands such as the Rat Pack, the Great American Song book, as well as great performers F. Sinatra, N. Cole, T. Benetta, etc.
Gatsby's is a bright party in the style of the famous novel by F. S. Fitzgerald with an enchanting show, costumes and delicious cocktails.
Get onthe Floor and Dance is a disco where guests can enjoy the already iconic music of artists such as Christina Aguilera, Gloria Estefan, Brian Setzer and Michael Bublé.
4 on the Floor - this show will be a real musical tribute to bands, which included 4 people. Passengers are sure to hear TheBeatles, ABBA, thePapas, TheFourSeasons, and more.
In each of the establishments, in the evenings, there will be the opportunity to listen to famous melodies performed live.
In order to make your trip pleasant and memorable, we advise you to familiarize yourself with the information we offer, which will answer the most important questions for you.
IMMIGRATION RULES
Your passport must be valid for at least 6 months after the end of the cruise, expired passports will not be accepted. To visit most countries, you must obtain an appropriate permit (visa) in advance. The passenger is directly responsible for the availability of visas required for the cruise.
GUESTS UNDER 21 YEARS
Guests under 18 years of age must be accompanied by a parent, guardian or companion who is at least 18 years old. Moreover, one of the guests in the cabin must be over 18 years old. Guests aged 18 and over are allowed in the Fitness Center on the ship, passengers aged 16-17 can use the equipment of the Fitness Center accompanied by an adult. Children under 16 years old are not allowed in the Fitness Center. Also, passengers under the age of 21 cannot buy alcohol on board and order alcoholic drinks in the bars and restaurants of the ship.
CLOTHES
The recommended dress code on board the ship is casual, country club style.
For dinner, an elegant, discreet dress code is recommended, and jeans, shorts, T-shirts, sneakers are not allowed.
For the comfort and convenience of guests and to maintain the sophisticated atmosphere of the cruise, an elegant yet comfortable dress code is recommended.
There are no formal evening events at the restaurants on Oceania Cruises ships (no tuxedos or evening gowns required).
No shorts, jeans, T-shirts, athletic shoes or flip-flops at the Main Restaurant and Polo Grill, Toscana, Jacques and Red Ginger restaurants.
The Terrace Café has a relaxing, informal atmosphere, so guests can even visit the cafe in shorts and plain T-shirts in the evening. No restaurant is allowed to appear in sleeveless T-shirts and swimsuits.
Do not forget to pack things that will be useful for you on the shore - comfortable walking shoes, beach suits. Warm climate requires clothes made of light, breathable fabrics.
For cool climates, it is recommended to take warm clothes, as well as a raincoat, umbrella and gloves.
All cabins are equipped with 110 and 220 V electrical outlets. Hairdryers are also provided.
For safety reasons, it is forbidden to use heating devices in the cabin, including an iron.
LUGGAGE
Before going on a trip, check that you have all the necessary documents: passport with the necessary visas, air ticket, medical insurance, cruise voucher; vouchers for hotels, transfers and excursions. For the convenience of disembarking in some ports, we recommend that you bring your driver's license with you on your cruise. The cruise line recommends no more than 70 kg of luggage per person.
Carry-on baggage: Keep your documents, medicines, jewelry, camera, films, cash and other valuables in your carry-on baggage, which must be with you at all times.
REGISTRATION AND BOARDING THE SHIP REGISTRATION AT THE PORT
The boarding time is indicated on your cruise ticket.
Before boarding the ship, you need to pass registration and security control. To register for a ship in the Check In zone, please prepare the following package of documents:
Cruise ticket
Passport.
The cruise line will collect your passport for immigration clearance during the cruise. In this case, you will receive a receipt. You can collect your passport at the end of the cruise. Upon completion of the check-in process, you will receive an Oceania WorldCard.
This card serves as an identification card for security procedures upon exiting and boarding the ship, as well as an on-board account card for shopping on board, and is the key to your cabin. When leaving the ship and when returning back, keep the onboard map with you, as you will have to scan it with the ship's security services.
ON BOARD
Daily newspaper Currents. Find out about all the events on board Oceania Cruises in the daily newspaper, which will be delivered to your cabin the night before.
Spa: The Canyon Ranch Spaclub Spa offers health and beauty treatments (surcharge). Pool: You can use the seawater swimming pool, jacuzzi and free sun loungers and beach towels.
Shops on board: Each ship will offer you goods from all over the world, from jewelry and clothing to souvenirs. Stores are closed during stops at ports of call in accordance with customs regulations.
Casino: You can try your luck at roulette, blackjack, poker, dice or one of the many slot machines in the casino. Local laws do not allow casinos to operate while parking at ports of call and in certain water areas. Only passengers over 18 are allowed in the casino.
Laundry: Dry cleaning, laundry and ironing services are available at an additional cost.
Concierge service. If you have booked a cabin with a concierge service, you can Concierge services are available, as well as access to the closed concierge lounge. The concierge can help you organize a personal party on board or recommend a restaurant ashore.
Drill Drill: Each ship will conduct a drill during the first 24 hours of the cruise. Upon alarm, passengers will be shown emergency exits and lifeboats. All passengers must participate in the drill.
The Culinary Center aboard Marina and Riviera gives you the opportunity to take culinary lessons under the guidance of experienced chefs. You will also be able to accompany the chefs ashore while shopping for fresh seafood from local shops, take part in wine tastings at wineries, and visit the cuisines of famous restaurants along the shore.
Shore Excursions in English: A varied shore excursion program has been carefully designed to enrich your cruising experience. Please note that all excursions are paid additionally.
MEDICAL SERVICES
There is a medical center aboard the ship, staffed by a licensed doctor and nurse. Fees for medical care and medicines will be added to your onboard bill. Oceania Cruises recommends that you carry all the original medicines you need with you on your travels.
FOOD
For your convenience, free round-the-clock cabin service is available according to the special menu located in the cabin. On board you will find a wide selection of free alternative restaurants with an open meal change (there is no fixed time for dinner) and the highest level of service and gourmet cuisine from famous chefs.
Grand Dining room - main restaurant (a la carte), open for breakfast, lunch and dinner. No booking required
Polo grill - steaks and seafood (a la carte), dinners available on the ships Marina, Riviera, Regatta, Insignia & Nautica, advance booking required
Toscana - Italian cuisine (a la carte), dinners available on the ships Marina, Riviera, Regatta, Insignia & Nautica, advance booking required
Terrace cafe - restaurant - buffet breakfast, lunch and dinner. No booking required
Waves Grill - poolside grill with burgers and milkshakes. Lunch and afternoon snacks. No advance booking required.
Jasques - French cuisine (a la carte), dinner is available on the Marina & Riviera ships, advance booking required
Jacques Bistro - French bistro (a la carte), lunch is available on the Sirena liner, advance reservation is required.
Red Ginger - Asian cuisine (a la carte), available on the ships Marina, Riviera & Sirena, advance booking required
Tuscan Steak is an Italian steakhouse, dinner is available on the Sirena, advance reservation required.
Baristas - coffee bar, open daily until evening, does not require prior reservation
La Reserve - wine restaurant (a la carte) Privée - exclusive dinner for up to 10 people (a la carte). Only on board Marina & Riviera ships, additional room booking fees apply.
La Reserve - dinner combined with selected wine. Dinner on board Marina & Riviera, additional booking required, wine to be paid separately. Guests can reserve tables at special restaurants that differ according to ships, cabin category or cruise duration
Restaurants on the ships Marina and Riviera Guests in Owner's Suite, Vista and Oceania suites:
Cruises lasting 7 days or less: 1 visit to each restaurant;
Cruises lasting 8-17 days: 2 visits to each restaurant;
Cruises lasting 8-17 days: 3 visits to each restaurant.
Guests of Penthouses and Suites:
Cruises of less than 17 days: 1 visit to each restaurant;
Cruises over 18 days: 2 visits to each restaurant.
Guests in concierge, balcony, window and interior cabins on cruises of any length have one visit to each restaurant.
Insignia, Nautica, Regatta and Sirena restaurants
Guests of cabins with a balcony of the concierge class and above:
Cruises of less than 7 days: 1 visit to each restaurant
Cruises lasting 8-17 days: 2 visits to each restaurant
Cruises from 18 days: 3 visits to each restaurant
Guests of all other categories of cabins on cruises up to 17 days have 1 visit to each of the restaurants, and cruises of 18 days or more have 2 visits.
Tables in special restaurants can be booked in advance in your account on the Oceania Cruises website or through the cruise operator. Changes to your booking are allowed no later than one week before the cruise starts. Also, guests will be able to book tables while on board the ship. Guests with priority boarding (concierge and above) are also entitled to priority bookings between 11:00 and 13:00 at the Polo Grill. Guests of other categories of cabins can book tables in special restaurants from 13:00 to 17:00.
You will also have the opportunity to purchase on board special packages for alcoholic drinks during the cruise. If you have special dietary requirements (diabetic, gluten-free, kosher, vegetarian, vegetarian), please inform us when booking. Passengers wishing to buy wine at the ports of call can bring no more than 3 bottles into the cabin. Guests, if desired, can enjoy wine purchased at the port in their cabin or suite in an atmosphere of comfort and privacy, as well as in one of the ship's restaurants. A cork fee of $ 25.00 per bottle will be charged for drinking brought wine in a restaurant or any other public place.
SPECIAL CRUISE COMPANY RULES VISITORS
For safety reasons, visitors are not allowed on board the ship.
SMOKING
For the convenience of passengers, smoking on the ship is allowed only in specially equipped areas. Smoking is strictly prohibited in all other areas, including cabins or cabin balconies, restaurants, casinos and public areas. The cruise line reserves the right to drop passengers and impose fines for violation of the rules of smoking on board. Smoking of electronic cigarettes is also allowed only in specially equipped smoking areas. ANIMALS Animals are not allowed on board.
COMMUNICATION
Telephone: A telephone allowing communication with the shore is located in each cabin. You can easily call friends, relatives, business colleagues during your cruise.
Note: All phone calls are charged at satellite rates. The rates for outgoing calls are posted in your cabin next to the telephone set. The cost of the call will be included in your onboard bill. Mobile phone. Mobile communication is possible on board Oceania Cruises ships. Please make sure your cellular operator has a roaming agreement with AT&T, which provides cellular services on board.
E-mail and Internet: Internet access is possible 24 hours a day during your cruise. To access the Internet, you can use the Internet center on the ship or your own devices with wireless Internet access. An internet signal is available in your cabin and in all public areas. Attention! Internet access is paid additionally.
PAYMENT ON BOARD ON-BOARD ACCOUNT
The currency on board is US dollars.
For cruises in Europe, currency exchange is possible at the Reception Desk. On cruises to European destinations where the euro is not used, as well as on cruises to the Far East and China, South America and the Caribbean, currency exchange services or information where it can be exchanged are provided on board. Oceania Cruises has a 5% commission on currency exchange on board ships. For your convenience, there is a cashless payment system on board. Upon boarding, your in-flight account will be activated and you can make any purchases by simply presenting your Oceania World Card and signing the invoices. On the day of boarding, you need to register your credit or debit card (Visa, American Express, MasterCard) at the Reception Desk. If you do not want to use a credit or debit card, you need to place a cash deposit at the Reception Desk. Unspent money will be returned to you at the end of the cruise.
TIP
Tipping is a common way to reward good service. To facilitate this process, an amount of US $ 16 per passenger per double occupancy per day will be added to your in-flight bill every day.
For Penthouse, Oceania, Vista or Owner's suite guests with butler service, tip US $ 23 per person per night.
18% of the cost will be automatically added to the bill for alcoholic drinks ordered in bars and restaurants. In ports, airports and on shore excursions, tipping should be done in accordance with local custom.
LANDING FROM THE SHIP
Disembarkation will begin after the arrival of the ship at the last cruise port as soon as possible, however, as a rule, no later than 9 am. Two days before disembarkation, you will receive all the necessary information on how this procedure will take place. Please note that on the eve of disembarkation you will receive an extract from your onboard account, which you must carefully read. If you have any questions, please contact the Reception.
Oceania Nautica guests will have an All Inclusive meal plan. It implies unlimited access to meals from main establishments, alcoholic and non-alcoholic drinks.
The main restaurant on the ship is traditionally considered the spacious The Grand Dining Room, which is known for its excellent French cuisine.
In addition, the passengers of the vessel have the opportunity to visit the following establishments:
Toscana is a restaurant of Italian cuisine, where the chef offers only the most exquisite dishes of the province of Tuscany, and the sommelier personally selects wine for the guest's lunch or dinner.
Terrace Cafe is a buffet for liner passengers.
Polo Grill is a steakhouse with the best grilled steaks.
Waves Grill is another grill-bar-style establishment with a wide selection of seafood.
Baristas is a cozy coffee shop with alcoholic and non-alcoholic drinks on the menu.
Martinis is a cocktail bar with a great live music atmosphere.
Horizons Lounge is a relaxation area with a whole menu of delicious cocktails for pleasant leisure by the outdoor pool.
Guests of Nautica can also be part of the main English tradition - afternoon tea, which is held daily in the main lounge area. Visitors at the same time can additionally enjoy fresh baked goods.
Leave your comment
Comment