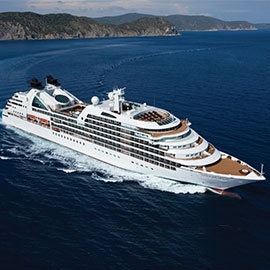 The Seabourn Quest is Seabourn Cruise Line's third luxury ship. It was launched in 2011, and since then it deserves special attention from tourists who appreciate a special style, high level of service and a wide range of spa services.
Among the main technical characteristics of the liner:
Built in 2011 (renovation 2016)
Length - 198 m
Width - 25 m
Displacement - 32.346 t
Speed ​​- 19 knots (35 km / h)
Number of decks - 11
Number of cabins - 225
Passenger capacity - 450-540 people
Crew - 330 people
Cruises operate all over the world. Even trips around the world are available. Wait a few seconds...
Seabourn offers many excursions in each port for an additional fee. You can also book a private car and driver services. A unique option for excursions from Seabourn is the opportunity to shop at the local market with the ship's chef (usually this event is advertised a day or two in advance).
Seabourn also offers a series of tours called "Venturesby Seabourn". These tours include professional guided kayaking or scuba diving.
Every evening in the Grand Salon Theater, various kinds of shows are held, where you can hear performances by comedians, singers, and dancers.
SeabournSquare (Deck 7): This is the center of the ship, which includes a café bar serving specialty coffees, liqueurs, cakes, pastries, sandwiches and ice cream; a library with a decent selection of books and guidebooks; puzzles and two internet terminals.
Seabourn Quest has three excellent pool areas. The main pool is on deck 8, where you will find the largest saltwater pool, two jacuzzis and showers. The pool is surrounded by sun loungers with adjustable armrests. More sun loungers can be found on Decks 9 and 10
Two Seabourn stores are also close to SeabournSquare. One sells clothes, wallets, jewelry and other souvenirs, while the other specializes exclusively in jewelry.
Meeting rooms are located on Deck 5.
The medical center is located on deck 3.
Therapies at Seabourn Spa include a standard package, from bamboo or hot stone massages to body wraps. The salon offers hair treatments, nail care and skin care for men.
The fitness center is equipped with treadmills, elliptical trainers and regular stationary bicycles. Group fitness classes (Pilates or stretching) are free.
PREPARING FOR A CRUISE
PASSPORT
Each Seabourn guest must have a passport valid for at least 6 months after the end of the cruise. Usually, passports on board are handed over and stored at the Reception in a safe to resolve all visa problems at ports of call without the participation of passengers (if possible). We advise you to have a copy of your passport (photo page) with you and keep it with you in case the original is lost or damaged.
VISA
Citizens of Ukraine need to obtain an entry permit (visa) in advance, if required, to stay in those countries that are planned for your cruise. The passenger is directly responsible for the availability of documents for the cruise. Guests who do not have the necessary documents with them may be denied boarding.
PASSENGERS UNDER 21 YEARS OLD
All passengers under the age of 18 must be accompanied by a parent or guardian. Young people under the age of 21 are prohibited from drinking alcoholic beverages. A parent or guardian is responsible for their behavior on board.
CLOTHES
Casual resort style attire including jeans and shorts is available in all lounges and restaurants until 6:00 pm. Swimwear, cropped shorts, baseball caps, and sportswear are for use only at the pool, spa and fitness center, and deck walks.
Every evening after 6 pm, you will be advised to dress in one of the clothing styles described below to suit the activities on board.
Elegantly casual style (ElegantlyCasual):
Men: trousers with a shirt or jumper, a jacket at the discretion of the guest
Ladies: pants / skirt, blouse, pantsuit or dress
Jeans are allowed in restaurants during the daytime, jeans are not allowed in restaurants after 18:00
Evening wear, formal style (FormalOptional):
Men: Tuxedo, Suit, or Pants & Blazer - are required (no tie required)
Ladies: Evening dress or other formal dress. Elegant casual dress in other evening establishments. Jeans are allowed in restaurants during the daytime, jeans are not allowed in restaurants after 18:00.
Before the cruise, you will receive a package of documents indicating the number of formal evenings on your cruise.
Usually this:
• Cruises up to 13 days: one formal evening
• Cruises from 14 to 20 days: two formal evenings
• Cruises of 21 days or more: three formal evenings
(Please note that official events for Long-Term Cruises, Exploration Expeditions, and Ocean Crossing Cruises may vary)
You need to carefully consider the choice of clothing that you plan to take with you. Clothing should be optimally suited to the climate, the route you have chosen, and the season.
Layered clothing is the best option in cruise planning for almost any climate. For cruises in the tropics, light, light clothing with a light jacket or sweater is preferable. For cruises to countries with cool climates, warm clothing in several layers is recommended: a light coat and a sweater.
Going for a walk ashore, you need to get acquainted with the local traditions of the countries you visit. In some ports, guests should not wear shorts, and women are advised to wear dresses or skirts when visiting temples, churches, mosques and churches.
All cabins are equipped with 110 and 220 V electrical outlets. Hairdryers are also provided. For safety reasons, it is forbidden to use heating devices in the cabin, including an iron.
PREGNANCY
Seabourn ships do not have the specialized supplies required for fertility, prenatal and early childhood care. In this regard, Seabourn cannot accept pregnant women on board its ships for a period of 24 months or more at the end of the cruise. All pregnant women are required to provide a letter from the doctor (in English) stating that the mother and baby are healthy and able to travel and that the pregnancy is not at any risk. The letter must include the estimated date of birth.
LUGGAGE
Before going on a trip, check that you have all the necessary documents: passport with the necessary visas, air ticket, medical insurance, cruise voucher; vouchers for hotels, transfers and excursions. For the convenience of disembarking in some ports, we advise you to bring your driver's license with you on the cruise ..
Carry-on baggage: Keep your documents, medicines, jewelry, camera, films, cash and other valuables in your carry-on baggage, which must be with you at all times.
REGISTRATION AT PORT
Check-in and boarding times are indicated on your cruise ticket. It depends on the route and its schedule. For your convenience and comfort, boarding the ship is allowed only after the cabins are ready for accommodation (check-in).
SERVICES ON BOARD
MEDICAL SERVICES
Your ship is small, but it has basic modern medical equipment and medical staff represented by a doctor and a nurse. The equipment is designed to provide medical attention in case of accidents and to treat simple illnesses that may occur during the cruise, but it is not intended for long-term treatment. We advise you to bring with you a sufficient number of medicines and / or their prescriptions, on which your health will depend, since during the cruise you are at sea or in ports where the availability of medical facilities and pharmaceuticals is limited.
LAUNDRY
Laundry, dry cleaning and ironing services are at your service. Your steward will take care of the delivery and collection of your linen. The service is paid additionally for urgency, if you prepare an order by 9 am. A launderette with washers, dryers, soap and ironing equipment is located on Deck 5, middle of the SeabournOdyssey, SeabournSojournandSeabournQuest.
SPA
Multi-award winning SeabournSMcruiseline ship spa is available wherever Seabourn ships are sailing. Try thermal wraps surrounded by Antarctic icebergs. Relax in the sauna, steam room or visit the salon for a full range of services. On board the ships SeabournOdyssey, SeabournSojourn and SeabournQuest, a spacious spa center with a total area of ​​up to 800 m2 will open its doors to guests.
ENTERTAINMENT ON BOARD
Sample activities on board the Seabourncruiseline ships:
• An Evening Under the Stars®, where guests will be served delicious barbecues for dinner, and the evening will continue with gala parties with live music and dancing on the deck;
• A pier with a swimming pool in the sea and free water sports activities;
• Caviar treatment at the Surf® establishment as part of a barbecue party on the beach;
• SeabournDestinationsSM - free excursion planning service on the shore;
• Free massage on deck according to the Moments® program;
• Cinema under the stars with fresh popcorn;
• Shopping program in local markets with the chef.
SHORE EXCURSIONS IN ENGLISH
The daily programs will indicate the time of lectures on ports of call (in English) and the start time of excursions. Please note that all excursions are paid additionally. You can book excursions in advance on the cruise company's website. Please note that cancellations of booked excursions later than 4 days before the start of the cruise are subject to penalties that can be up to 100%.
A FITNESS CENTER
The gyms on the Seabourncruiseline ships are equipped with the latest technology to keep guests in good shape throughout the cruise.
Sports equipment includes:
• Various exercise equipment, including: abdominal trainer, vertical block, leg curl and extension trainer, biceps, triceps trainers, leg press, hyperextension;
• Adjustable benches and dumbbells from 5 to 50 kg;
• Recumbent exercise bike for cardio training;
• Upright exercise bike for cardio workouts;
• Treadmills;
• Free classes in yoga, pilates and kibo;
• Professional trainers and nutritionists.
SeabournOdyssey and SeabournSojourn also offer gyms with Kinesis for the musculoskeletal system, personal and group training, and fitness classes. Kinesis simulators will provide guests with workouts of any difficulty level and will triple the effectiveness of each movement, which will help to improve the balance, flexibility and endurance of the body in sufficiently comfortable conditions.
FOOD
Most of the SeabournCruiseline restaurants offer a relaxing outdoor seating experience with gourmet breakfasts, lunches and dinners. During lunch and dinner, guests will be offered free selection of selected wines from California, France, Chile and Italy, which diversify the menu. The sommelier will kindly provide guests with a menu with the best vintage wines at an additional cost.
Table reservations are not required at the Main Restaurant, Colonnade and PatioGrill restaurants. However, in order to avoid unforeseen circumstances, it is recommended to book tables in advance for large companies of 6 people or more.
At the Second Restaurant, guests will be able to book one dinner during the cruise. Re-booking at the Second Restaurant is subject to the availability of free tables on the waiting list.
You can book a table at TheGrillbyThomasKeller on the SeabournQuest online on the Seabourncruiseline website.
24-hour cabin service is provided free of charge. Restaurant menu delivery is available in each suite during extended dinner hours.
(The GrillbyThomasKeller is slated to open on all Seabourn ships. Please check this when booking.)
CRUISE COMPANY RULES
VISITORS
For safety reasons, visitors are not allowed on board the ship. SeabournCr Company uiseLine regrets any inconvenience this may cause.
SMOKING
For the comfort and convenience of passengers, smoking is prohibited in most public areas as well as in all suites.
Allowed smoking areas on all Seabourn ships:
E-cigarette smoking is allowed in the suite. Pipes, hookahs and other smoking devices are not permitted on board. Smoking is prohibited on the open decks of the ship when refueling the liner.
Smoking on open decks is allowed at SeabournOdyssey, SojournandQuest:
On the right side of the SkyBar on Deck 9 (EncoreDeck10) including smoking on bar stools.
On the right side of the open terrace at TheClub on deck 5.
Smoking of cigarettes, cigars and cigarettes is allowed on the right side of the Seabourn Square outdoor terrace on deck 7. Smoking of cigarettes, cigars and cigarettes is prohibited in all other places on board.
ANIMALS
Animals are not allowed on board the ships, with the exception of specially trained guide dogs. You need to notify Seabourn in advance and take medical documents confirming that the animal is healthy if you plan to bring a guide dog with you.
CALCULATIONS ON BOARD
ON-BOARD ACCOUNT
For your convenience, there is a cashless payment system on board. To activate your onboard account on the day of boarding, you need to register a valid credit card and sign a purchase registration form. You will receive a detailed statement from your onboard card on the last day of the cruise, the evening before disembarkation. Any additional or later purchases will be automatically charged to your credit card. You can get the final invoice or clarify any questions regarding the onboard one at the Reception before disembarking from the ship.
The currency on board is US dollars. To activate your onboard account, you can use Visa, MasterCard, DinersClub, AmericanExpress or Discover. Cash withdrawals from your in-flight account or credit card on board are limited and an additional 3% surcharge applies. For your convenience, currency exchange between US dollars, euros and British pounds is possible at the Reception.
TIP
Tipping on board is not required or expected.
COMMUNICATION
Telephone. You have the option to call the ship directly from your cabin. Note: All phone calls are charged at satellite rates.
Mobile phone. Seabourn invites guests to use GSM mobile communications through the WirelessMaritimeService operator while the ship is in international waters. When a ship is in port or passing near the coast, the ship's mobile network is not working. You can use your mobile phone at your carrier's international roaming rates. For questions about the cost of roaming services, including at sea through the Wireless Maritime Service, contact your operator.
The Internet. On board you can access the Internet both wireless WiFi and computers in SeabournSquare. We kindly ask you not to download files from the Internet, play Internet games or watch videos, but only use e-mail. all this can lead to a decrease in the speed of the Internet for other users.
Internet access is available for a nominal fee. Just register at the terminal in SeabournSquare to create an account, the fee for its use will be deducted from the onboard account. The basic cost of the Internet is 40 cents per minute. Various internet packages can be purchased on board at lower prices. Internet tariffs can be used both on stationary terminals and via wireless Internet.
LANDING FROM THE SHIP
The estimated time of arrival of the ship at the port of disembarkation is indicated on your cruise schedule. Usually, after arriving at the port, the ship must go through certain procedures. Upon completion of these procedures, passengers will be allowed to disembark. Disembarkation usually takes place within two to four hours after arriving at the port.
Seabourn boats are not intended for families with children. However, the cruise line hires dedicated staff to organize games and other recreational activities. This only happens during the summer holidays, as this is the peak of families with children who want to go on a short trip together.
Restaurant - The ship's main restaurant, SeabournQuest, serves breakfast, lunch and dinner. The main restaurant is decorated with floor-to-ceiling windows extending along the starboard side, sheer white curtains with an abstract design.
Restaurant 2 - the restaurant offers a regional themed menu and a rich selection of fine wines. It is open for dinner only.
Patio Grill is a poolside restaurant serving grilled food and various types of salads.
Colonnade is a restaurant where chefs prepare meals in an open kitchen.
Bars:
Club (Deck 5): A bar with a small square dance floor.
PatioBar (Deck 8): Pool bar.
Leave your comment
Comment