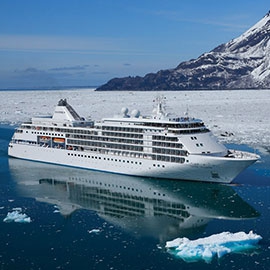 SilverShadow is a luxury liner for 382 passengers, where the atmosphere of a metropolis reigns, in the best sense of the word. An authentic experience. Simple pleasures. And shared moments of joy. This is what the Millennium class liners are for - SilverShadow and SilverWhisper. Millennium Classluxury embodies the feeling of daily freedom that the sea brings it; the freedom that only true luxury opens before you.
The length of the vessel is 186 meters, the crew is 295 people, these are not just staff, they are masters of their craft who will always be happy to help you.
The SilverShadow cabins are spacious and very comfortable, with marble bathrooms and walk-in closets, and many have an additional (guest) washroom. For large companies and people accustomed to particularly luxury, the company offers two-storey suites - with two bedrooms, two bathrooms, a Jacuzzi and two verandas. All suites have fresh flowers, a bottle of champagne and fresh fruit upon arrival, minibars are stocked to your liking, a choice of nine pillow types, personalized stationery, Bvlgari toiletries and Frette towels. You will feel right at home.
Food can be ordered to the room, as well as eat on the balcony, creating a romantic atmosphere for yourself, under the stars and the sound of waves.
An unforgettable experience awaits you aboard SilverShadow. Recharge your body and soul with a professional Pilates and Yoga class at the expanded fitness center. Alternatively, sample rare vintage wines and local culinary delights at the only wine restaurant on the sea, Relais & Châteaux LeChampagne.
The jacuzzi and outdoor pool will also help you to relax, where you can enjoy your favorite cocktail purchased at the bar. a If you like excitement, the smell of cigars and whiskey, then you definitely need to visit the casino.
Leave your comment
Comment