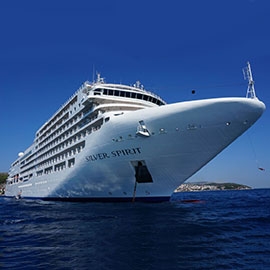 SilverSpirit is a spacious and chic liner that combines the best features of luxury cruise ships. Designed to cross oceans, yet capable of entering riverbeds and small lost coves like a light yacht. It was built in 2009 and has a length of 196 meters. The vessel can accommodate 540 passengers.
For the first time, interactive television appears on SilverSpirit: at any time guests can choose one of 387 films to watch. An interesting solution is a proposal for placing a large flat screen - it has become a "part" of the mirror and does not take up extra space. The superbly appointed bathroom has a bathtub and walk-in shower with manual and automatic shower and toiletries from three luxury brands - Salvatore Ferragamo, Bvlgari and Neutrogena.
Dear guests, do not be surprised when the waiters recognize you by sight and call you by name, as if they have known you for many years. The six-star service on the ship is making itself felt. So, for example, on the eve of a cruise, all restaurant personnel must pass an "exam" to the chef on the knowledge of the faces, names and numbers of guests' cabins.
We assure you that this elite cruise will leave you only positive emotions. Wait a few seconds...
SilverSpirit, invites you to taste fresh sushi and new variations on the theme of Asian cuisine at the Seishin restaurant, organize get-togethers with your StarsSupperClub friends, where there are a lot of all sorts of goodies and live music, or you can just retire and relax in the impressive Spa & Fitness center SilverSpirit.
In your bathroom you will certainly find ItalianAcquadiParma cosmetics, bedding from the Irish brand Hilden, ThePommeryBrutRoyal champagne in restaurants, tables served with Christofle silver and Schott-Zwiesel crystals and much more awaits you on board SilverSpirit.
Leave your comment
Comment