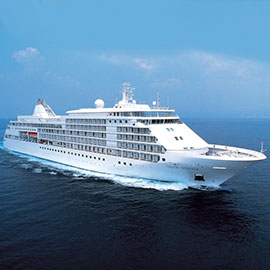 Silver Whisper is a Millennium class liner. Built in 2001, it can accommodate 429 people. The liner is incredibly beautiful both from the outside and from the inside. The length of the vessel is 186 meters. Silver Whisper is the twin brother of the Silver Shadow liner. In terms of tonnage, the liners of this series are almost twice as large as the previous generation. The ship is very spacious and has a respectable and welcoming atmosphere of a private yacht.
The cabins are sleek and very spacious. Guests are provided with apartments with amazing sea views. 70% of cabins have teak-clad balconies. All your whims and desires will be unquestioningly fulfilled by the kind butler, at the moment when you will simply relax and contemplate the richness of the diversity of our world.
You will certainly feel at home in your cabin. The company took care of your luxury travel, thinking over everything to the smallest detail: from toiletries and stationery to a bar with your favorite wines and other exclusive alcoholic beverages. One has only to say and your butler will organize an elite dinner right in the cabin. Neither more nor less - nine types of pillows are waiting for your choice, so that your sleep is comfortable and sound. Wait a few seconds...
Silver Whisper, will provide you with an unforgettable vacation. On board, you can always buy yourself an update in boutiques.
Recharge your body and soul with a professional Pilates and Yoga class at the expanded fitness center. Alternatively, sample rare vintage wines and local culinary delights at the only wine restaurant on the sea, Relais & Châteaux Le Champagne.
The jacuzzi and outdoor pool will also help you to relax, where you can enjoy your favorite cocktail purchased at the bar. a If you like excitement, the smell of cigars and whiskey, then you definitely need to visit the casino.
Leave your comment
Comment